Backend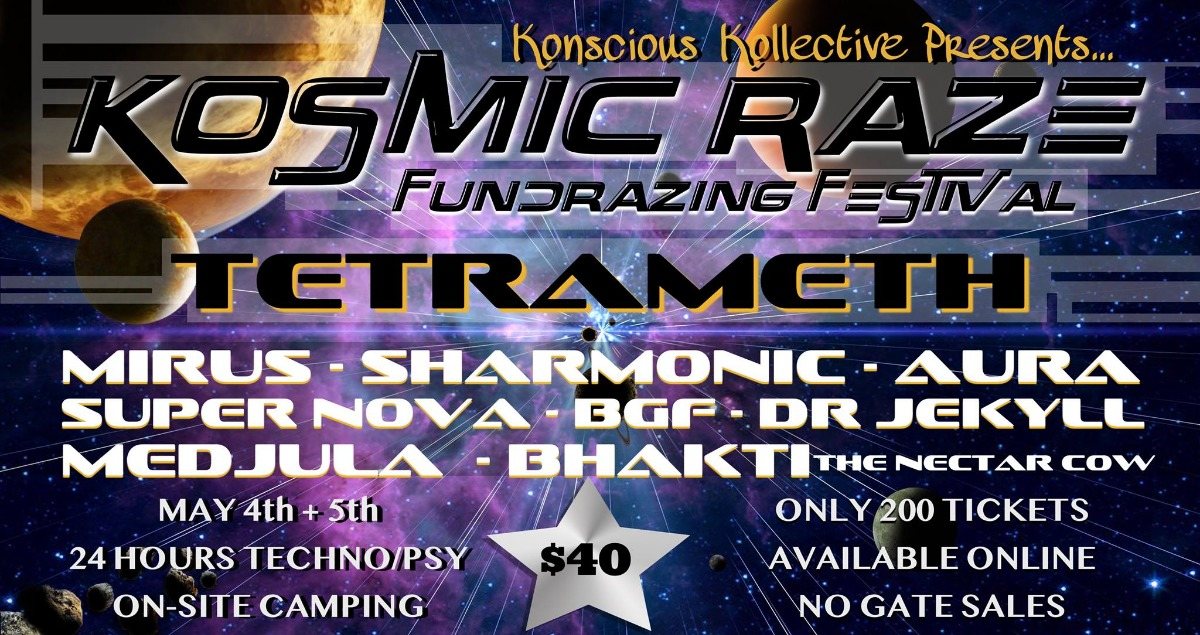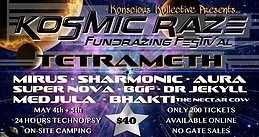 Line Up
Line Up
Tetrameth (Prog)
Sharmonic (Techno/Prog)
Mirus (Techno/Prog)
BGF (Prog)
Bhakti the Nectar Cow (Chill)
Medjula (Prog)
Aura (Techno)
Dr Jekyll (Prog)
Super nova (Full on)
Deco
5k Electro-Voice Rig, very crisp, clean sound and most importantly, BIG BASS to vibrate your energies
Info
Konscious Kollective presents

KOSMIC RAZE

Techno/Psy Event

Only 200 online tickets available, NO gate tickets!

Tickets $40 +BF

Huge line up of Local & International DJs!

Entry cost includes optional camping ⛺️

Music will run 24 hours from 12pm Saturday 4th of May to 12pm Sunday 5th of May.

Don't worry, we will not kick you out on Sunday if you're not "fit to drive". You are all invited to camp until Monday morning. Everyone must be out by 9am Monday 😉

This event will support The Healing Foundation. Helping to raise money for the Indigenous original people of Australia.

Konscious Entry System ❤️

Gate 1 - Show online ticket & receive wristbands.

Gate 2 - Show wristbands & sign waiver.

Please be patient on entry, we will do our best to make sure things move as swiftly as possible.

People are welcome and encouraged to start arriving from 11am on Saturday the 4th of May to secure a site in the designated camping area and get set up.

It's not possible to "jump" you will easily be spotted, removed and will be banned from future events.

This is a Charity Event. If you don't have a wristband, we will not ask you to pay, you will be removed from the property.

We create a safe environment for people to have a beautiful experience and explore themselves, please be responsible with your intentions 🙏

Family friendly event, although we do have a NO dog policy sorry guys...

The owner has a dog that is territorial, so we highly recommend you please DO NOT bring your dogs along 🐕

Bring fire sticks, poi's and any other magic you would like to add ✨

We will have plenty of water but please bring your own supply!

We have organised a Pizza Food truck with Vegetarian options, Vegan Ice Cream truck and Kombucha stand ✌️

No ATM, so please bring cash if you would like to indulge in these delicious treats 😉

Chill zone will be set and we will be having a campfire 🔥 with complementary Toasting Marshmallows. (Weather Permitting)

5k Electro-Voice Rig, very crisp, clean sound and most importantly, BIG BASS to vibrate your energies 👽

Leave no trace Legends! Respect the nature! Bins will be provided for all rubbish including cigarette butts.

Secret location on a huge private property 1 hour south of Byron Bay.

After you purchase your tickets you will receive an email with the exact address 24 hours before the event.

Cosmic Rays - noun
"A highly energetic atomic nucleus or other particle travelling through space at a speed approaching that of light."
Organizer
Organizer
koncious collective