Backend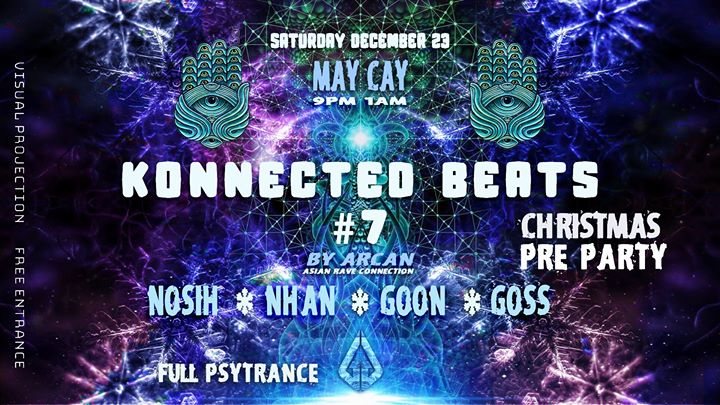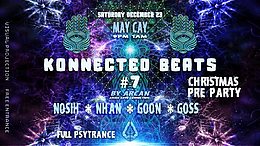 Line Up
ॐ Konnected Beats is a one of a kind event in Saigon that aims at providing the audience with a variety of underground electronic music all along the night.
The objective is to make the crowd discover new beats and each time propose a diverse line up. It is also the occasion of connecting DJs around the City to make them share their passion all together. This means shorter sets but more Djs sharing their love for music on the same night.
Designed by ARCAN, those nights totally reflect the idea of « Asian Rave Connection » where all music communities are connected through artistic freedom and rave spirit. We want to bring the young Vietnamese generation together with the foreign community, in the respect of everyone, and make a space for every artist to explore and expose the underground artistic world together. ॐ
ॐ Konnected Beats là một trong những sự kiện đặc biệt tại Sài Gòn với mục đích mang đến cho khán giả một sự đa dạng của nhạc điện tử underground xuyên suốt đêm.
Mục tiêu là giúp đám đông khám phá nhịp đập mới và mỗi lần đưa ra sự tổ chức đa dạng. Đây cũng là cơ hội để kết nối các DJ khắp thành phố để họ chia sẻ niềm đam mê của mình cùng với nhau. Điều này có nghĩa phần trình diễn ngắn hơn nhưng nhiều DJs chia sẻ tình yêu âm nhạc của họ vào cùng một đêm.
Thiết kế bởi ARCAN, những đêm này hoàn toàn phản ánh ý tưởng của «Asian Rave Connection», nơi tất cả các cộng đồng âm nhạc được kết nối thông qua sự tự do nghệ thuật và tinh thần hăng say. Chúng tôi muốn mang thế hệ trẻ Việt Nam đến gần với cộng đồng nước ngoài, trên tinh thần tôn trọng mọi người và tạo ra không gian cho mọi nghệ sĩ khám phá và bộc lộ thế giới nghệ thuật underground với nhau. ॐ
░░░░░░░░░░░ ॐ LINE UP ॐ ░░░░░░░░░░░
NOSIH (MUH17) - VIETNAM - 9PM - PSYTRANCE
NHAN (MUH17) - VIETNAM - 10PM - PSYTRANCE
GOON (MUH17) - VIETNAM - 11PM - PSYTRANCE
GOSS (ARCAN) - FRANCE - 12PM - PSYTRANCE
Trained by HADRA Festival Association TRANCEMISSION 2016, Goss proposes DJ sets exploring several music styles such as Psytrance, Hardtek, Raggatek, Acidcore, Tech-house and Techno. Since his come back to Asia, he has been making some noise as DJ and party organizer.
After touring for 2 months in Vietnam and Cambodia, Goss worked as resident DJ for Spirit Of Nature at May Cay. Since then he organised and DJ for several venues in Saigon such as Piu Piu, Last Call or Broma.
His artistic signature is his unusual and strong powered music selection.
[facebook.com]
[facebook.com]
[click here]
[facebook.com]
░░░░░░░░░░░ ॐ Performance ॐ ░░░░░░░░░
Psychedelic Visual Projection by Flo - FRANCE
Location
MÁY CÀY
2nd Floor, 33 Nguyen Trung Truc, Ben Thanh Ward, District 1
Ho Chi Minh City