Backend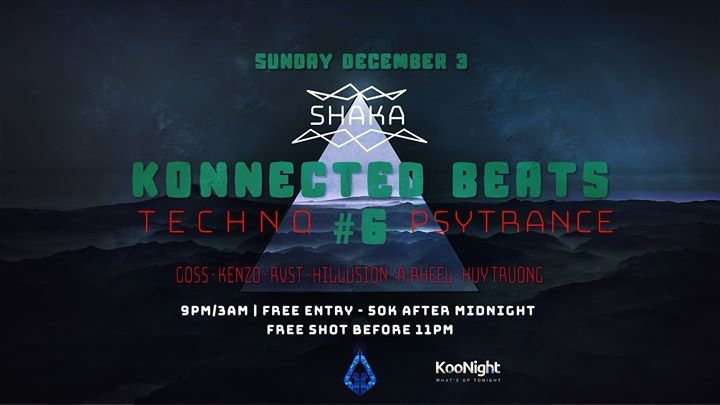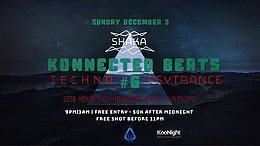 Line Up
ॐ Konnected Beats is a one of a kind event in Saigon that aims at providing the audience with a variety of underground electronic music all along the night.
The objective is to make the crowd discover new beats and each time propose a diverse line up. It is also the occasion of connecting DJs around the City to make them share their passion all together. This means shorter sets but more Djs sharing their love for music on the same night.
Designed by ARCAN, those nights totally reflect the idea of « Asian Rave Connection » where all music communities are connected through artistic freedom and rave spirit. We want to bring the young Vietnamese generation together with the foreign community, in the respect of everyone, and make a space for every artist to explore and expose the underground artistic world together. ॐ
ॐ Konnected Beats là một trong những sự kiện đặc biệt tại Sài Gòn với mục đích mang đến cho khán giả một sự đa dạng của nhạc điện tử underground xuyên suốt đêm.
Mục tiêu là giúp đám đông khám phá nhịp đập mới và mỗi lần đưa ra sự tổ chức đa dạng. Đây cũng là cơ hội để kết nối các DJ khắp thành phố để họ chia sẻ niềm đam mê của mình cùng với nhau. Điều này có nghĩa phần trình diễn ngắn hơn nhưng nhiều DJs chia sẻ tình yêu âm nhạc của họ vào cùng một đêm.
Thiết kế bởi ARCAN, những đêm này hoàn toàn phản ánh ý tưởng của «Asian Rave Connection», nơi tất cả các cộng đồng âm nhạc được kết nối thông qua sự tự do nghệ thuật và tinh thần hăng say. Chúng tôi muốn mang thế hệ trẻ Việt Nam đến gần với cộng đồng nước ngoài, trên tinh thần tôn trọng mọi người và tạo ra không gian cho mọi nghệ sĩ khám phá và bộc lộ thế giới nghệ thuật underground với nhau. ॐ
░░░░░░░░░░░ ॐ LINE UP ॐ ░░░░░░░░░░░
HUY TRUONG - 9PM - TECH-HOUSE
Huy Truong, 20 year old, one the most promising young DJ ARCAN has been blessed to encounter so far. Formerly into Trap and Dubstep, Huy Truong managed to get in most of the best DJ booths in Saigon. Not happy enough with that, he now decided to dedicate himself to House, Techno and the wonderfull world of underground Trance music.
Beware guys, this one is rough and once it is started there is no way to stop dancing.
Kenzo - 10PM - TECHNO
Champion 2010 of Pioneer Vietnam DJ battle & Finalist of Pioneer Asia Pacific DJ Battle, Kenzo has been mastering his DJing for almost 10 years. Seing Kenzo play and use his tool live is outstanding, the quality of his mixes always amazes the audience. Get ready for heavy tech-house to techno set from that lad !
[click here]
soundcloud
RVST (HAUSTEK) VIETNAM - 11PM - TECHNO
RVST is all about Techno, in love with dark rythmes and heavy industrial basslines, this DJ has been rocking Vietnam's Saigonese scene for a while. Instructor at Pioneer Vietnam DJ Academy, RVST is also former resident DJ at Upper Saigon.
[click here]
soundcloud
Hillusion (MUH17) - VIETNAM - 12PM - PROGRESSIVE PSYTRANCE
Best performance Mix Us Happy 2017, Hillusion is just getting started with his is DJ career, but what a start. Good performance artist, Hillusion knows how to get the dancefloor moving ! Recently started playing psytrance, Hillusion is now co-organiser of Energy Groove parties at May Cay Bistro in which every night features at minimum a Psytrance Headliner and Psytrance support on the line up. This man is ready to help bring the Psychedelic spirit to Saigon DJ scene.
[click here]
soundcloud
A.Rheel (4DROPS) - 1AM - FRANCE - PSYTRANCE
A.Rheel's journey with electronic music dates from early teenage hood during elementary schools years. By 2008 A.Rheel was already behind the decks for several gigs in Lyon's region spreading his groovy psychedelic touch on the dancefloors. Later on, he was playing all over France, between Psyprog and Psytrance always keeping his famous groovy touch.
A.Rheel played alongside several international psytrance artists such as Hedflux, Captain Hook, Phaxe, Kliment, Sourone, Pettra, Klopgeister, Coming Soon, Plasmotek, Talpa, Kronfeld...
In 2017 he formed the label 4Drops with his friend Ollie to help underground DJs and Producers getting noticed.
A.Rheel gave the French psytrance scene a lot, and he still has more to give.
soundcloud
Goss (ARCAN) - FRANCE - 2AM - PSYTRANCE
Trained by HADRA Festival Association TRANCEMISSION 2016, Goss proposes DJ sets exploring several music styles such as Psytrance, Hardtek, Raggatek, Acidcore, Tech-house and Techno. Since his come back to Asia, he has been making some noise as DJ and party organizer.
After touring for 2 months in Vietnam and Cambodia, Goss worked as resident DJ for Spirit Of Nature at May Cay. Since then he organised and DJ for several venues in Saigon such as Piu Piu, Last Call or Broma.
His artistic signature is his unusual and strong powered music selection.
[facebook.com]
[facebook.com]
[click here]
[facebook.com]
░░░░░░░░░░░ ॐ Performance ॐ ░░░░░░░░░
Psychedelic Visual Projection by Flo - FRANCE
Location
Shaka Saigon
27 - 29 Bui Vien
71000 Ho Chi Minh City