◢ Konferenz der Tiere // on All Floors //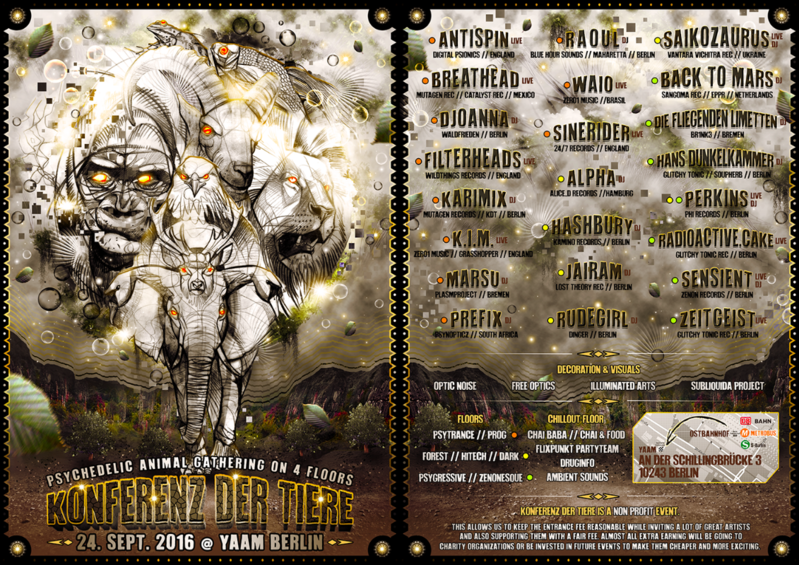 Deco
◢ Decoration & Visuals
______________________ _ _
► OPTIC NOISE // Bremen
░║Forest & Chill Floor //
[facebook.com]
► FREE OPTICS // Berlin
░║Psytrance / Prog Floor //
[facebook.com]
► Illuminated Art // Berlin
░║Psygressive Floor //
[facebook.com]
► Subliquida Project // Berlin
░║Psygressive Floor //
[facebook.com]
◢ CHILLOUT ZONE
______________________ _ _
► CHAI-BABA // CHAI & FOOD
[chai-baba.de]
► FLIXPUNKT PARTYTEAM // DRUGINFO //
[facebook.com]
Info
◢ ║░░ PSYCHEDELIC ANIMAL GATHERING
◢ ║░░ 4 FLOORS: PSY,FOREST,ZENON,AMBIENT
_____________________________ _ _
( English below)

Ein psychedelisches Hallo an alle Spezies dieser Zeit von
der "Konferenz der Tiere"!

Wir haben uns vom großartigen Schriftsteller Erich Kästner inspirieren lassen, in dessen gleichnamigen Buch, sich alle Tiere aufgrund des Scheiterns des Menschen zusammenschließen, um den Weltfrieden zu erreichen.
Also ihr wilden, scheuen oder auch übermütigen Tiere kommet in Scharen zusammen und lasset uns die Welt retten. Ob kriechend, fliegend, laufend, schwimmend alles ist erlaubt und wir freuen uns auf euch!
Klar, das ist eine große Herausforderung für eine Party, jedoch liegt uns schon länger am Herzen, dass Partys neben Spaß machen auch ein Bewusstsein für unsere Welt und ein besseres Miteinander vermitteln sollten. Vielleicht fangen wir damit erstmal an und der Rest kommt dann von ganz allein.

Die "Konferenz der Tiere" ist deshalb eine NONPROFIT Veranstaltung. Aus diesem Grund können wir die Eintrittspreise moderat halten und euch trotzdem eine Menge an tollen Künstlern bieten. Fast alle Einnahmen, die zusätzlich eingenommen werden gehen an soziale Projekte und werden in die Vorbereitung der nächsten Partys investiert, um sie günstiger und noch aufregender zu gestalten.

Falls ihr Fragen habt, kontaktiert uns gern über diese Seite!
Wir danken für euer Interesse und sind schon ganz aufgeregt…
Ein großer Dank geht ebenfalls an meine Freundin Rudegirl und alle anderen Künstler, die dieses Projekt unterstützen.

---------------------------------------------------------------------------
___________________________________________

Hey creatures of all kinds!
Its time to unite all psychedelic animals to save the world!

"Konferenz der Tiere" (Animal Conference) is inspired by a book with the same title by Erich Kästner who told the story about animals who saw themselves forced to restore world peace because of human failure.
Quite a challenge for a party, I know. I often felt parties should try harder to raise awareness for our world and our selves. That of course is not easy on a party but I am sure we can do more than just enjoying our selves.

That is why Konferenz der Tiere is a NON PROFIT event.

This allows us to keep the entrance fee reasonable while inviting a lot of great artists and also supporting them with a fair fee. Keeping that balance is not easy since this is my first event of this size and I don't want it to be the last.
Almost all extra earnings will be going to charity organizations or be invested in future events to make them cheaper and more exciting. If you want to contribute in any way or have some questions feel free to contact me via the site. Also, big thanks to my friend Rudegirl and all the artists for supporting the project!

... I hope you are as excited as I am. Cheers!
Location
Location
YAAM
An der Schillingbrücke 3
10243 Berlin
S-Bahn Station: Berlin Ostbahnhof
[yaam.de]
Entry fee
◢ TICKETS --->
[goo.gl]
______________________ _ _
( inkl. Mwst. / Incl. Tax )
► 100 Early Bird Tickets: 16,00 €
Nur bis: / available til: 01.08.16
► Unlimited Presale Tickets: 21,50 €
► Abendkasse / At the door:
23 h - 9 h = 26,00 €
9 h - 16 h = 10,00 €
► Geburtstagskinder Eintritt frei / Free entry on your birthday
24.09. & 25.09
► Eintritt nur ab 18 Jahren! / Entry only if you are 18 years old!
-- VVK Information --
Zur Zeit ist es leider nur möglich ein Ticket pro Buchung zu bestellen. Wenn ihr für jmd anderen ein Ticket bestellt, von dem/der ihr nicht den Namen nicht parat habt könnt ihr auch den selben Namen auf mehrere Tickets eintragen. Es gibt einen individuellen Code, der ausschlaggebend für die Entwertung des Tickets ist.
Wir empfehlen euch beim VVK Banktransfer zu nutzen, da bei Paypal eine weitere Gebühr anfällt. VVK-Gebühr und Steuern sind bereits im Preis enthalten.
-- Presale information--
We suggest you use Banktransfer ( if you have a german account ) because paypal demands a small fee. Tax and other fees are already included. You can only attend this event if you are at least 18 Years old.
Right now its only possible to buy one ticket at a time. If you buy for somebody else and you dont have the name its alright if you put the same name on several tickets.
There is a unique code on the ticket wich is important for validation.
--