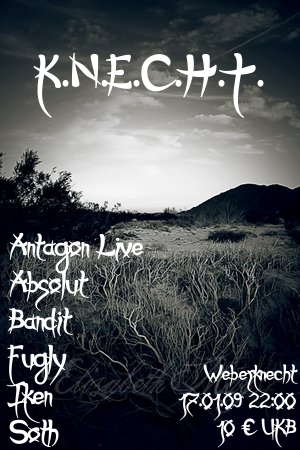 Live
Line Up
Antagon (Interzone P.A. / Mind Expansion Records) DE
[myspace.com]
"Antagon" aka Lars Peter from Hamburg/ Germany is a Darkpsy Live-Act and DJ. He is into Music since the early ninetees. At the age of twelve he started to play the Bass-Guitar and played some years in a Death Metal Demo-Band. In 1996 he started to listen to psychedelic Trance and in 1999 he started spinning CDs and Vinyl. After some years of Djing he started in 2005 to produce his own sound which leads to his actuall Darkpsy Live-Act Project.
Info
Info
Nach Antagons genialem Set auf der b00m 2008 haben wir beschlossen, dass man Wien dieses Erlebnis nicht vorenthalten darf und so wird er euch im Jänner knechten !
P.S.: Auch das Mushroom Magazine hat mittlerweile von unserer Partyreihe erfahren - aber lest selbst:
[mushlink.com]
Location
Location
Weberknecht
Lerchenfelder Gürtel 49
1160 Wien

ca 50-100m south of U6 "Josefstädterstraße"
Organizer
Organizer
K.N.E.C.H.T. Productions