K.N.E.C.H.T. - The Electric Hypnopsis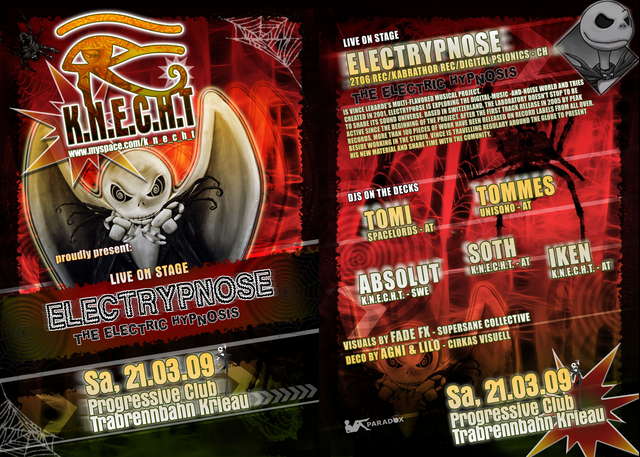 Live
Line Up
Electrypnose (2to6 Records / Kabrathor Records / Digital Psionics) CH

Electrypnose, the electric hypnosis, is Vince Lebarde's multi-flavored musical project.

Created in 2001, Electrypnose is exploring the digital-music -and-noise world and try to share its sound universe.

Based in Switzerland, the laboratory doesn't stop to be active since the beginning of the project. After the first track releaed in 2005 by Peak records, more than 100 pieces of work have been released on record labels from all over.

Beside working in the studio, Vince is travelling regulary around the globe to present his new material and share time with the comunity.
DJs
Absolut (K.N.E.C.H.T.) SWE
Iken (K.N.E.C.H.T.) AT
Tomi (Spacelords) AT
Tommes (Unisono) AT
Soth (K.N.E.C.H.T.) AT
Deco
Deco
Visuals by Fade FX (Supersane Collective)

Deco by Triangular Decorations
Location
Progressive Club Vienna Trabrennbahn Krieau
Anfahrt: Über die Südosttangente, Abfahrt Handelskai, Richtung Praterstadion, beim Dusika Radstadion links in die Meiereistraße abbiegen. Auf der rechten Seite befindet sich vis-a-vis des Ernst Happel Fußballstadions die Einfahrt zu den Parkplätzten der Trabrennbahn.
beim Sommerkino hinter der Tribühne 2.

Öffis: U2 Krieau oder Praterstadion (Ernst Happel Stadion)

Timetable
22-00 Soth
00-02 Iken
02-04 Tommes
04-06 Electrypnose
06-08 Tomi
08-10 Absolut
Organizer
Organizer
K.N.E.C.H.T. Productions