Klangkulisse Herrentags Open AIr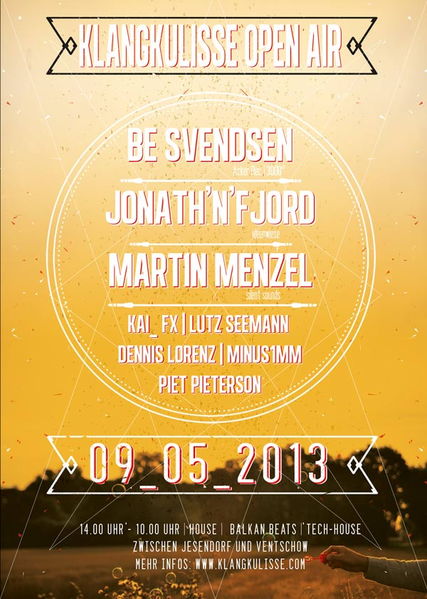 Live
Line Up
BeSvendsen (Acker Rec. / 3000°)
Jonath'n'Fjord (ideenwiesen)
DJs
Martin Menzel (silent sounds)
kai_fx (klangkulisse)
minus1mm (klangkulisse)
lutz seemann, dennis lorenz, piet pieterson (klangkulisse)
Info
Ahoi Freunde!

Mit viel Freude und Sonne im Gepäck starten wir am Herrentag den 09.05.2013
erneut in die Open Air Saison!
Anpfiff ist um 14.00 Uhr!
Musikalisch wird es bunt zur Sache gehen, frei nach dem Motto "ENTER THE CIRCUS", Svendsen von Fortschritt 3000 / Acker Rec. wird uns eines seiner traumhaften LiveSets präsentieren.
Weiter geht es mit Jonath'n'Fjord. Fern ab von Laptops, Plugins und Bildschirmen prägen diese Beiden, durchaus charmanten Musiker, den Jamcharakter echter, handgemachter Livemusik und sprengen damit die Ketten der klassischen elektronischen Tanzmusik mit starken Einflüssen aus Klezmer, Balkan Beats und Blues. Ein Ohrenschmaus, der in die Glieder fährt, den Alltag vergessen lässt und jedem ein Grinsen ins Gesicht zaubert. Mit am Board haben wir dann noch Martin Menzel. Seit 1993 zählt Martin zum festen Bestandteil der norddeutschen Technoszene. Gefeiert und geliebt wird er nicht nur für seine liebevoll-energetischen Techno-House Sets und seine Radioshow "Nighttraxx" auf Radio Lohro, auch für seine Club-Reihe "Silent Sounds" gewinnt er verdientermaßen viel Anerkennung und das weit über die Stadtmauern Rostocks hinaus.
Abgerundet wird die Exkursion von den Klangkulisse Musikanten.

*Selbstverständlich ist unsere Camping Area bereits ab Mittwoch, den 08.05.2013, für euch geöffnet!

*Unterstützt die Klangkulisse und kauft eure Getränke an der BAR!

*Bei schlechtem Wetter wird das Fest nach Drinnen verlegt!

* Müll gehört in die dafür vorgesehenen Behälter und nicht auf die Wiese!!!!

* Achtet auf Euch und Andere – wer die Grenzen von Anderen nicht respektiert, der wird
ausgeschlossen!

* Faschos oder Leute mit Rechter-Streetwear können sich verpissen!

* Leute, die breit Auto fahren gefährden sich und andere – also klärt rechtzeitig wer Fährt!

*Nutzt bitte die Bahnverbindung nach Ventschow, von dort aus ist es nur noch ein Katzensprung zu uns!

Also bringt viel Sonne, eure Freunde und gute Laune mit!
CU on the DänZfloOR!
Location
Location
klangkulisse Jesendorf
53.79797,11.587186