KINKY BEATS @ Kulti - EMOK / DUCA / KHAINZ Live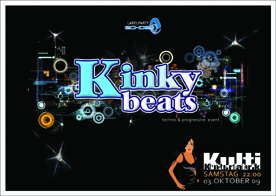 Live
Line Up
DUCA (Tribal Vision)
KHAINZ (Sprout, Echoes Records)
MAELSTROM aka EMOK (Iboga, Kinky Beats) Dänemark

progressive, techno, electro, minimal
DJs
EMOK (Iboga, Kinky Beats) Dänemark
OSHO (Echoes Records) Israel
MANON (DekaDance) CH
LA BAAZ ( Echoes, Plusquam, Kinky Beats) CH
KARA_MAEHL (Echoes, Plusquam, Kinky Beats) CH
AKUSTIK (Spin Twist Records) CH
OLLIN (Zürich) CH

progressive, techno, electro, minimal
Deco
Deco
Special Effects by: Lichtblick & Kinky Beats
Info
Kinky Beats - Echoes Label Edition
Nach einer erholsamen Sommerpause ist es am 3. Oktober wieder so weit und wir präsentieren die 12. Kinky Beats unter dem Motto "Echoes Edition". Speziel wird der Sound des Labels Echoes Records mit seinen Artisten Khainz, La Baaz, Kara Maehl und Osho vorgestellt. Der Echoes Records Label Chef wird zum ersten mal in der Schweiz anwesend sein und in seinem DJ Set die innovativsten und modernsten Sounds der Progressive-Szene sensibilisieren. Weitere erlesene Köstlichkeiten bringt Khainz mit dem Debut Album "Modul 8". Das technoide Album wird er bei uns in einem modernen Live-Set zelebrieren. Begleited wird das ganze von den internationalen Grössen wie unserem Top Resident DJ Emok aka Maelstrom und die Überraschung Duca aus Serbien welcher ebenfalls zum ersten Mal für euch in der Schweiz gastiert. Bei Duca`s enorm Dancefloor orientierten Live-Set wird niemand stehen bleiben. Zum ersten mal dürfen wir auch She DJ Manon bei uns begrüssen. Sie ist unter anderem Resident in den Schweizer Cocoon Nights und spielt zusammen mit Artisten wie Sven Väth. Lasst euch von unserem pulsierenden Sound faszinieren.
EMOK aka MAELSTROM
Emok is one of the founders of Iboga Records in Denmark. The label has existed since 1997 and has recently expanded with two sub labels – Prestige Music and Sofa Beats. In 2005 Iboga Records also launched a big online store for CDs and digital downloads on the net called ProgressiveTunes.com as well a magazine in 2006 called ProgresiveTunes as well. During the time with the label Emok has been part of organizing various events and festivals in Denmark such as Camp Electric back in 2001. Besides the work on the labels Emok have been producing music in the Iboga studio in Copenhagen under various names. He has released two albums under the name Phony Orphants as well a bunch of tunes under the name Emok. Recently Emok has started to produce his first solo album which is due to release in October 2007, the style is prgressive house progressve electro with a nice punch of energy. Besides that Emok has been writing tunes with various producers like Ian Ion, Liquid Soul, Ace Ventura and Hydrophonic. Just shortly after launching Iboga Records back in 97, Emok started touring the world DJing and is today one of the most acknowledge DJs in the scene today. Emok have recently started to perform his own live set which he has putted a lot of effort into. The live set runs from the computer in 8 different channels and is accomplished with various sounds from keyboards and samplers, and is never played the same way twice. . . . . .
[myspace.com]
DUCA
Year 2004 was the turning point for this young artist as he finally made his debut release. He dabbled into everything - from acid trance through techno to goa trance - only to reach progressive house and techno, which are the genres he is most into these days. At 2007 he made contact with renowned label Tribal Vision Records, soon became one of their artists and in September 2008 released there his debut album entitled After Dark. The album was an instant success and Duca became well-known name on the progressive and techno scene.
During the last couple of years he has released a big amount of singles and EPs on number of top progressive/techno labels such as Flow / Flow Vinyl, Iboga, Spiral Trax, Lo Kik and many others. He has performed worldwide with his live and DJ sets, including countries such as Brazil, Mexico, Japan, Israel or Czech Republic. He has been much honored to be part of Sao Paulo's Virada Cultural line-up and considers this festival to be the pinnacle of his career.
[myspace.com]
OSHO
With an international DJ career, DJ Osho considers one of the leading Israeli Progressive DJ's in the world.
Oshry Ben Simon aka DJ Osho, born and grew up in Beer Sheva, located in the south of Israel. DJ Osho fell in love with electronic music in the early 90's, and has been DJing since the end of 1999. He is the founder of Echoes Records.
This platform shared a vision of creating a place to pull together quality productions from all corners of the globe. The main concept is raising awareness to the most innovative and cutting edge sounds in the available Progressive scene.
For 3 years DJ Osho was the resident of the 'Electro Neto' Weekly line of parties at the Barcoteque (Q club), and got to play alongside various artists and DJ's from the International Trance and Progressive scene. He has performed in a wide variety of events, from clubs and Dance floors to open-air parties and festivals in Israel and around the world.
Souleclipse Festival (Turkey), Rhythm of Peace Festival (Morocco), XXXperience (Brazil), Spirit Base Festival (Austria), Progressive Explosion (Mexico), Massive Trance (Mexico), T.A.Z Festival (Israel), Paramount Club (China), Maxim Club (Israel), and in countries, such as Germany, Greece, Denmark, Hungry, and many more.
[myspace.com]
MANON
Manon aka Manon Maeder has been part of the Swiss techno and house scene since the early nineties. In the late nineties, she was already knee deep into producing and released tracks for various international compilations like "Island - Vol.2", as well as national compilations like "Kaufleuten" named after the legendary night club where Manon had her first residency in the nineties. Today, Manon is resident of the Cocoon Nights Switzerland, she plays alongside Sven Väth on his swiss gigs and she has played at many big name clubs and festivals like Cocoon Club, Vision Festival, Time Warp, Panorama Bar, Hive and many more.
[myspace.com]
[myspace.com]
[myspace.com]
[myspace.com]
[myspace.com]
Location
Location
Kulturfabrik
Wetzikon