Kandiszucker Kollektiv: Aloz Nogrog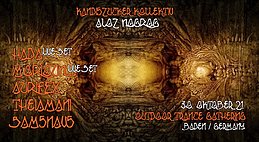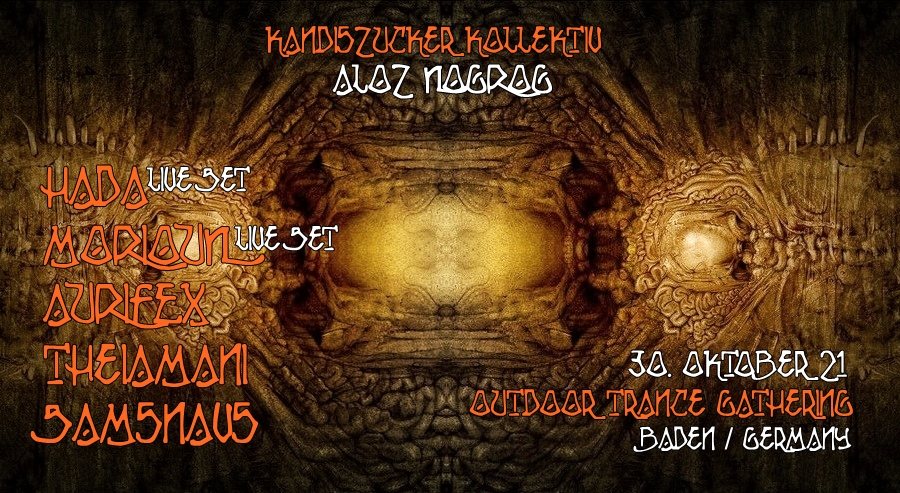 Line Up
Line Up:
----------
Hada (Live) / Chronicle Of Mystery Records
[bandcamp.com]
Morioun (Live) / DharmaR Records / Kandiszucker Kollektiv
soundcloud
Aurifex (Dj Set) / Kandiszucker Kollektiv
soundcloud
Theiamani (Dj Set) / Denmark / Kandiszucker Kollektiv
soundcloud
Samsnavs b2b Filen (Dj-Set) / Denmark / Kontoret Records
soundcloud
Info
We invite you to our Samhain Ritual Goa Trance Gathering.
Samhain is the celtic Ritual now known as Halloween.
In Pagan believes its the day for the spirits to walk the earth visibly for the night of the harvest ritual that introduces the winter months.
People were wearing masks to hide from the spirits and to prevent themselves to be "carried away" - as in pagan believes the one who faced the death will not survive the cold winter months.
We will gather on a private outdoor Place in Baden, close to Karlsruhe.
Please bring warm clothes as it can get really cold in the nights.
We will provide some rain protection for the dance floor and there will be a bunfire of course!

Entry Fee: 10 Euros
(The money goes straight into our upcoming Goa Trance Compilation that will be released soon! We appreciate and need all support for pressing the CDs! 😊 )
Some Drinks will be sold as well.
Location
Karlsruhe

Baden Würtemberg - Germany
Organizer
Organizer
Kandiszucker Kollektiv
Web
[facebook.com]
For the excact Location write Tim Aurifex or Dan eben in Facebook,
If u dont have Facebook you can also write an Email to the adress below!
Added

1y 5m

· Update

1y 4m

·

/ 1