Backend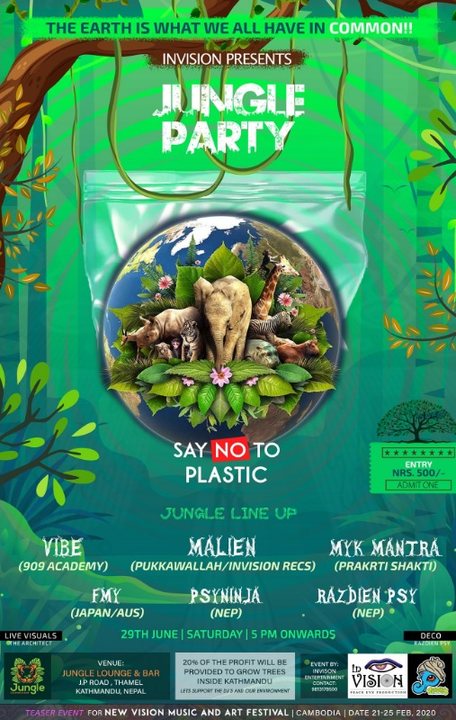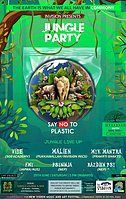 Line Up
* VIBE
(909 Academy)Nep

*MALIEN
(Pukkawallah/Invision Recs)NEP

*MYKY MANTRA
(PRAKRITI SHAKTI)NEP

*FMY
(JAP/AUS)

*PSYNINJA
(INVISION RECS)NEP

*RAZDIEN PSY
(INVISION RECS)NEP
Deco
Razdien Psy

Visuals
The Architect & Anandamide Visuals
Info
Info
Invision Is back with a New concept of Supporting Environment Issues a Major problem in Kathmandu and The World, 20% of EVENT profit will grow to be Trees. That we are planning to plant it Inside Kathmandu city.So if you Support us , with your support We Will Make it Possible.Trust Us.

Our New Venue Jungle Lounge,In side Thamel with indoor beautiful Jungle art Deco made by our Nepali artist, will give you a feeling of you all being inside Jungle in hearth of Kathmandu. Is`t that amazing.

We have International Dj`s and Best Home Town Dj`s spinning some Jungle theme music , along with some Dark progressive, Forest music etc.

This Event Is for Music/Art Lovers and for ACTIVE MEDITATION Where You DANCE WITH MUSIC AND FIND A JOURNEY OF FREEDOM connecting all souls to be one and understand each other that we all are one and our goal of being a Human In This Mother Earth is to Protect Our Mother Earth from Pollution and Let her and Everything On it To breath Healthy.

We are trying our best to come up with new ideas and Entertainment for you all so please come Drink/Dance Meditate and be part of this Magical Moment.
Location
Jungle Lounge & Bar, J.P Road , Thamel
Kathmandu, Nepal