Jungle Love 3: Axis Mundi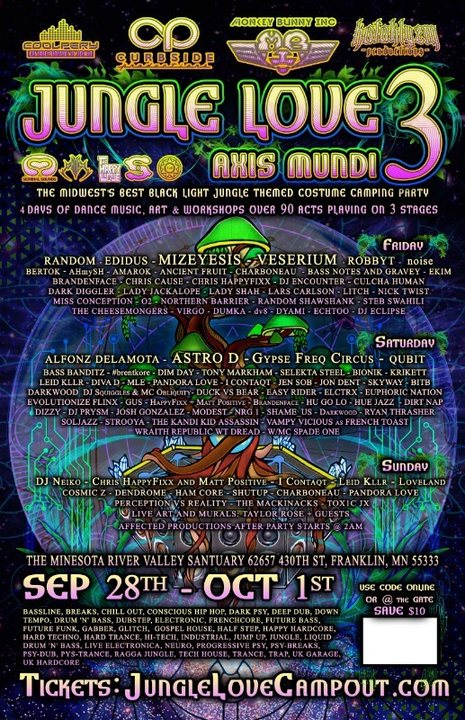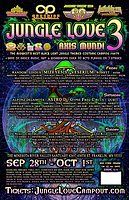 Line Up
#brentcore ❀Multi-genre Hardcore❀ IL
AHmySH ❀Tech House❀ MN
Alfonz Delamota ❀Liquid / Drum 'n' Bass❀ IL
Amarok ❀Progressive Psy❀ IL
Ancient Fruit ❀Chill Out❀ MN
Astro D ❀Full On Live PA❀ Greece
Bass Banditz ❀Drum 'n' Bass❀
Bass Notes and Gravey ❀Deep Dub❀ NE
Bertok ❀Funk Bass❀
Bionik ❀Future Bass❀ MN
Bitb ❀Bass❀ MN
BrandenFace ❀Chill Out / Progressive Psy❀ MN
Charboneau ❀Tech House❀ IN
Chris Cause ❀Liquid Drum 'n' Bass❀ MN
Chris HappyFixx ❀Happy Gabber❀ IL
Chris HappyFixx and Matt Positvie ❀Old School Jungle and Early Breakbeat Hardcore❀ IL
Shawshank ❀Deep Dub / Half Time❀ MN
Cosmic Z ❀Progressive❀ MN
Culcha Human ❀Jungle❀ MN
Dark Diggler ❀Dark Psy❀ MN
Darkwood ❀Electronic❀ NE
Dendrome ❀Hi-Tech❀ NE
Dim Day ❀Tech House❀ Greece
Dirt Nap ❀HHC/UK Hardcore❀ MN
Diva D ❀Drum 'n' Bass❀ WI
Dizzy ❀Electronic❀ MI
DJ Encounter ❀Hard Techno❀
DJ Neiko ❀Liquid DnB & Jungle❀
DJ Prysm ❀Jungle❀
DJ Squiggles & MC Obliquity ❀UK Hardcore❀ MN
Duck vs Bear ❀Duckcore vs Ungodly Core❀ MN
Dumka ❀Deep Dub❀ MN
Dyami ❀Drum 'n' Bass❀ MN
Easyrider ❀Jump Up❀ MN
Echtoo ❀Deep DNB / Half Time❀ MN
Eclipse ❀Hard Trance❀ MN
Edidus ❀Full on❀ WA
Ekim ❀Deep Dub❀
ELCTRX ❀Glitch/Bass❀
Euphoric Nation ❀Trance❀ MN
Evolutionize ❀UK Hardcore/Freeform❀
Flinx ❀Gabber❀
Gus ❀Progressive Psy❀ MN
Gypse Freq Circus ❀Live Electronic Band❀ MN
Ham Core ❀Glitch Core❀ NE
HappyFixx + Matt Positive tag session ❀Happy Hardcore
Hu Go Lo ❀Liquid Drum 'n' Bass / Half Step❀
Hue Jazz ❀Drum 'n' Bass❀ WI
I Contaqt ❀Down tempo / Pys-trance❀ IL
Illuminominee ❀Glitch❀ MN
Jen Sob ❀Psy-Breaks❀ WI
Jon Dent ❀Neuro❀ MO
Josh Gonzalez ❀Drum 'n' Bass❀ MN
Krikett ❀Psytrance❀ FL
La Belle Nuite ❀Goth/Industrial❀ MN
Lady Jackalope ❀Bassline❀ NE
Lady Shah ❀Liquid Drum 'n' Bass❀ MN
Lars Carlson ❀Tech/House❀ MN
Leid Kllr ❀Gospel/Uplifting House❀ TX
Litch ❀Tech House❀ MN
Loveland ❀Funk Glitch❀ NE
Matt Positve and Chris HappyFixx ❀Old School Jungle and Early Breakbeat Hardcore❀ IL
Miss Conception ❀Conscious Hip Hop❀ CA
Mizeyesis ❀Jungle / Drum 'n' Bass❀ NY
MLE ❀Drum 'n' Bass❀
Modest ❀Drum 'n' Bass / Jungle❀ MN
Nick Twist ❀Drum 'n' Bass❀ MN
Northern Barrier ❀Minimal Drum 'n' Bass❀ MN
NRG - 1 ❀Hard Techno❀ MN
Pandora Love ❀Chillout/ Psy-trance❀ MN
Perception vs Reality ❀Pys-trance❀ MN
Qubit ❀Glitch/Trap❀ NE
Random ❀Psy-trance Live PA❀ CA
robbyt ❀Drum 'n' Bass❀ NYC
Ryan Thrasher ❀Breaks❀ WI
Selekta Steel ❀Jump Up❀
Shame_Us ❀Industrial Core❀ MN
Skyway ❀Progressive Psy❀ Greece
Soljazz ❀Liquid / Half Step❀
Steb Swahili ❀Funky Chill Music❀
Strooya ❀Chillout/PsyDub❀ IA
Matt Postitive ❀Happy Hardcore Anthems❀ IL
The Kandi Kid Assassin ❀Happy Hardcore❀ MO
The Mackinacks ❀Funk Bass❀ MN
Tony Markham ❀Ragga Jungle / Drum 'n' Bass❀ MO
TOX1C JX ❀Pys-trance❀ MN
Vampy Vicious as French Toast ❀Frenchcore❀ IL
Verserium ❀Dubstep Virtual Reality Live PA❀ NV
Virgo ❀Drum 'n' Bass / Jungle❀ MN
Wraith Republic ❀Drum 'n' Bass / Future Funk❀ MN
WT Dread ❀UK Garage❀ MN
Deco
Deco
Monkey Bunny Inc, Psychedelic Aesthetics, Curbside Productions
Info
Info
4 days and 3 nights of mind-expanding nights of electronic dance music, art, workshops, camping, and community!

We invite you back to the Jungle to sit under the World Tree - The Axis Mundi. Come to get connected down from your roots all the way up to your crown, then connect a bit further into the great beyond.

We will have insightful workshops focused on how you can connect with yourself and others even under adversity. And through that connection communicate better and flow smoother. Through community, we can thrive and grow together.

"The Axis Mundi (also cosmic axis, world axis, world pillar, the center of the world, world tree), in certain beliefs and philosophies, is the world center, or the connection between Heaven and Earth. ... The spot functions as the omphalos (navel), the world's point of beginning."

Expect 3 stages divided into a Psychedelic Forrest, The Drum and Bass Cave, and the 4x4 Hardcore Café!
Location
Location
62710 430th Street, Franklin MN 55333
Organizer
Organizer
Monkey Bunny Inc
320 Gramercy Ave N
Minneapolis MN 55405
Added

3y 3m

· Update

3y 3m

· 1