jiranium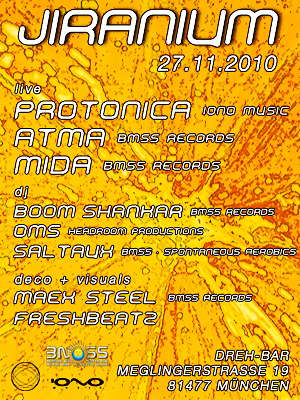 +++++++++++++++++++++++++++

PROTONICA // IONO Musik

+++++++++++++++++++++++++++

ATMA // BMSS rec.

+++++++++++++++++++++++++++

M.I.D.A // BMSS rec.

+++++++++++++++++++++++++++
BOOM SHANKAR // BMSS rec.

+++++++++++++++++++++++++++

OMS // Headroom Productions

+++++++++++++++++++++++++++

ANJOLI // Mu Shu rec.

+++++++++++++++++++++++++++

SALTAUX // BMSS rec., Spontaneous-Aerobics

+++++++++++++++++++++++++++
Chill
+++++++++++++++++++++++++++
Chill & Chai by Schmox Family
+++++++++++++++++++++++++++
Deco
+++++++++++++++++++++++++++

Visuals by: MAEX STEEL // BMSS rec.

+++++++++++++++++++++++++++

Deko by: Freshbeatz

+++++++++++++++++++++++++++
PROTONICA werden mit feinstem PsyTrance ihr zweites Album präsentieren,
welches im November auf Iono Music veröffentlicht wird.

PROTONICA sind Piet Kaempfer und Ralf Dietze aus Berlin.
Mit seiner klassischen Klavierausbildung sorgt Piet dabei für die Harmonien,
Ralf als geschulter Sounddesigner für treibende Grooves.
Heraus kommt Protonica's ganz eigener positiv pulsierender Sound -
eine Mischung aus Psychedelic und Progressive Trance.
Seit Erscheinen ihres erfolgreichen Debüt-Albums "Search" (2007)
hat das Duo Tracks bei zahlreichen Labels veröffentlicht.

In ganz Europa haben Protonica inzwischen schon Partys mit ihren
energiegeladenen Live-Sets bereichert, darunter das Aurora Festival (Griechenland),
Fullmoon Festival (Deutschland), Fusion Festival (Deutschland), Spirit Base Festival (Österreich),
Al-Andalus Festival (Spanien) und Timegate (Schweiz).

+++++++++++++++++++++++++++

Andrei Oliver Brasovean aka "ATMA" is original from Hermannstadt .. Transylvania.
Starting to produce techno and trance music since 1991, he is one of the pioneers of electronic music in East Europe. In '95-'96 he started to produce Goa trance music and to organise small parties.

Well known around the globe for his unique style and for his "full live"performances, ATMA is now one of the most promising talents in the scene.... With more than 16 years of electronic music production, and hundreds of live performances on both: techno & trance scene, ATMA is no longer a new comer.

With his long musical background and the experience of working other musical styles he developed a totally unique style of psychedelic trance music. His music it's a "new definition" to the "full on" genre and it takes psytrance music to a higher and more professional level.

+++++++++++++++++++++++++++

Wir bündeln ein weiteres Mal unsere Kräfte um zu
einer besonderen Nacht der Psy Trance Kultur einzuladen.
Die Dreh Bar bietet dafür das passende Ambiente.

Einen besonderen Anlass hat diese Feier auch:
Saltaux gründete 2009 aus dem bestehenden Tribe
BMSS das Label BMSS-Records und veröffentlichte
die erste Compilation "A Concept in Psy".
Und zum genau 1. jährigen bestehen von BMSS Records,
habe ich mich auch nicht lumpen lassen und besorgte mir
schlagkräftige Unterstützung: Protonica und Atma, einer
der angesagten Live Acts wird Euch mit ihrem Sound zum
wackeln bringen. Unterstützung findet sich natürlich auch,
neben den Münchner Local Heros M.I.D.A. und OMS und
Saltaux in einem energetischen Set Ihr Bestes geben.
Untermalt werden diese Schallwellen durch eine visuelle
Performance von Maex Steel und Freshbeatz.

Die ersten 25 bekommen unser erstes Release FOR FREE!!!
Location
Location:
Dreh-Bar
Meglingerstraße 19
81477 München
[dreh-bar.com]
(Line: U3 | Station: Forstenrieder Allee)
From
Saltaux | IONO Music
münchen · Germany
Here since 9y 10m · 405 Posts
·
6,873