ॐ Janaraeॐ Diksha+Synkronic Live -Halloween Gathering- Lido Pola (NA Italy)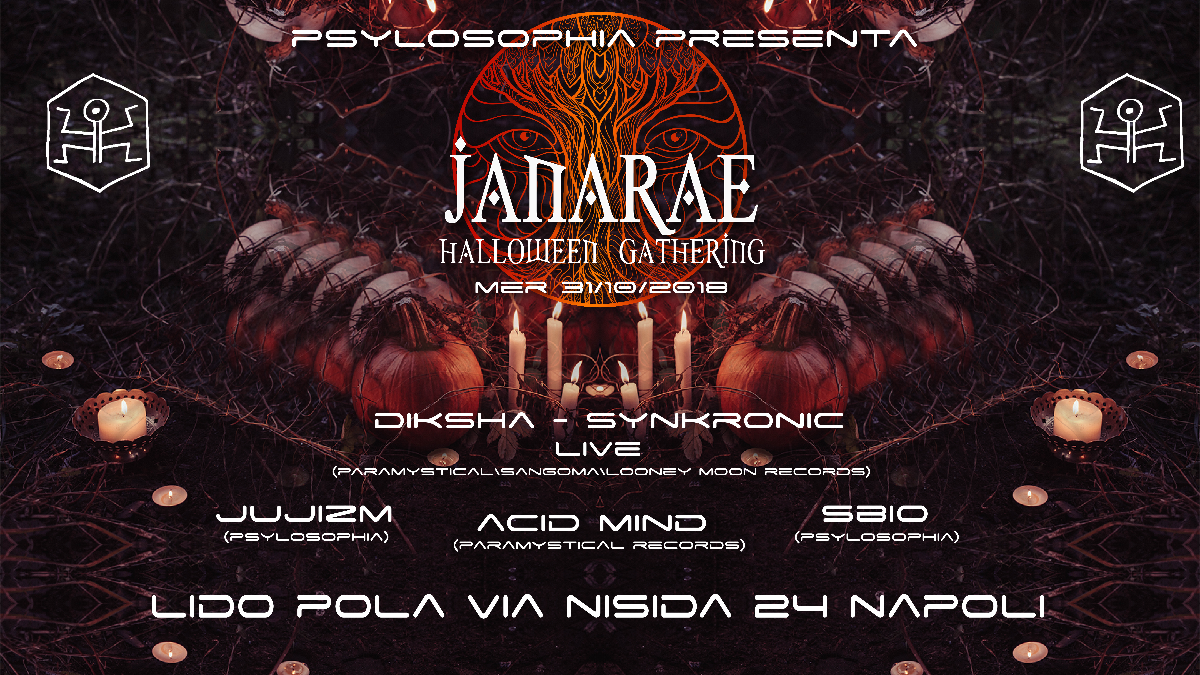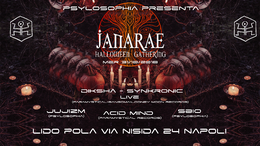 Line Up
ॐ PSYLOSOPHIA PRESENTS:
►JANARAE◄
>>> HALLOWEEN GATHERING <<<
MERCOLEDI' 31 OTTOBRE 2018
@ LIDO POLA - Bagnoli (NAPOLI)
▲ LINE UP - STARSHIP CREW :
- DIKSHA (Sangoma Rec./ Paramystical Rec.)
soundcloud
[facebook.com]
DIKSHA is the awakening of consciousness to a state of unity. It is a transformative energy that allows understanding and deepening of yourself, with others and with life. It is able to activate brain areas that promote the change of feelings and emotions, and amplify the perception. DIKSHA LIVE came to bring a new meanings to psychedelic music and transmit sound frequencies through the AWAKENING, and UNDERSTANDING the CONNECTION to the paths of knowledge and evolution.
- SYNKRONIC (Looney Moon Rec./ Paramystical Rec.)
soundcloud
[facebook.com]
The synchronicity is a meaningful coincidence between mental and physical events. Are phenomena such as thoughts, numbers, and intuitions that arise from the unconscious and that leads us to reflect and seek an understanding of the coincident events. Chance or not, can be considered delusions of someone who feeds a supernatural expectation of existence, but can also be a glimpse of a brilliant mind far ahead of his time.
Synkronic is the manifestation of these puzzling phenomena transformed into a sound frequency that allows induce understanding and awakening consciousness. The project of the Brazilian Diksha is another bet of the renowned Looney Moon Records.
- ACID MIND (Paramystical Rec,)
soundcloud
[facebook.com]
- SBIO (Psylosophia Lab.)
soundcloud
[bandcamp.com]
- JUJIZM (Psylosophia Lab.)
soundcloud
▲ CHILL OUT AREA
- INCREDIBLE TIDE
[click here]
- BRIANOIZE
soundcloud
- BRAHMA RISHI
[facebook.com]
- DOM
soundcloud
- VLAMX
▲ DECO by Psylosophia
▲ VISUAL by Psylosophia
▲ LIVE PAINTING
▲ BODY PAINTING
▲ FIRE JUGGLING ZONE
▲ LASER SHOW & UV LIGHTS
▲ SHOP AREA
▲ CHAI SHOP
Flyer Artwork by Vito Meola in collab. with Dilshad Najeeb
Entry: 4€
Janare, negli ultimi tempi tanto si sta parlando di questa figura femminile legata al mondo del mito di numerosi territori del Sud Italia. Ci sono varie ipotesi su questo culto ancestrale ed estatico, ma fondamentalmente una Janara e' una sciamana che attraverso le tecniche dell'estasi si connette con il tessuto ancestrale e magico della natura, non streghe quindi e nemmeno sacerdotesse, ma sciamane della terra, delle acque, della Luna. Il cosiddetto "volo magico" verso il Sabba e' strettamente collegato al mito europeo del "Corteo dei Morti", un giorno in cui si ritiene che i morti ritornino sulla terra per incontrarsi di nuovo con i vivi, questo giorno un tempo conosciuto come Samhain e' quello che oggi conosciamo con il nome di Halloween.
Le Janare si incontravano nei cosidetti "circi" (cerchi) per ballare, cantare e onorare la Grande Madre terra, il culto ancora vivo in tantissimi paesi dell'entroterra dalla Campania all'Abruzzo e' un pezzo vivo di Antica Europa che e' riuscito a sopravvivere fino ai nostri giorni nonostante persecuzioni e dominio del patriarcato. Salta nel cerchio della Janara!
...WE COME IN PEACE FROM NIBIRU TO MAKE SOME EXPERIMENTS ON HUMAN RACE!
Respect yourself , Respect the others !
ALL TRIBES ARE WELCOME !!
BOOOM !!! ॐ ॐ ॐ
Location
Location
Viale Nisida 54 , Napoli