Backend
Inversion Of Time - with Bubble // XV Kilist // and many more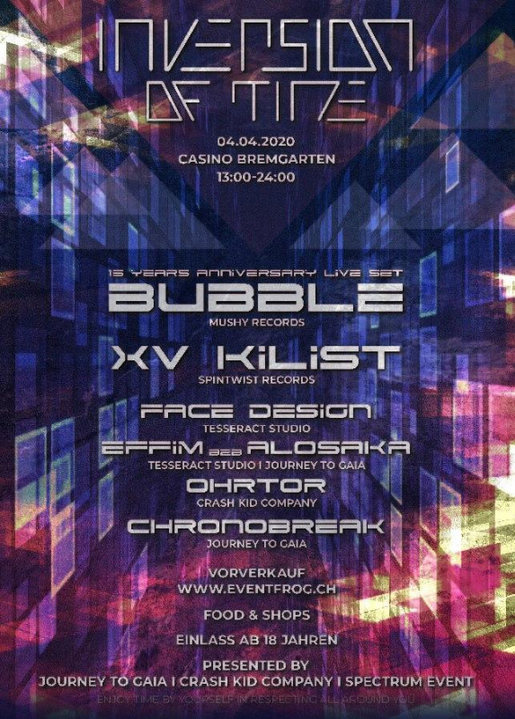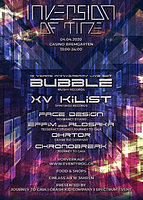 Line Up
Liebe Alle

Schweren Herzens müssen auch wir leider mitteilen, dass aufgrund der jetzigen Umständen die Inversion nicht stattfinden wird. Diejenigen, die bereits ein Ticket gekauft haben, werden in den kommenden Tagen eine Email von uns erhalten. Der Betrag wird dann vollumfänglich zurück erstattet.

Trotz der schwierigen Situation wollen wir zuversichtlich bleiben. Wir werden den Elan, den wir für die Planung dieses Events gefunden haben, beibehalten und die Party auf einen späteren Zeitpunkt verschieben.

Wir freuen uns, euch bald wieder zu sehen und zusammen zu feiern!

Bis dahin, stay home and healthy

Journey to Gaia & Crash Kid Company
Deco
Deco
Decoration by Journey to Gaia
Info
Location ist 5 Min. von der Haltestelle "Bremgarten Obertor" erreichbar. Bitte nutzt die ÖV. Parkplätze sind beschränkt vorhanden.

° Friendly Security
° KV2 Audio
° Einlass ab 18 Jahren
° Shops and Food
° Garderobe
° Decoration by Journey to Gaia
° last Train by last Beat

Wir freuen uns, die erste Ausgabe der Inversion mit dir zu feiern – Lass dich überraschen, wie anders das Gewohnte sein kann.
Location
Location
Casino Bremgarten, Wohlerstrasse
Organizer
Organizer
Journey to Gaia, Crash Kid Company, Spectrum Events
Added

2y 2m

· Update

2y 1m

· 1