Backend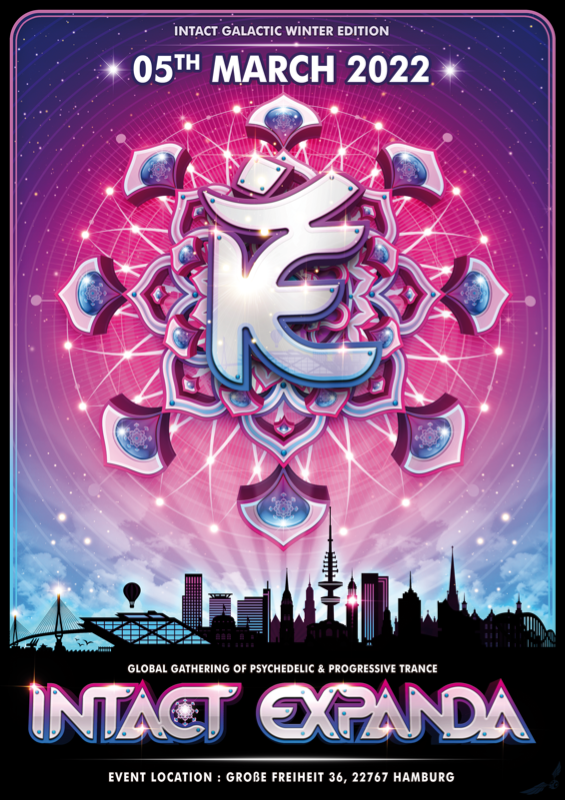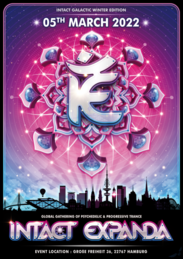 Info
☾ Intactgalactic Winter Edition ❂ ☾ ✹
Tickets:
[solartechticket.com]
Official Trailer:
youtu
Aftermovie September 2019:
youtu
Mit Herz und Klang
Die Intergalactic Winter Edition 2022 startet in eine neue Runde
Wir können es kaum erwarten. Nie zuvor haben wir uns so auf die nächste psychedelische Saison gefreut. Die intergalaktische Winter Edition 2022 steht in den Startlöchern und wartet auf euch. Am 5. März 2022 wollen wir nach einer langen Pause ein neues Kapitel "Intact Expanda" in der Großen Freiheit in Hamburg starten. Unsere Sounds ziehen aus dem Hühnerposten nun mit in die neue Location.
Danke Hühnerposten für all die gute Zeiten! Wir haben jeden Moment mit euch dort geliebt. Diese Zeiten wollen wir nun gemeinsam in den neuen Räumlichkeiten in der Großen Freiheit nach einer langen corona-bedingten Pause auf drei Floors wieder aufleben lassen. Neuer. Größer. Mehr. Mit Herz und Klang. Optimistisch bewegen wir uns in eine neue Dimension psychedelischer Partygeschichte mit Psychedlic & Progressive Trance sowie einem besonderen Ambient Chill Space. Seid mit dabei! Vereint in Tanz und Traum.
Neben guter Laune braucht ihr nur noch die Luca-App. Bitte beachtet auch die 2G-Regelung. Und seid bereit für eine unvergessliche Nacht mit einem spannenden Line-up.
Wer sein Ticket im Vorverkauf sichert, spart sich sicherlich das Warten in der Schlange.
Wir freuen uns auf euch!
Euer Intact Expanda Team
☾
Follow your heartbeat!
Get ready for the Intergalactic Winter Edition 2022
We can't wait. Never before, we have been so excited about the next psychedelic season. The Intergalactic Winter Edition 2022 is waiting for you. After a long break, we want to start a new chapter in the history of the "Intact Expanda" at the "Große Freiheit" in Hamburg on the 5th of March 2022. Our sounds are moving together with us from the Hühnerposten to the new location.
Thank you Hühnerposten for all the good times! We loved every moment with all of you there. We now want to revive these times all together on the three floors of in the new premises in the "Große Freiheit" after a long corona-pandemic-related break. Newer. Bigger. More. With heart and sound. Optimistically, we are moving into a new dimension of psychedelic party history with Psychedlic & Progressive Trance as well as a special Ambient Chill Space. Be part of it! United in dance and dream.
Besides a good mood, all you need is the Luca app. Please also note the 2G rule. And be prepared for an unforgettable night with an exciting line-up. If you secure your ticket in advance, you will certainly save yourself the wait in the queue.
We are looking forward to seeing you!
Your Intact Expanda Team
☾ ❂ •°•° •°•° ❂ ☾ ✹ •°•° •°•° •°•° ❂ ☾
FEATURES
❂ Free entry for birthday child
❂ 2 Dance floor
❂ 1 Ambient area
❂ Photos by Benjamin Genz
❂ Uv-Bodypainting
❂ Shops
❂ Projection
☾ ❂ •°•° •°•° ❂ ☾ ✹ •°•° •°•° •°•° ❂ ☾
TICKETS Ab 18 Jahren
[solartechticket.com]
☾ ❂ •°•° •°•° ❂ ☾ ✹ •°•° •°•° •°•° ❂ ☾
Organizer
Organizer
SOLAR TECH EVENT
More events from SOLAR TECH EVENT