Backend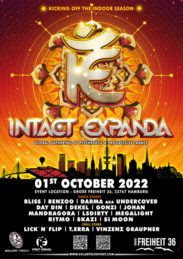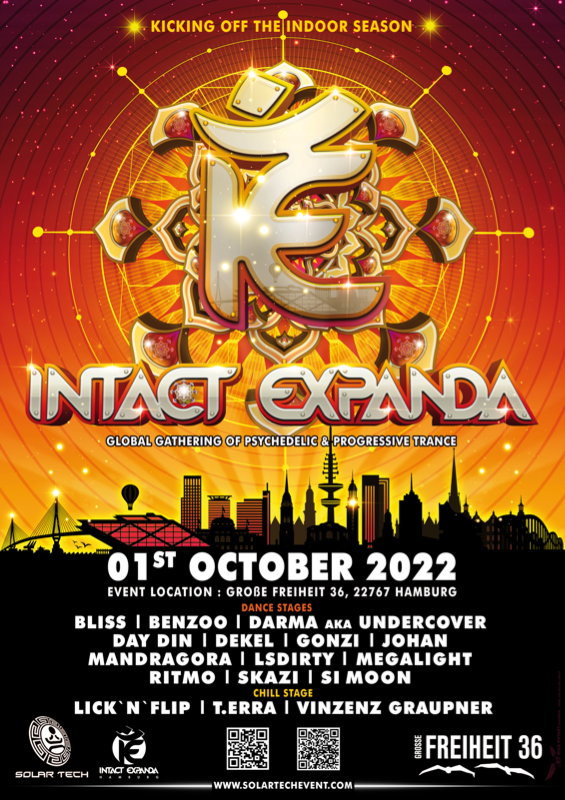 Info
☾ Kicking off the indoor season ❂ ☾ ✹
Tickets:
[solartechticket.com]
Official Trailer:
SOON
Aftermovie March 2022:
youtu
☾ ❂ •°•° •°•° ❂ ☾ ✹ •°•° •°•° •°•° ❂ ☾
INFO
Auch dieses Jahr starten wir mit euch auf der Intact Expanda 2022 am 01. October in eine faszinierende Indoor-Saison. Lasst euch von internationalen Top-Artists auf eine intactgalaktische Reise durch die Klangwelten mitnehmen. Werdet auf den Floors der Großen Freiheit 36 mitten im Hamburger City Center verzaubert. Die Musik erhebt euch in überwältigende Sound-Welten und lässt euch irgendwo zwischen Wirklichkeit und Imagination tanzen oder in der Lounge chillen! Seid mit dabei, wenn die Intact Expanda wieder nationale und internationale Gäste zum Feiern vereint! Zwischen UV-Bodypainting und magischen Dekorationen könnt ihr eurer Fantasie freien Lauf lassen! Diese Nacht ist Deine Nacht! Wer lieber gleich tanzt, statt in der Schlange zu stehen, nutzt gern unseren Vorverkauf!
Wir freuen uns auf Euch!
Euer Intact Team
☾
With the Intact Expanda 2022, on 01st of October, we will dance again into a fascinating indoor season. Let international top artists take you on a intact galactic trip through the universe of sound. Be enchanted on the floors of the Große Freiheit 36 at the city center of Hamburg. The music will carry you into overwhelming sound-spheres. You will be dancing somewhere between reality and imagination or chill in our lounge. Be part of it, when Intact Expanda again connects national and international guests to party together! Let your fantasy be fired between UV-Bodypainting and magical decoration! This Night is yours! If you prefer to go directly to the dance floor instead of waiting in line, use our presale!
Your Intact Team
FEATURES
❂ Free entry for birthday child
❂ 2 Dance floor
❂ 1 Ambient area
❂ Photos by Benjamin Genz
❂ Uv-Bodypainting
❂ Shops
❂ Projection
☾ ❂ •°•° •°•° ❂ ☾ ✹ •°•° •°•° •°•° ❂ ☾
Location
Große Freiheit 36
Große Freiheit 36
22767 Hamburg
Organizer
Organizer
SOLAR TECH EVENT
More events from SOLAR TECH EVENT