Backend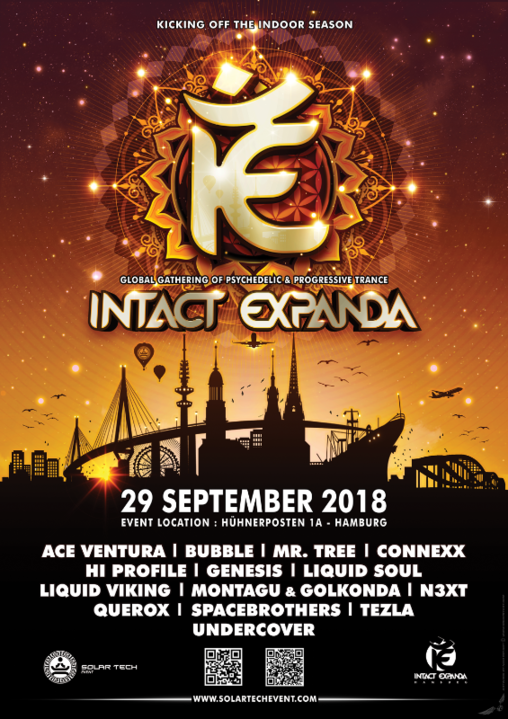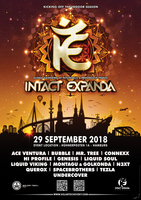 Info
❂ Tickets:
[solartechticket.com]
❂ Official Trailer:
SOON
❂ Aftermovie March 2018:
youtu
☾ ❂ •°•° •°•° ❂ ☾ ✹ •°•° •°•° •°•° ❂ ☾
❂ Features:
❂ Fans for free (Fächer)
❂ Bags for free (Turnbeutel)
❂ 3 Floors
❂ 1 Lounge
❂ 5 visuals
❂ Photos by Benjamin Genz
❂ Uv-Bodypainting by UVenancio
❂ Shops
❂ Projection
❂ Videoanimation
☾ ❂ •°•° •°•° ❂ ☾ ✹ •°•° •°•° •°•° ❂ ☾
❂ Info:
Mit der Intact Expanda am 29. September 2018 beginnt in diesem Jahr eine einzigartige Indoor-Saison. Artists wie Ace Ventura, Bubble, Liquid Soul, Hi Profile und viele mehr nehmen Euch mit in eine besondere Nacht voll rasanter Rhythmen.
Lasst Euch auf intergalaktischen Klangwolken über die drei Floors der Hühnerposten Eventlocation direkt am Hamburger Hauptbahnhof treiben. Schwebt in spannenden Sound-Sphären! Tanzt durch Vision und Wirklichkeit! Chillt in der Lounge! Feiert ein Event, das inspiriert und vereint! Die Intact Expanda zieht mittlerweile Gäste internationaler Herkunft magisch an.
Genießt die Ekstase in fantastischen Deko-Welten! Erlebt ein neues Selbst durch UV-Bodypainting! Seid dabei – und bewegt die Elemente! Diese Nacht gehört Euch allein!
Lostanzen statt in der Schlange warten: Wer diesem Motto folgen möchte, hat durch den Vorverkauf die besten Chancen. Wir freuen uns auf Euch!
Euer Intact Team
✹
The Intact Expanda on the 29th of September 2018 will be the beginning of an exceptional indoor season. Artists like Ace Ventura, Bubble, Liquid Soul, Hi Profile and many more will take you into a special night full of rapid rhythms.
Be ready to get carried away on intergalactic clouds of sounds through the three floors of the event location Hühnerposten, which is located directly at the Hamburg central station. Float in exiting sound spheres! Dance through vision and reality! Chill inside the lounge! Celebrate an event, that inspires and unites! The Intact Expanda is already magically attracting international guests.
Enjoy the trance in fantastic worlds of decoration! Experience yourself in a new way through UV-Bodypainting. Be part of the whole – and move the elements! This night is yours!
Just dancing instead of queuing: The presale makes it possible. We are looking forward to see you!
Your Intact Team
☾ ❂ •°•° •°•° ❂ ☾ ✹ •°•° •°•° •°•° ❂ ☾
Entry
❂ Tickets:
-> Ab 18 Jahre <-
Das Vorverkaufticket ist erhältlich bis zum 25. September 2018 für 25€
Link:
[solartechticket.com]
❂ Abendkasse 30€
-> X-rated <-
Presale-tickets are available until 25th of September 2018 for 25€
Link:
[solartechticket.com]
❂ At the Gate 30€
☾ ❂ •°•° •°•° ❂ ☾ ✹ •°•° •°•° •°•° ❂ ☾
Organizer
Organizer
Solartech Event / IE Team
More events from SOLAR TECH EVENT