Backend
Insomnia Lounge & Blind Vision BDay w/HUJABOY, TOXICA, Total Balance, Chorea Lux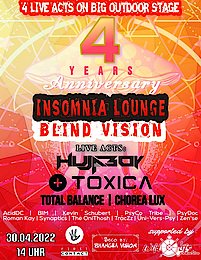 Info
4 Years Insomnia Lounge & Blind Vision
4 LIVE Acts
International LineUp supported by Wildlife prod.
Big Outdoor Stage
20 hours finest PsyTrance
Wie das sein kann???
Vor 4 Jahren wurde die Idee eines Mannes zur heutigen Insomnia Lounge in Sundern, wenige Monate später kam ein weiterer Mann mit einer weiteren Idee um die Ecke und urplötzlich entstand die Blind Vision.
Seitdem haben wir Einhörner aus Sakkara und westkaukasische Zangenbieger auf Feenstaub überzogenen Waldschiffen eingeflogen, um den trubelnden Wunderland Bewohnern außerhalb des Raum-Zeit-Kontinuums angemessen die Synapsen zu stimulieren.
Dieser zeitlose Kalender endet am 30.04.2022 und eine noch nie dagewesene Erweiterung der Sinne wird uns allen beschert, um eine neue Ära in einer neuen Dimension zu starten.
Zu diesem Anlass werden wir das Friedenshorn auspacken und über die ganze Erdscheibe ertönen lassen.....IHR da draußen.....Elfen, Aliens, GOAnauten und alle friedvollen Seelen außerhalb dieser Planeten: Hört den RUF!!!
Wir rufen auf zum größten und beinahe unglaublichen Zusammentreffen in der Geschichte unseres 4 jährigen Kapitels. Folgt dem RUF und schließt euch an gemeinsam mit uns das neue Zeitalter gebührend zu entgegnen.
20 Stunden lang werden wir gemeinsam mit Klängen, Dekoration, Namastereo Vibrations, Liebe und Frieden dieses bedeutende Ereignis ehren und empfangen.
Instrumente werden ertönen, Friedensbemalungen überall und alle lachenden Seelen an einem Ort ergeben ein Wurmloch zwischen Glückseligkeit und Vollkommenheit....folgt dem RUF und schließt euch an!
Decoration, Stage, Light and Sound by
Bhangra Vision
[facebook.com]
Eckdaten:
Outdoor-Bühne 14 - 22 Uhr
Indoor-Club 14 - 10 Uhr
Food Area
14 internationale Acts
LIVE Auftritte
Free Fruits
Free Sweets
Familienfreundliche Atmosphäre
Kinder-Schminken
Und jede Menge weitere Überraschungen, von denen einige noch bekanntgegeben werden.
Wir möchten etwas für uns sehr wichtiges bekanntgeben:
Alle Familien mit Kleinkindern sind herzlich eingeladen, tagsüber reinzuschauen, das ganze natürlich ohne Eintritt.
Gäste mit Handicap sind ebenfalls HERZLICH WILLKOMMEN!!!
Für die Gäste mit einem Handicap Ausweis und Merkzeichen aG, H, BI, GI
sind der Eintritt und alkoholfreie Getränke und Essen kostenfrei.
Ebenfalls hat eine erforderliche Begleitperson Eintritt und alkoholfreie Getränke plus Essen frei.
Mit diesem einmaligen Erlebnis möchten wir uns bei allen Gästen bedanken, die uns über all die Zeit begleitet haben und all die Partys zu unvergesslichen Momenten gemacht haben. Des Weiteren geht ein großer Dank an alle DJs, Acts, Deko Teams und Helfer, die daran beteiligt waren, dass immer alles geklappt hat.
Ein ganz besonderer Dank geht an Wildlife Prod.(Israel) für all die Unterstützung sowie BIM, und an das gesamte Hexenkessel Team (Winterberg) für die tolle Zusammenarbeit. Des Weiteren möchten wir uns bei allen anderen Veranstaltern da draußen bedanken und hoffen auf weitere Jahre erfolgreiche Zusammenarbeit.
Wir können nur
P.L.U.R.
(PEACE, LOVE, UNITY AND RESPECT)
"PLEASE DONT DRINK AND DRIVE SAVE YOURS AND OTHERS LIFE AND SAY NO TO DRUGS"
Location
Location
Insomnia Lounge
Röhre 1
Sundern (Sauerland)
Organizer
Organizer
Blind Vision und Insomnia Lounge Sundern