Backend
INS MITTN presents MERAKI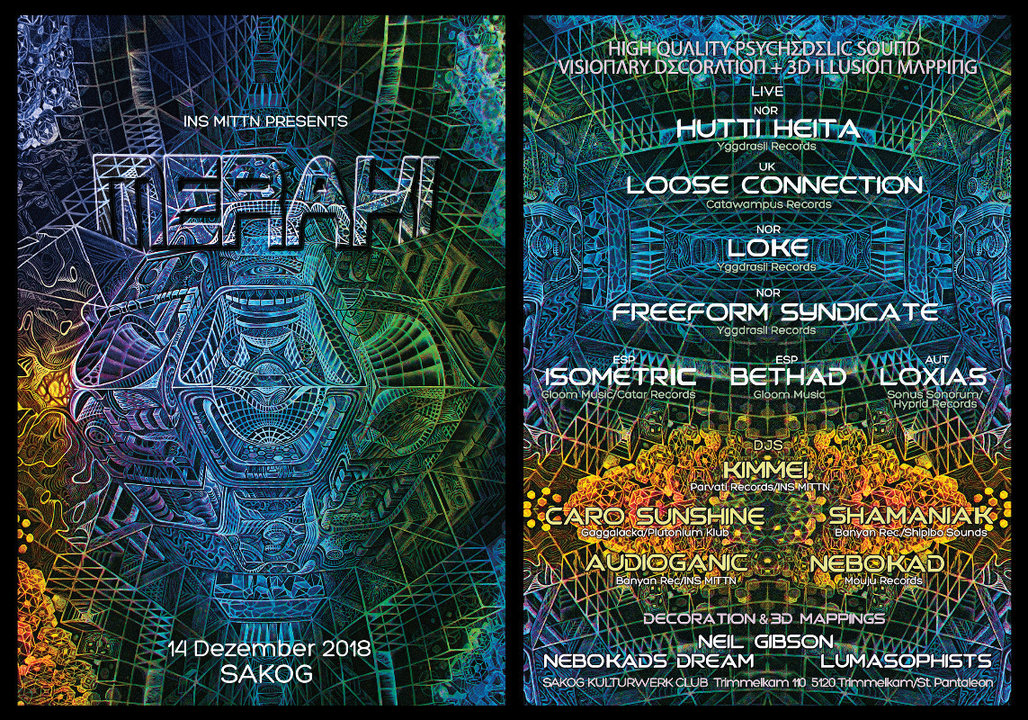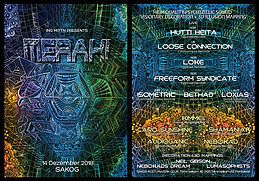 Line Up
✪ LIVE:
►HUTTI HΣITΛ (Yggdrasil Records) NORWAY
soundcloud
►LOOSΣ COППΣCTIOП (Catawampus Records) UK
soundcloud
►LOKΣ (Yggdrasil Records) NORWAY
soundcloud
►FRΣΣFORM SYПDICΛTΣ (Yggdrasil Records) NORWAY
soundcloud
►ISOMΣTRIC (Gloom Music/Catar Records) SPAIN
soundcloud
►BΣTHΛD (Gloom Music) SPAIN
soundcloud
►LOXIΛS (Sonus Sonorum/Hyprid Records) AUSTRIA
soundcloud
___________________________________________________
✪ DJs:
►KIMMΣI (Parvati Records/INS MITTN)
soundcloud
►SHΛMΛNIΛK (Banyan Rec./Shipibo Sounds)
soundcloud
►CΛRO SUПSHIПΣ (Gaggalacka/Plutonium Klub)
soundcloud
►ΛUDIOGΛПIC (XERION) (Banyan Rec/INS MITTN)
soundcloud
►ПΣBOKΛD (Mouju Records)
soundcloud
Info
IПS MITTП presents its next chapter: MΣRΛKI
✖✖✖✖✖✖✖ HIGH QUΛLITY PSYCHΣDΣLIC SOUПD ✖✖✖✖✖✖✖
✖✖✖ VISIOПΛRY DΣCORΛTIOП + 3D ILLUSIOП MΛPPIПG ✖✖✖
Presale tickets:
[bit.ly]
•●●•٠•●●•٠٠•●●•٠٠•●●•٠٠••●●•٠•●●•٠٠•●●•٠٠•●●•٠٠•
MERAKI - the soul, creativity or love you put into something
MERAKI - the essence of yourself that is put into your work
Das griechische Wort MERAKI bedeutet, etwas mit Seele, Liebe und Kreativität zu tun oder sich selbst und seine Leidenschaft voll in seine arbeit zu integrieren um Besonderes zu schaffen.
Genau das tun wir mit unseren Parties und freuen uns, dass wir alle zusammen daran teilhaben!
WE ARE ONE! WE ARE INS MITTN!
•●●•٠•●●•٠٠•●●•٠٠•●●•٠٠••●●•٠•●●•٠٠•●●•٠٠•●●•٠٠•
✖✖✖✖✖✖✖✖✖✖✖✖✖✖✖✖
FOREST – DARKPSY – HITECH – NIGHTPSY - FULLON
✖✖✖✖✖✖✖✖✖✖✖✖✖✖✖✖
•●●•٠•●●•٠٠•●●•٠٠•●●•٠٠••●●•٠•●●•٠٠•●●•٠٠•●●•٠٠•
Mit hochqualitativen internationalen Live-Acts und DJs, die ihre neuesten Kreationen, für den Festivalsommer, präsentieren werden.
Boom, Ozora, Mo:Dem, Lost Theory, Kannibalen Massaker, Psycrowdelica, Funny Moon uvm…. Die Liste der Festivals auf denen unsere Künstler schon zu hören waren spricht für sich.
Umsponnen wird die Musik mit feinster visionärer Dekoration von dem kanadischem Ausnahme Künstler NEIL GIBSON. Rahmen für seine Backdrops, Stage und Dach werden von NEBOKADS DREAM geschaffen. Außerdem wird das ganze von den LUMASOPHISTS (Schweres Licht) per 3D Illusion Mapping zum Leben erweckt.
Wer diese legendäre Kombination kennt, weiß was ihn erwartet.
Seid dabei wenn die INS MITTN Story fortgesetzt wird :)
✖✖✖✖✖✖✖✖✖✖
SHUTTLE von MÜNCHEN & PLATTLING über PASSAU
Infos hierzu bald
✖✖✖✖✖✖✖✖✖✖
Location
✖✖✖ Nur 3 Minuten Fußweg vom Bahnhof!!! ✖✖✖
[sakog.at]
SAKOG KULTURWERK CLUB
Trimmelkam 110
5120 Trimmelkam/St. Pantaleon
✖✖✖✖✖✖✖✖✖✖
SHUTTLE von MÜNCHEN über ROSENHEIM & PLATTLING über PASSAU
Infos hierzu bald
✖✖✖✖✖✖✖✖✖✖
Entry
Entry
✖✖✖ AK: 20 EURO ✖✖✖
✖✖✖ VVK: 16 EURO ✖✖✖
VVK-Tickets:
[bit.ly]