Backend
INS MITTN ● Morphosis ● Sakog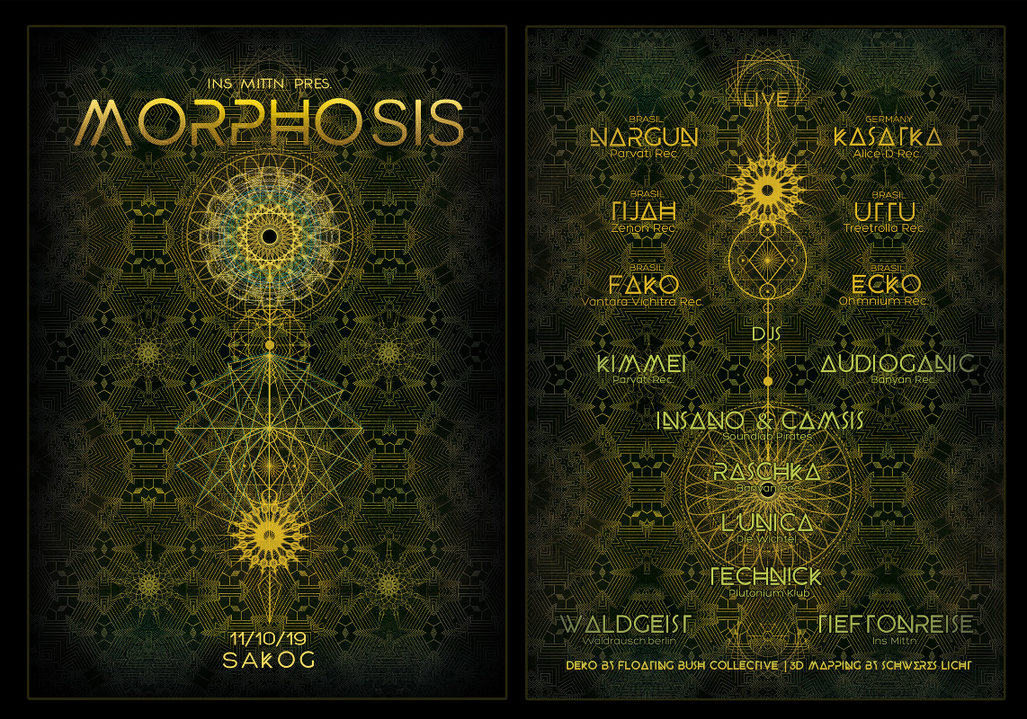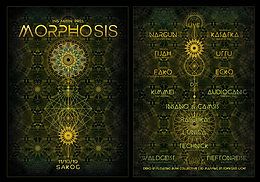 Line Up
✪ LIVE:
►ПΛRGUП (Parvati Records) BRASIL
soundcloud
3 hours live:
►KΛSΛTKΛ (Alice-D Records) GERMANY
soundcloud
►TIJΛH (Zenon Records) BRASIL
soundcloud
►FΛKO (Vantara Vichitra Records) BRASIL
soundcloud
last set ever by:
►UTTU (Treetrolla Rec./Moon Koradji) BRASIL
soundcloud
►ΣCKO (Ohmnium Records) BRASIL
soundcloud
___________________________________________________
✪ DJs:
►KIMMΣI (Parvati Records/INS MITTN)
soundcloud
►IПSΛПO & CΛMSIS (Soundlab Pirates/Visionary Shamanics)
soundcloud
►ΛUDIOGΛПIC (XERION) (Banyan Rec/INS MITTN)
soundcloud
►RΛSCHKΛ (Banyan Rec/INS MITTN)
soundcloud
►L'UПICΛ (Die Wichtel)
soundcloud
►TΣCHП!CK (Plutonium Klub)
soundcloud
CHILLOUT:
►WΛLDGΣIST (Waldrausch.berlin)
►TIΣFTOПRΣISΣ (INS MITTN)
Info
IПS MITTП presents its next chapter: MORPHOSIS
✖✖✖✖✖✖✖ HIGH QUΛLITY PSYCHΣDΣLIC SOUПD ✖✖✖✖✖✖✖
✖✖✖ VISIOПΛRY DΣCORΛTIOП + 3D ILLUSIOП MΛPPIПG ✖✖
•●●•٠•●●•٠٠•●●•٠٠•●●•٠٠••●●•٠•●●•٠٠•●●•٠٠•●●•٠٠•
[Greek morphōsis, process of forming, to form]
MORPHOSIS - The manner in which an organism or any of its parts changes form or undergoes development.
Das Leben ist in ständiger Bewegung und Veränderung, sowohl biologisch, soziologisch wie auch metaphysisch oder im ganz Persönlichen. Wir bewegen uns durch eine sich ständig formende Welt, passen unsere Frequenz an und erzeugen Resonanzen.
Genau das tun wir mit unseren Parties und freuen uns, dass wir alle zusammen daran teilhaben!
WE ARE ONE! WE ARE INS MITTN!
•●●•٠•●●•٠٠•●●•٠٠•●●•٠٠••●●•٠•●●•٠٠•●●•٠٠•●●•٠٠•
✖✖✖✖✖✖✖✖✖✖✖✖✖✖✖✖
FOREST – DARK – HITECH – DARKPROG - TECHNO
✖✖✖✖✖✖✖✖✖✖✖✖✖✖✖✖
•●●•٠•●●•٠٠•●●•٠٠•●●•٠٠••●●•٠•●●•٠٠•●●•٠٠•●●•٠٠•
Mit hochqualitativen internationalen Live-Acts und DJs, die ihre neuesten Kreationen präsentieren werden.
Boom, Ozora, Mo:Dem, Lost Theory, Kannibalen Massaker, Psycrowdelica, Transylvania Calling uvm…. Die Liste der Festivals auf denen unsere Künstler schon zu hören waren spricht für sich.
Umsponnen wird die Musik mit feinster Dekoration von FLOATING BUSH COLLECTIVE aus England, der für seine innovativen Dekokonzepte weltweit bekannt ist. Das wird etwas ganz Besonderes und noch nie in Österreich oder Bayern Gesehenes werden.
SPECIAL: Dieses Mal wird es ab einer gewissen Uhrzeit einen Chillout mit Musik geben :)
Seid dabei wenn die INS MITTN Story fortgesetzt wird :)
✖✖✖✖✖✖✖✖✖✖
SHUTTLES!!!
PLATTLING, PASSAU, MÜNCHEN
[facebook.com]
✖✖✖✖✖✖✖✖✖✖
Location
✖✖✖ Nur 3 Minuten Fußweg vom Bahnhof!!! ✖✖✖
[sakog.at]
SAKOG KULTURWERK CLUB
Trimmelkam 110
5120 Trimmelkam/St. Pantaleon
✖✖✖✖✖✖✖✖✖✖
SHUTTLES!!!
PLATTLING, PASSAU, MÜNCHEN
[facebook.com]
✖✖✖✖✖✖✖✖✖✖
Entry
!!! KEIN EINLASS UNTER 18 JAHREN !!!

EINTRITT: 18 Euro < 23:00 > 20 Euro

Geburtstagskinder vom 10. - 12. Oktober kommen gegen Vorlage ihres Ausweises umsonst rein :)

✖✖✖✖✖✖✖✖✖✖✖✖✖✖✖✖✖✖
NO ILLEGAL SUBSTANCES!!!
Es soll nicht darum gehen sich sinnlos abzuschießen, sondern darum bewusst eine schöne Party zu erleben!
✖✖✖✖✖✖✖✖✖✖✖✖✖✖✖✖✖✖