Infiniverse Full Moon Party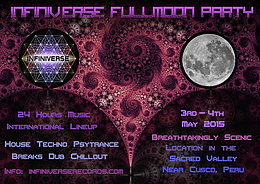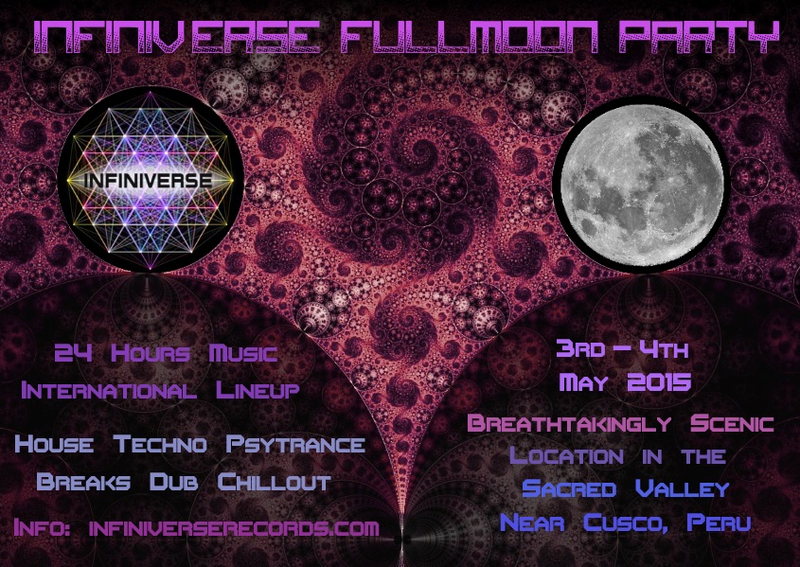 Line Up
Lineup:

Deep Gaffer (Deep House)
D-man (Progressive House and Techno)
Telepathized (Progressive Psytrance)
Psi Chi (Progressive Psytrance)
Os (Fullon/Progressive Psytrance)
Washuma Music (Progressive Psytrance)
Exponential (Fullon Psytrance)
Spin Dynamics (Psy Breaks)
Psylocybin (Psy-Dub & Downtempo)
Deco
Decor and Lighting by Siddhi Pumak and Infiniverse Crew

Live Painting by Siddhi Pumak
Info
Info
What to bring: Warm Clothes, Tent and Camping equipment, Sunscreen, Hat, Shades, Good Vibes!

Located in breathtakingly scenic spot in the Sacred Valley.

Professional Sound, Camping Area, Firepits, Bar, Food, Toilets and Art Installations
Location
"TARAY LOCO" in Qoya (between Pisac and Calca)
In the Sacred Valley, Near Cusco

How to arrive:
From Cusco: Take a Minivan to Qoya from Calle Puputi
From Urubamba: Take a Bus to Qoya from the bus terminal.
From Pisac: Take a bus or Minivan to Qoya from the main road.
After 8pm: You need to take a taxi.
Get off at "el colegio" (the school) in Qoya and follow the direction to arrive at "TARAY LOCO"

Ubicación: "Taray Loco" en Qoya.
(entre Pisac y Calca)
En el Valle Sagrado cerca a Cusco.
Como llegar:
Desde Cusco tomar un minivan hasta Qoya desde calle Puputi.
Desde Urubamba: Tomar un bus hasta Qoya desde el terminal.
Desde Pisac: Tomar un bus o minivan desde la pista principal.
Despues de las 8:00pm es necesario tomar un taxi.

Bajar por el colegio en Qoya y seguir los indicaciones para llegar a "TARAY LOCO"
Added

8y 3m

· Update

8y 1m

· 1