Backend
Infinity~ Tristan 2 Hours Live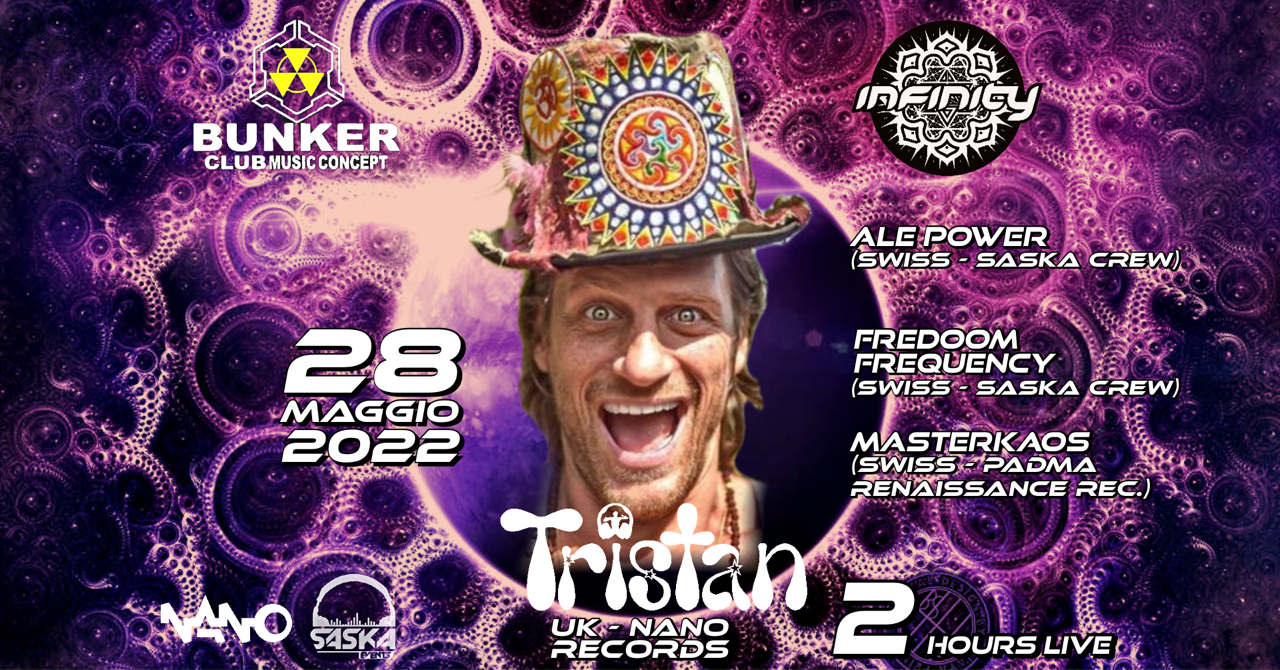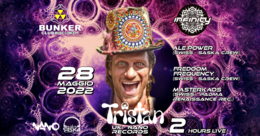 Line Up
╚ »★« ╝ 𝓘𝓷𝓯𝓲𝓷𝓲𝓽𝔂 ╚ »★« ╝
Sabato 28 Maggio 2022 Infinity si sposta al Bunker Club per la prima volta e lo fa con un grandissimo ospite della scena Psychedelic Trance Internazionale.
Saska Events in collaborazione con Bunker Club è lieta di annunciare l'arrivo di TRISTAN per la prima volta in assoluto nella storia del Ticino. Una notte assolutamente da non perdere per i fedelissimi del brand Infinity e per gli amanti del genere!
░░▒▓██►►► LIVE-Act´s ◄◄◄██▓▒░░
ॐ★ TRISTAN★ॐ 2 HOURS LIVE
(.ITALY - NANO REC.)
✔https://www.facebook.com/djtristanfanpage
Biography :
The name 'Tristan' is synonymous with Psychedelic Trance and the history of Nano Records. Tristan has been Dj'ing and producing for more than 20 years, performing his unique psychedelic sound at hundreds of the best Psy-trance festivals and clubs around the globe, released four solo and three collaboration albums (one as 'Fearsome Engine' with Laughing Buddha, and two as 'Killerwatts' with Avalon), plus countless singles, remixes, and collaborations with many of the most respected artists in the scene.
Tristan has been a corner-stone of the Psychedelic Trance community since it's inception in the early nineties, spending every season in Goa soaking up the vibe from the source, as well as hosting some of its most happening events. Continually inspired by the psychedelic underground movement, Tristan can be found as often on the dancefloor as behind the decks, proving his boundless enthusiasm and energy for this music and culture is straight from the heart.
His headlining live shows and chart topping music releases are testament to the energy, power and love he has for this music and culture, and he continues to play a pivotal role in the scenes evolution worldwide as it grows from strength to strength.
░░▒▓██►►► DJ' S ◄◄◄██▓
ॐ★ALE POWER★ॐ
(. SWISS - SASKA CREW .)
✔https://www.facebook.com/alepowermusic
♬https://fanlink.to/FlyDown
ॐ★ FREEDOM FREQUENCY★ॐ
(. SWISS - SASKA CREW .)
✔
♬
ॐ★MASTERKAOS★ॐ
(. SWISS ~ PADMA RENAISSANCE REC.)
✔
♬
soundcloud
ॐ★ DECO SET MAE MOA by Saska Events★ॐ
Info
▀▀▀▀▀▀▀▀▀▀▀▀▀▀▀▀▀▀▀▀▀▀▀▀▀▀▀
░░▒▓███► TICKETS & INFO ◄███▓▒░░
►aTICKET IN PREVENDITA : 30.- incl. Drink
►TICKET ALLA CASSA : 30.-
► Info Tavoli & Prevendite 📲 077 978 47 97
░░▒▓███► LOCATION◄███▓▒░░
Bunker Club
Via Trevano 89A, 6900 Lugano
★ ·. · '¯` ·. · ★ 🅕🅐🅝 🅟🅐🅖🅔 ★ ·. ·'¯` ·. · ★
Sᴀsᴋᴀ Eᴠᴇɴᴛs :
[facebook.com]
ॐIɴғɪɴɪᴛʏॐ :
[facebook.com]
Bunker:
[facebook.com]
★ ---------------------------- ★
► L'ingresso non è consentito ai minori di 18 anni.
► Apertura: 23:00- 06:00
► L'ingresso non è consentito ai minori di 18 anni.
►
►
★ ---------------------------- ★
★ ---------------------------- ★
▀▀▀▀▀▀▀▀▀▀▀▀▀▀▀▀▀▀▀▀▀▀▀▀▀▀▀
English:
Please invite your friends because Facebook has limited the number of
invitation per account and event!
THANKS ♡
Deutsch:
Bitte ladet eure Freunde ein, da Facebook die Anzahl zulässiger Einladungen pro Account und Event limitiert hat!
DANKE ♡
Italiano:
Per favore invitate vostri amici perché Facebook Ha limitato gli' inviti x persona e festa!
GRAZIE ♡ Mostra meno
Musica Mostra meno
Location
Location
Bunker Club
Lugano
Via Trevano 89a Lugano
Entry
Entry
Presale included Drink : 30 CHF