Infinityॐ Ritmo 2 Hours Set 24.09.2k16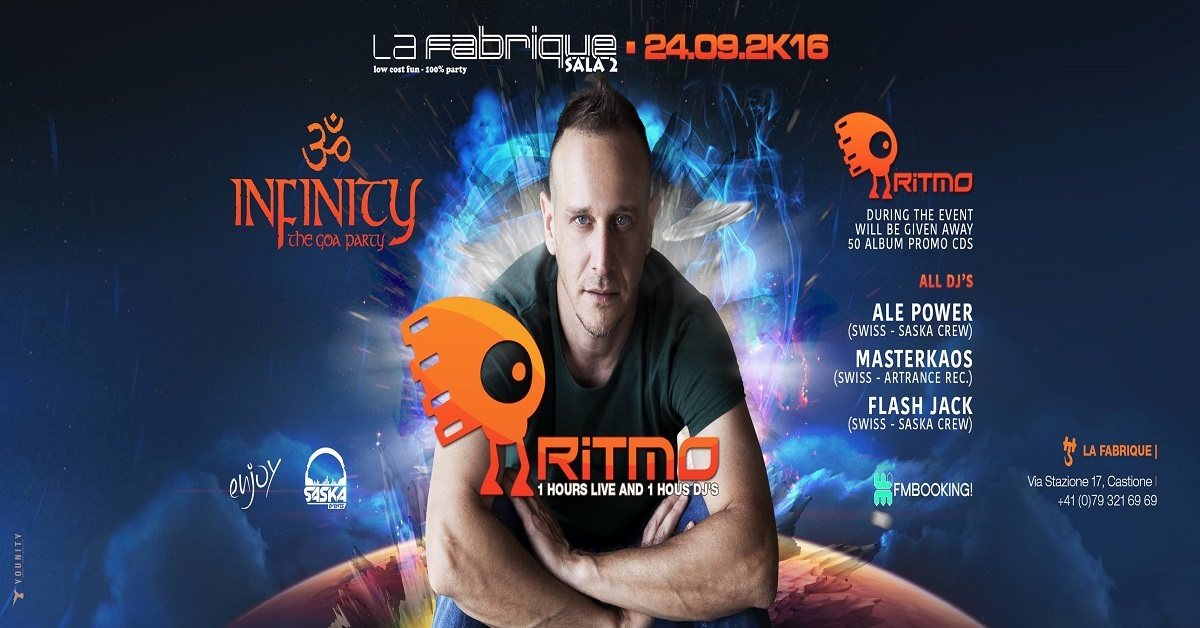 Line Up
✭ INFINITY GOA STAGE ✭
( Progressive - Psy Trance )
►►►►►►►► PRESENT ◄◄◄◄◄◄◄◄
░░▒▓██►►► LIVE-Act´s ◄◄◄██▓▒░░
★_ RITMO_ ★ ISRAEL
(Iono Music )
✔
[facebook.com]
♬
soundcloud
►►► IN REGALO 50 ALBUM PROMO!! ◄◄◄
Ritmo – Biography
Some say that our pulse gives us the rhythm of our body, life and soul. This rhythm is changing while we walk, run, eat, jump or have sex. Dubi Dagan, aka Ritmo, has managed to formulate a unique technique that captures moments in our lives and translates them into an addictive rhythmic Progressive Trance creation.
Dagan has been tuning his sound skills as a resident DJ at the Luna Club at Haifa, and later as a sound engineer at DubiDub studios, a company responsible for dubbing television and cinema. Hungry for the perfect sound, Dubi started to create his own music, and in 2007 joined the acclaimed Iono Music records. In 2008, he released his awaited debut album "Disharmonic Silence" and immediately gained attention and popularity, locally and globally.
After the release of the debut album, Dagan had little rest or sleep due to the massive number of collaborations and gigs he had done across the world. Among the many incredible events he took part in were Fusion festival (Germany), Ozora Festival (Hungary), BAT (Argentina), Tribe (Brazil), Xxxperience (Brazil), Universo Paralello Festival (Brazil), Eclipse 2012 (Australia), Rainbow Serpent (Australia), Love & Light (South Africa) and many more.
In 2009, Ritmo released "Archive 9" collaborating with artists and forms of remixes. His remix for MUTe & Shay Nassi – On Off, topped the Beatport charts at the Psychedelic Trance section, for 2 weeks. Always exploring his musical skills, Dagan has joined forces with Alon Brillant (Suntree) in a project called RITREE, as well as a project called Arctic with Gaudium.
In 2011 Ritmo released "Phrase A" and then in 2013 "Phrase B" which mark another development in crafting his sound. His most ambitious project to date is his current new album - "Adventures" - which comes out in 2016. This magical soundscape captures and modulates the diverse rhythms Dagan absorbed during his tours across the world. "Adventures" shows Ritmo's sonic versatility, where he also collaborates with major acts such as Astrix, Ace Ventura and Liquid Soul. Tune in and join the adventure while blending in the rhythm and make it your own.
░░▒▓██►►► DJ'S ◄◄◄██▓▒░░
★_ RITMO_ ★
✔
♬
[click here]
★_ ALE POWER _ ★ SWISS
(Saska Crew.)
✔
soundcloud
♬https://soundcloud.com/aledakan/preview
★ _ MASTERKAOS_ ★ SWISS
( Artrance Rec.)
✔
[facebook.com]
♬
soundcloud
★_ FLASH JACK_ ★ SWISS
(Saska Crew.)
✔
[facebook.com]
♬
soundcloud
Deco
▀▀▀▀▀▀▀▀▀▀▀▀▀▀▀▀▀▀▀▀▀▀▀▀▀▀▀
░░▒▓███► DECO & VISUALS ◄███▓▒░░
IMPACT VISION
[facebook.com]
▀▀▀▀▀▀▀▀▀▀▀▀▀▀▀▀▀▀▀▀▀▀▀▀▀▀▀
Info
Come arrivare a La Fabrique in auto:
► Da Milano/Como/Lugano: Uscita autostrada A2 Bellinzona Nord - Stazione Castione
► Da Zurigo: Uscita autostrada A2 Bellinzona Nord - Stazione Castione
► Da Verbania: Statale 33 del Lago Maggiore direzione Bellinzona - Bellinzona Nord - Stazione Castione
★ ---------------------------- ★
Come arrivare a La Fabrique in treno / zug / train:
► Per informazioni dettagliate sugli orari e sui biglietti più convenienti si rimanda a:
[sbb.ch]
► Ulteriori informazioni: Rail-Service 0900 300 300 (CHF 1,19/min., tariffa da rete fissa svizzera)
★ ---------------------------- ★
▀▀▀▀▀▀▀▀▀▀▀▀▀▀▀▀▀▀▀▀▀▀▀▀▀▀▀
SEE YOU ALL @ THE DANCEFLOOR!!!
▀▀▀▀▀▀▀▀▀▀▀▀▀▀▀▀▀▀▀▀▀▀▀▀▀▀▀
English:
Please invite your friends because Facebook has limited the number of
invitation per account and event!
THANKS ♥
Deutsch:
Bitte ladet eure Freunde ein, da Facebook die Anzahl zulässiger Einladungen pro Account und Event limitiert hat!
DANKE ♥
Italiano:
Per favore invitate vostri amici perche Facebook a limitato gli' iniviti x persona
e festa!
GRAZIE ♥
Location
Location
LA FABRIQUE
CASTIONE-ARBEDO
Entry fee
▀▀▀▀▀▀▀▀▀▀▀▀▀▀▀▀▀▀▀▀▀▀▀▀▀▀▀
░░▒▓███► TICKETS & INFO ◄███▓▒░░

★ ---------------------------- ★
► L'ingresso non è consentito ai minori di 18 anni.
► Apertura: 23:30 - 05:00
► Ingresso con Riduzione di 5.- chf entro le ore 00.15
► Ingresso economy: 20.- CHF
► Business Class: 30.- CHF
► Info & tavoli: ☎:+41 78 952 67 43 ( Saska )
★ ---------------------------- ★