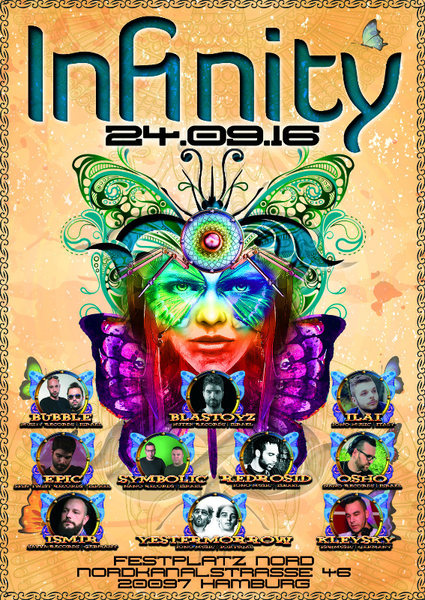 Info
★★★★★★★ FOTO / VIDEO ★★★★★★★
UDO HERZOG
[facebook.com]
BENJAMIN GENZ
[facebook.com]
★★★ FOOD / FASHION ★★★
Vegane/Vegetarische Speisen und Getränke zum Aufladen der körpereigenen Energie gibt es vom Team "The Lucky Horsedragon"!
[facebook.com]
★★★★★★ ANREISE/ ARRIVAL ★★★★★
Bei Anreise mit der Bahn:
Vom Hauptbahnhof mit der S3/S31 bis Station "Hamburg-Hammerbrook" oder mit der U2 und U4 bis "Berliner Tor" und die letzten 200m zu Fuß zum Festplatz-Nord in der Nordkanalstraße 46.
Eine Taxifahrt vom Hauptbahnhof kostet etwa 8€.
---------------
Arrival by train:
Take S3/S31 from central station to "Hamburg-Hammerbrook" or U2 and U4 to "Berliner Tor" and walk the remaining 200 meters to the venue Festplatz-Nord at Nordkanalstraße 46.
A taxi from central station costs aprx. 8€.
[google.de]
▀▀▀▀▀▀▀▀▀▀▀▀▀▀▀▀▀▀▀▀▀▀▀▀▀▀▀
★★★ HOTEL ★★★
Genau gegenüber von unserer Location ( 30 m Fußweg ) befindet sich das A&O Hamburg City Hotel.
PRO ÜBERNACHTUNG AB 10 Euro !!
A&O Hamburg City
Spaldingstraße 160
Deutschland - 20097 Hamburg
+49 40 18 12 98 - 40 00
[aohostels.com]
Location
Location
Festplatz Nord
Nordkanalstraße 46
20097 Hamburg
Entry fee
Entry fee
Vorverkauf: 18 EURO
Abendkasse: 25 EURO
FRÜHCLUB AB 7.00 UHR - 10 EURO
AB 12.00 UHR - EINTRITT FREI
TICKETS ->
[bit.ly]
Organizer
Organizer
worldwidetribe events