Infinite Dreams- One Year Anniversary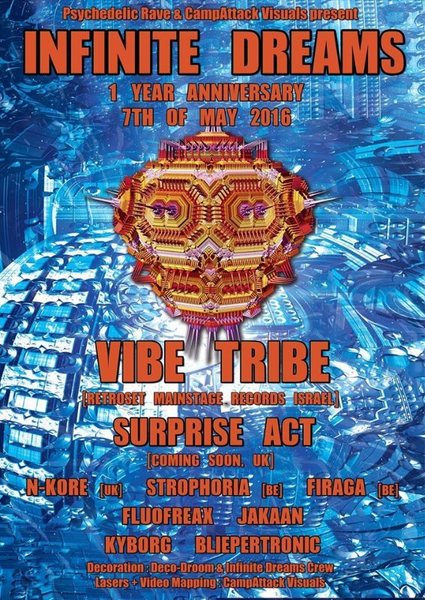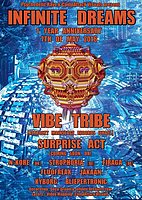 Deco
Deco
Lasers and Visuals by CAMPATTACK
[facebook.com]
Decoration: DECO DROOM and INFINITE DREAMS CREW
Info
Info
In the beginning of May it's 10 years ago I was asked to perform my visuals at a psytrance event for the first time,
At Tribes Gathering in an abandoned textile factory in Gent, Belgium.
The event was a real eye opener for me, opening with 3 hours Solarfields, Hilight Tribe live, and then there was Vibe Trive live.
I litteraly fell in love with Vibe Tribe's music, it was the reason I grew into the psytrance scene, one of the reasons why, 10 years later, we are throwing psytrance events.
Over the years I have shared the stage numerous times with Vibe Tribe, and the sets are always amazing, therefor we came to the idea to book him for our 1 year anniversary, playing a retro set, presenting the music that braought us into the goascene,
Next to Vibe Tribe we will celebrate our anniversary with another big surprise act. We will soon reveal more information on this act….
[facebook.com]
Entry fee
Entry fee
early bird: 12,50
normal: 15
door: 20
Organizer
Organizer
CampAttack Visuals
Psychedelic Rave
More events from Psychedelic Rave