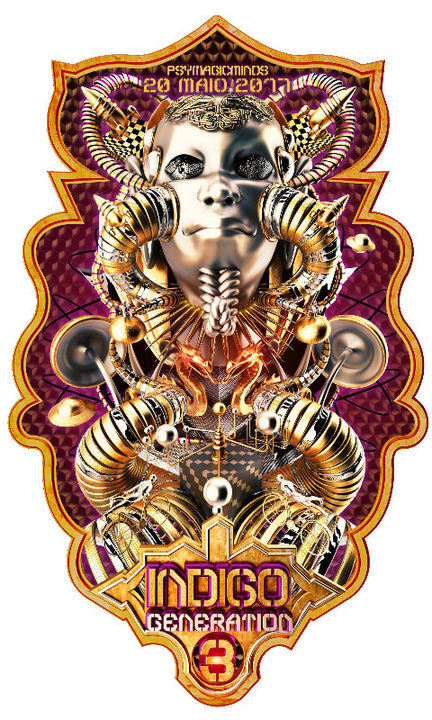 Deco
Deco
::::DECOR:

::::SOUND SYSTEM: Dynacord Alpha Concept by Porto Alternativo Sounds

::::LIGHTS: Porto Alternativo Sounds

::::PHOTO REPORT: Kharmadelic Photography - Zen Spirit Photography

::::FLYER ARTWORK: Spyrart Studio
Info
Depois do sucesso das duas últimas Edições, resolvemos anunciar a terceira reunião anual de Indigos :) Está de volta a Indigo Generation!!!
Ao contemplarmos a vossa energia na edição anterior, éramos incapazes de ficar indiferentes à fantástica vibe e momentos mágicos que surgiram naquele pedacinho de terra.
Sabemos que a fasquia está alta, mas queremos prendar-vos com a melhor nata do psytrance mundial; estamos prontos para vos apresentar uma decoração que vai mais uma vez quebrar barreiras, e um cartaz que ano após ano desafia a própria realidade! Despertem as vossas sensações e acelerem as emoções porque a viagem vai começar.

"Para viajar basta existir."
Fernando Pessoa

After the success of the last two editions , we decided to announce the third annual meeting of Indigos :) Indigo Generation it's back!!!
Contemplating your energy in the previous party , we were unable to remain indifferent to the fantastic vibe and magic moments that arose in that piece of land .
We know that the stakes are high , but we want to give you with the very best of the psytrance world; we are ready to present you with a decor that will again break down barriers , and a line up that year after year defies reality itself ! Awaken your feelings and emotions because the journey will begin .

" To travel, it's enough to exist. "
Fernando Pessoa





Não é permitida a entrada a menores 16 anos.
Não é permitida a entrada de Vidro no recinto.
Cães são apenas permitidos com coleira.

The entry to minors 16 years is not allowed.
Glass is not allowed to enter the event.
Dogs are only allowed on leash.
Location
Location
Ilha do Ermal, Vieira do Minho
Entry fee
Entry fee
More info soon!