Backend
IN GOA WE TRUST -ELECTRYPNOSE-HYPER FREQUENCIES-SHOTU-KARAS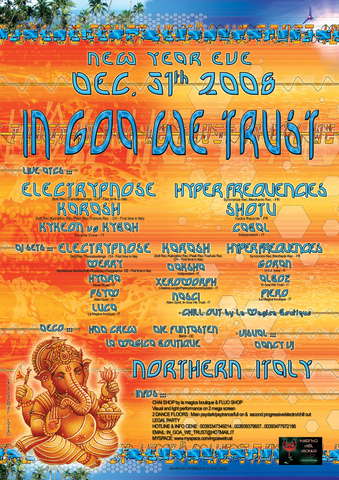 Line Up
°°°°°°°°°°°°°°°°°°°°°°°°°°°°°°°
CEREBRAL FACTORY (ELECTRYPNOSE VS KARASH)
°°°°°°°°°°°°°°°°°°°°°°°°°°°°°°°
ELECTRYPNOSE (2to6 Records / Trancebookings - CH ) -First time in Italy-
[myspace.com]
[electrypnose.com]
°°°°°°°°°°°°°°°°°°°°°°°°°°°°°°°
KARASH (2to6 Rec., Kabrathor Rec., Peak Rec., Trishula Rec. -CH)
[myspace.com]
°°°°°°°°°°°°°°°°°°°°°°°°°°°°°°°
HYPER FREQUENCIES (Syncronize Rec, Mechanik Rec. - FR)
[myspace.com]
°°°°°°°°°°°°°°°°°°°°°°°°°°°°°°°
SHOTU (Hadra Records - FR)
[myspace.com]
°°°°°°°°°°°°°°°°°°°°°°°°°°°°°°°
KYKEON vs KYBAH
(Cereda Crew - IT)
[myspace.com]
[myspace.com]
°°°°°°°°°°°°°°°°°°°°°°°°°°°°°°°
CABAL (Indipendent - IT)
[myspace.com]
°°°°°°°°°°°°°°°°°°°°°°°°°°°°°°°
.....and more guests t.b.a.......
===============================
----------------------------------------------------------------------
ELECTRYPNOSE, the electric hypnosis, is Vince Lebarde's multi-flavored musical project.
Created in 2001, Electrypnose is exploring the digital-music -and-noise world and try to share its sound universe.
Based in Switzerland, the laboratory doesn't stop to be active since the beginning of the project. After the first track releaed in 2003 by Peak records, more than 100 pieces of work have been released on record labels from all over.
Beside working in the studio, Vince is travelling regulary around the globe to present his new material and share time with the comunity.
--------------------------------------------------------------------------------
2k1_ Electrypnose birth.
At the beginning, working on the project with a friend (Grand Mage) to experiment producing in the psy-trance genre ... the story begins. Unfortunately, some different life choices made the 2 friends having to split up, Vince is keeping the trip on.
2k2_First gig in a private and very small party in the swiss mountains.
2k3_A promo album called "Reve de Neige" gets distributed by Psy-CZ group... one of the greatest help at the time.
First track released on Peak records, first Swiss psytrance label at that time.
2k4_Zapata, Vince's good friend organizes a party where Baphomet Engine and Dejan come to play. Becoming good friends, they launch all together the record label "Kabrathor". Without any purpose to become any big business, the idea is to release friends work by their own.
2k5_
First online/digital album released by Resonantearth.
2005 is also the year of the first Primitif-Workshop.
2k6_Things start more seriously in this year, first pressed album "Le Tireur de Ficelles" on Peak Records. Gigs over seas begins with shows in Brazil and Gaian Mind festival in USA.
Another music side is also presented with the chillout/electronica album "Subliminal Melancholies", released on Ajana records. Also, first compilation released by Kabrathor family - "Up the Kabrathors".
2k7_Busy year with gigs and releases. Vince played at Universo Paralello in Brazil, as well as FullMoon Festival in Germany, just to mention these two big events. Two more albums are released this year, a double cd featuring morning/fullon music as well as night time trance - "Where do we go?" released on Digital Psionics records. The other album is a split and side project release made with Karash, Vince's good mate. Cerebral Factory debut album is released on Kabrathor records.
The Intellinoise project begins as well as Minimium.
2k8_To be continued...
---------------------------------------------------------------------
Gill a.k.a HYPER FREQUENCIES started his career in the Eighties as a bass player in several psychedelic rock bands. In 1994, he discovered electronic music, bought two Technics MKII and taught himself how to mix. A year later, Gill played at his first party and was instantly hooked on psychedelic trance. After djing for a few years on many parties, the next logical step was to return to his roots and start producing music again. He was soon spotted by Mick Chaos and, in 1998, he released his debut track First Elevation on Micks Chaos Unlimited Records. The first track was followed by Drum Explorer, a
collaboration with Jaia, released on the compilation Zep Tepi, also from Chaos Unltd. Both tracks were released under his own name Gill. After such a promising start, suddenly, all went really quiet around Gill A mysterious studio bug kept damaging his
speakers every time he started to work. For the best part of a year, the problem could not be solved, until late in 2000, a specialist discovered that, the so-called Hyper Fequencies, were responsible for all the technical problems Gill had experienced. A year worth of work had been lost, but Gills artist name Hyper Frequencies was born.
From there on, everything fell into place. Once rid of the studio bug, Gills full creative power began to manifest. In early 2001, he teamed up with Fred a.k.a. Neuromotor to form
CRAZY LIONS CULT; their first release was the track Hey Dave on Hadshot Haheizer. HYPER FREQUENCIES self-titled 12 EP followed shortly afterwards on Turbo Trance
Records. The same year, he released The Lost Generation on the TurboTrance Records compilation Origin, as well as a collaborative track with Plastic Elephant on Mac Ben Music. Numerous releases on well-known labels such as Mechanik, Avatar, Parvati and Happy People Productions followed and confirmed his talent. In 2003, HYPER FREQUENCIES blasted the psytrance scene with his debut album Red Crystal
Moon released on Mechanik Records. The album was an instant success. Over the next few years, HYPER FREQUENCIES became a regular on compilations of labels such as Peak Records, Hadra, Timecode, Quantika, Spirit Zone, Geomagnetic, to name just a few. He toured the world intensively with his energetic live performances and created trancefloor mayhem wherever he played. To this day, HYPER FREQUENCIES, has performed in 30 countries and has released 70 tracks on 25 labels. His current side projects include ADRENOKROHM (with Psylom), CRAZY LIONS CULT (with Neuromotor).
In 2006, Gill started to work on his long-awaited second album. For almost two years, he produced and carefully selected ten deep, tribal and psychedelic tracks, frequently
editing them and testing them in many international parties and festivals including Universo Paralello, Rhythms of Peace, Hadra and Soulclipse. The end result, PHANTASMATIKA, represents HYPER FREQUENCIES phantasmagorical universeunreal, mystic and deeply psychedelic. The much-awaited album is out since
December 2007 by Syncronize Records...
-------------------------------------------------------------------------
David (LEPTIT/SHOTU) discovered electronic music in 1996 at free parties in France, he integrated fully into trance 2 years later in Ibiza and get finally into DJing in 2002. A year later, he met the Hadra tribe, and here he soon found his place. He participates actively and with a shared happiness to its growing success. He has played in UK, Hungary, Belgium, Northern Ireland, Chec Republic, Portugal, Italy, Denmark, Brasil, and Morocco at parties and festivals such as UNIVERSO PARALELLO 2005 or BOOM FESTIVAL 2006 ! Staying in a night psychedelic style, Leptits musical project called Shotu. After good collaborations with such artists as Jahbo, Grapes of wrath or Barak, he compiled his first compilation TWISTED VISION during the summer 2006. Also released a few tracks on compilations from Hadra, Peak and Vertigo records, and his debut Album on March 2007 on Hadra records !!! Join him fearless for a fantastic expedition in the worrying depths of the SHOTU jungle...
----------------------------------------------------------------------
KARASH was born August 30th, 1979 in Nice, France. Very early, his father made him discover Rock music and Blues. Jimmy Hendrix, Led Zeppelin, The Beatles, Rolling Stones, Pink Floyd,these were his first musical experiences. Over the years, he developed interest in other music styles like Punk, Metal, Reggae, Experimental and also Classical. A special mention for Magma, a group that has been particularly influential for him. One day, one of his best friend (Noon alias Joan)made him listening to a track of Shiva Shandra...That was a real shock! "It's possible to do that with synthetizers!!! Year 2000 was the first contact with Goa music. He has been completely captured by the vibes and the sounds. He had found his way. In 2002, Karash began to produce sound just for fun. In 2003 he joined MTS (MantraTribeSystem) in order to organize parties around Geneva with the help of Padma (a well known DJ in the Swiss French region) and also to have the opportunity to play live act under the name of MTS. When he first met Electrypnose at an after party, Karash was just killed by his sounds and his music style. This was the beginning of a true friendship that led to a joint produced album under Cerebral Factory project. Karash has now signed tracks on D-A-R-K.net, on Dark Prisma Record and Peak Record with Electrypnose. He just released a split album with Electrypnose on kabrathor record.
----------------------------------------------------------------------
Info
visto che in molti si stanno prenotando per la cena adesso, e in molti sono indecisi e ci han chiesto tempo, ABBIAM DECISO DI SPOSTARE L'ULTIMO GIORNO POSSIBILE PER PRENOTARSI PER IL CENONE AL 24 DICEMBRE. dopo questa data non confermiamo che ci sia posto..
CENONE DI CAPODANNO ---->CONTATTARE LE INFO
3 PRIMI---LASAGNE --- ROSETTE --- TORTELLACCI
2 SECONDI---ZAMPONE/COTECHINO CON LENTICCHIE --- AFFETTATI MISTI
;) FIUMI DI VINO ;)
PER CHI FOSSE INTERESSATO AL CENONE. SI DEVE ARRIVARE PRESTINO MASSIMO PER LE 21. IL COSTO DELLA CENA SARA' DI 20.
MANDATE UNA MAIL A
in_goa_we_trust@hotmail.it
CON SCRITTO IN QUANTI SIETE E UN RECAPITO TELEFONICO OPPPURE CHIAMATE DIRETTAMENTE LE INFO
ULTIMA NAVETTA DA MODENA IL 31::::: 17.30
ULTIMA NBAVETTA AL RITORNO IL PRIMO::::::08.3O
X ULTERIORI INFO CHIAMARE HOTLINE
MAIN FLOOR::::25KW TURBO PEAKER SOUND
SECOND STAGE::::10 KW MARTIN AUDIO
°°°°°°°°°°°°°°°°°°°°°°°°°°°°°°°
CHAI SHOP BY LA MAGICA BOUTIQUE
°°°°°°°°°°°°°°°°°°°°°°°°°°°°°°°
!!!!!!!!!2 SOUNDS!!!!!!!!!!
-MAIN FLOOR
DARKPSY - PSYTRANCE - FULL ON
-SECOND FLOOR
PROGRESSIVE - ELECTRO - CHILL OUT
°°°°°°°°°°°°°°°°°°°°°°°°°°°°°°°
ROBOT AND LIGHT SHOW
VISUAL ON 2 MEGA SCREEN
°°°°°°°°°°°°°°°°°°°°°°°°°°°°°°°
LEGAL PARTY
----------------
INFOCENE:::::: DARE CONFERMA ENTRO 24 DICEMBRE A
in_goa_we_trust@hotmail.it
(entro il 24 dicembre potete stare tranquilli che posto a cena c'è...dopo è fortuna! )
LINK IN GOA WE TRUST:
[myspace.com]
HAPPY PSY NEW YEAR AT ALL.. FESTEGGIAMO LA FINE DELL ANNO, E L INIZIO DI QUELLO NUOVO, TUTTI ASSIEME, DIVERTENDOCI, ASCOLTANDO BELLA MUSICA (COI CONTROCOGLIONI AGGIUNGEREI).
LA LOCATION E' NUOVA NUOVA BELLA BELLA GRANDE GRANDE, IN UN POSTO BELLO BELLO BELLO =) E CI SARANNO POKE E SEMPLICE REGOLE DA SEGUIRE.
1 DIVERTIRSI.
2 SORRIDERE SEMPRE
3 MUSIC IS THE BEST DRUG...MA SE PROPRIO SI DEVE.. NON ESAGERARE
4 NON ROMPERE NIENTE
5 BALLARE COME SE NESSUNO STESSE GUARDANDO
6 HO GIA' DETTO DIVERTIRSI?
IN GOA WE TRUST. CREDIAMO IN GOA.
GOA NON E' SOLO MUSICA, E' UNO STILE DI VITA.
QUESTO E' IL PENSIERO CHE VOGLIAMO ALLA FESTA.
LOVE AND LIGHT.
ONLY SMILE.
ONLY POSITIVE PEOPLE.
FREE LOVE. FOR FREE PEOPLE.
IN GOA WE TRUST...................AND U ?
-------------------------------------------------------------------------
____________0____00___00
____________00_______000
_____________0000 000000
______ 000____00000000*
____ 0000000___ 00000
_____000000000_______ ___ _00000
_____000_____00_________00000000
______________00_______0000000000
______________00_______00 _____ 00
_____________000___00000 _______ 00
____________000_000000000 _______ 0
0________ IN GOA WE TRUST _______ 0
0________0000000000____00 _______ 0
00________00____00_____00________ 0
00_______________00____00_______ 00
00______________000___ 00_______ 00
_00_______________00___00 _____ 00
__00______________000__0000000000
___00____________0000___00000000
____000__________0000____000000
_____0000______00000_______000
______00000000000000_________
________00000000000__________
_________000000000_________________
:::::::COME RAGGIUNGERCI::::::
_DA NORD_
MILANO:
A1 DIREZIONE BOLOGNA. USCITA MODENA SUD.
TORINO:
A21/E70 DIREZIONE PIACENZA. USCITA PIACENZA OVEST. SEGUIRE PER TANGENZIALE DIREZIONE MILANO BOLOGNA. A PIACENZA SUD ENTRARE IN AUTOSTRADA A1/E35 DIREZIONE BOLOGNA. USCITA MODENA SUD.
TRENTO:
A22 DIREZIONE MODENA. USCITA MODENA SUD.
TRIESTE/VENEZIA:
A4/E70 DIREZIONE BOLOGNA PADOVA. CONTINUARE SU A13 DIREZIONE MILANO FIRENZE BOLOGNA. A BOLOGNA SEGUI PER MILANO CASALECCHIO A1/E35. USCITA MODENA SUD.
_DA SUD_
ROMA/FIRENZE:
A1 DIREZIONE BOLOGNA. USCITA MODENA SUD
PESCARA/ANCONA/RIMINI:
A14 DIREZIONE BOLOGNA. A BOLOGNA SEGUI PER MILANO. USCITA MODENA SUD.
!!! PER TUTTI !!!
USCITA MODENA SUD. PRIMO INCROCIO A DX. PASSA SAN DONNINO. PASSA SAN DAMASO. AL CURVONE CONTINUA SULLA SX. PASSA IL CARTELLO MODENA. ALLA ROTONDA CON IL GRAPPOLO D UVA IN MEZZO PRENDI LA TERZA USCITA A SX SS12 VIA NUOVA ESTENSE. CONTINUA SEMPRE SU SS12. PASSA POZZA. PASSA SANT ANTONIO. PASSA PAVULLO NEL FRIGNANO. ARRIVA A BORRA DI LAMAMOCOGNO. AVANTI 1 KM SULLA SX SEI ARRIVATO.
_LINE UP_
MAIN STAGE::::
23 TO 00: ALBOZ
00 TO 01: KYKEON VS KYBAH
01 TO 02: HYDRA
02 TO 03,30: MERRY
03.30 TO 4.30: ELECTRYPNOSE
04,30 TO 5,30: CEREBRAL FACTORY
05,30 TO 6,30: KARASH
06,30 TO 08: HYPER FREQUENCIES
08 TO 09.30: SHOTU
09.30 TO 10.30: GORAN
10,30 TO 11,30: XEROMORPH
11,30 TO 12,30: LUCA VS PIERO
SECOND FLOOR::::
22 TO 00: INTRO ELECTRO DUB
00 TO 01,30: DAKSHA
01,30 TO 03: CABAL
03 TO 04.30: PSYM
04.30 TO 05.30 NASCI
05.30 TO END: PIERO VS LUCA(CHILL OUT)
LEGAL PARTY LEGAL PARTY LEGAL PARTY LEGAL PARTY
ricordatevi che non siete ad un rave. ma ad una festa legale per cui...
.....
!!! NON SARANNO AMMESSE CAZZATE !!!
NO DRUGS.
NO ABUSE.
YEAH TOO MANY SMILE
YES TOO MANY ELF AND FAIRY
BIG SMILE
Entry
Entry
20 euro + tessera CSEN (5 euro)
totale per chi la tessera non ce l'ha è 25 euro.
Organizer
Organizer
IN GOA WE TRUST
From
ϞaScI - Goa Session - c_y ·
17,226