Backend
IMBOLC 2019 - ft. Coral, Cosmal, & Kaliptus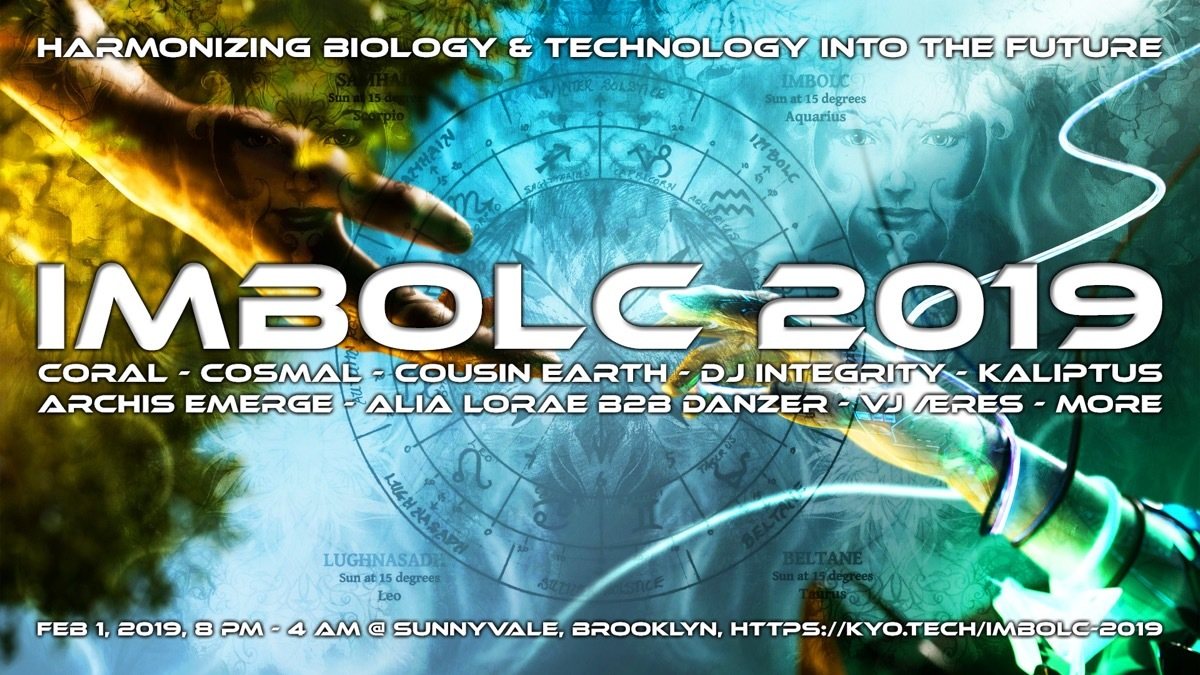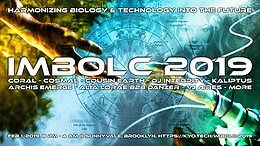 Line Up
~~~ Technology (DJ) Lineup ~~~
~ Coral (Reversible Records, Propheti Records) ~
Psytrance (Extended Set)
[facebook.com]
[beatport.com]
soundcloud
Coral is a psytrance producer & DJ hailing from the USA.
In 1999 Coral began her DJing journey when introduced to the irresistible sounds of psytrance. Her insatiable appetite, energy and joy of the music has naturally evolved into the world of production. Coral plays international parties and festivals, delighting fans with a captivating energy all her own.
Coral at Sacred Earth 2018 -
[facebook.com]
~ DJ Integrity (NYCRavers, Hardmind, Kikwear, RDP) ~
Psytrance, Hard Dance
[facebook.com]
soundcloud
For more than 15 years, DJ Integrity has strived to serve and represent the rave community without compromise, influence, or corruption to fulfill the expectations his moniker implies. As a DJ, his driving, deep, and complex sound has remained consistent, but fine-tuned and modernized along the way. DJ Integrity covers a wide range of trance, hard dance, and techno driven by a psychedelic undertone. He designs his performances as stories with quick and calculated mixing to challenge the mind and body to engage. DJ Integrity has also released numerous mixes and radio broadcasts alongside producing and consulting for events. Influenced by and trained during the late 1990s-era New York City rave scene, supported by prominent promoters past and present, and matured by years of performances, you can rely on DJ Integrity to deliver the authentic rave experience.
~ Alia Lorae b2b Danzer ~
Gothic Vocals & Psytrance
Tag Team Teaser -
[facebook.com]
Kyo "Danzer" Uchida (KyoTech)
[facebook.com]
soundcloud
Starting out as a university AV technician back in 2008, honing the crafts of DJ-ing & deco design over the years, & contracted by nightlife events & festivals all over the northeast, Kyo "Danzer" Uchida has technical roots invaluable to & experience with a myriad of event types & music genres. However, it was the realms of psytrance that allowed him to find great moments of personal transcendence & human connection, drawing out his creative energies & is what currently fuels him after a three-year hiatus ending in 2018 to follow his passions with an unyielding fire. Danzer's greatest wish is to be able to utilize his years of interaction, observation, & research to create musical experiences that inspire everyone to dance harder, be true to themselves, & overcome any obstacles thrown their way.
Follow Kyo "Danzer" Uchida as he takes flight & explores the infinite possibilities of reality via his solo productions and collaborations!
Alia Lorae (Electro Empress Entertainment)
[facebook.com]
[alialorae.com]
Alia Lorae is a producer, singer, songwriter, and performer of unique EDM music. Driving bass and wild beats combined with thought-provoking lyrics – darkness and theatricality, but never without a sense of humor.
Alia Lorae's ultimate goal is to create music that makes you want to dance, while at the same time being inventive, complex and personal. By combining the styles of today's EDM music with her own eerie chords and meaningful lyrics, she creates a unique sound that has been described as "A truly wild ride," and "Teetering on the brink of artistry and madness." With her powerful vocals, fresh electronic beats and dynamic stage presence, Alia Lorae is definitely an artist to watch.
~~~ Biology (Live) Lineup ~~~
~ COSMAL (Hudson Valley) ~
Visionary Music, Art Fusion
[facebook.com]
[cosmal.live]
COSMAL is an Audio/Visual, Ambient/Electronic duo based out of the Hudson Valley in New York. Members, Ryan Coyle and Ali Lazarus create a unique experience blending live electronic music and improvisational visionary painting. Using a combination of live instruments, live vocals, and midi controllers the duo creates a completely live, high-resolution music experience spanning across the realms of Trip Hop, World Beat, Ambient House, and Jazz Music. All the while, a massive 8ft canvas is being filled with vibrant colors and thought-provoking images throughout the entire performance, creating a seamless blend of music and art.
Since 2011, COSMAL has performed at over 350 concerts including close to 100 regional and national music festivals. Their music and art has been released on MalLabel Music, featured in Relix Magazine, Alex Grey's "CoSM Journal" and more!
~ Cousin Earth (Brooklyn) ~
Human Music
[facebook.com]
[cousinearth.com]
Pushing the limits of both genre and musicality, Brooklyn's Cousin Earth delivers catchy tunes with a progressive spirit. Featuring both an original repertoire and a vast array of covers, the band showcases a wide tonal palette that has as much a sense of humor as it does a sense of purpose.
From shredding ukulele solos and 4-part vocal breakdowns to interweaving themed medleys, Cousin Earth is sure to catch the attention of any music lover. Presenting a multitude of styles including Rock, Funk, Ragtime, Latin, Bluegrass, Hip Hop, and even electronic, no musical style is off-limits for this otherworldly live act.
Having played over 250 shows throughout the Northeastern United States, Cousin Earth has built their fan base from the ground up. From Maine to North Carolina, the band has played with notable acts including Melvin Seals and the Jerry Garcia Band, Sister Sparrow and the Dirty Birds, the Werks, Future Folk, Andy Frasco, Rustic Overtones, and many more.
~ Archis Emerge (New Jersey) ~
Progressive Experimental Rock
[facebook.com]
[reverbnation.com]
An atmospheric presence of collective thought, Archis Emerge is – Michael (Vocals, Piano, Cello) James (Bass, Stick, Synth) Tucker (Drums, Percussion, Bells) forming a channel in which consciousness flows from the heart and source to the mind.
Bringing aspects from many different genres under one roof, each personality, lifestyle, and diverse musical skill set came together while spanning a void of enormous dynamic range, clearly noticeable in the songwriting. Practices, recording sessions, and shows became part of a normal migration across the state. Nothing can break the bond and passion for the music they have shared together over the years.
After releasing their first record – Hurricane EP – the six-track album became available for free download online and can be found in the Band Profile on Facebook and Reverbnation. Recording remains continuous, while a full length is in the works you can witness the newest never before heard music live, catch them at the next show!
Deco
~~~ Visionary Art ~~~
~ Kaliptus ~
Live Painting & Visuals
[facebook.com]
[artofkaliptus.com]
Kaliptus is a multimedia visionary artist who bridges the Intuitive Brain & the Technical Brain to create works of art that reveal the Transpersonal Realms of Consciousness.
Kaliptus (Born April 16, 1984 in Lisbon, Portugal) is a NY/NJ graduate artist from SVA with a BFA in animation and an MFA in computer art. He uses painting, film, motion graphics, animation, stop-motion, video-mixing, multimedia, interactive arts, installations and more to express ideas that are usually surreal, visionary and vital to the philosophies and understandings of the human consciousness. Kaliptus has been commissioned to work on projects for Alex Grey, Marvel, Stephen King, DC Comics, Black Tide, MTV, Prudential Center, Zoomdout, Shpongle, Sneaux, Orange County Choppers, American Choppers, and more. He is currently living in New Jersey and is a busy, self-employed freelance artist, working on a wide variety of projects from his home studio.
~ VJ Æres (The Art of Æres Vistaas) ~
Virtual Reality & Visuals
[facebook.com]
[instagram.com]
The artwork of Æres is the by-product of the internal communication with his sub and unconscious. It serves as windows to the soul and true self by being active messages from this portion of consciousness that speak as Yantras; upon gazing one can be stirred and find meaning which was being communicated to him by his unconscious at the very moment of tapping in and visual translation.
Visionary states of consciousness, spontaneous gnosis and trance, the nuances of life and their depths, chi gong, martial arts, yoga, and the esoteric lore of the world are a few of the primary things that influence and serve as a driving force behind Æres' artwork. Æres has also had the privilege of working with Alex and Allyson Grey at the Chapel of Sacred Mirrors when it was in New York City, from 2006 to 2009, and has been heavily influenced by the energy and technique of the two masters and their sacred space. He produces his work with the intent that his art will prove useful to all who interact, as snap-shot termas.
Æres currently works with a variety of both traditional and digital media with a slight preference for the digital, and has breached into the sphere of video art work as well. He now spends his days working on his digital and traditional artwork while offering his Mind Altering Video Jockeying services to venues and rock bands. Preferring to be active in his efforts to raise the vibrations of the inner city and it's plentiful denizens with the magic of collaboration, he endeavors to get his work interacting with the world on a higher basis.
~ TJ Spurge ~
UV Resin Paintings & Visuals
[facebook.com]
[instagram.com]
TJ Spurge is a visual artist specializing in ultraviolet resin paintings. Utilizing UV pigment, glow pigment, mica powders, and inks, he creates imagery of deep space and the deep sea. Recently, he has become best known for his live artwork, which is created on the spot and projected in 4k, like a modern, eye-melting liquid light show.
~ Lighting by Relic Storm ~
[facebook.com]
~ Deco by Danzer & more TBA ~
[facebook.com]
Info
~~~ Our Intention ~~~

We invite you to this celebration of Imbolc, fueled by love & passion; prepare for a night of live bands, psytrance DJs, & visionary art coming together to instill within all participants healing & inspiration.

This hybrid lineup of live and DJ acts represents the promise of harmonizing biology & technology into the future, through which we are able to avoid the dystopian apocalypse scenarios told time & time again.

Let the sights & sounds of this night spark a fire within you, with which you are able to heal past pains that hold you back and find the inspiration to manifest the bright future you are capable of achieving.

~~~ History of Imbolc ~~~

Imbolc is a Gaelic traditional festival marking the beginning of spring held on February 1 – 2 and dedicated to Brigid, the Pan-Celtic Fire Goddess of Healing and Inspiration, and one of the Matron Saints of Ireland.

The Celtic year was divided into two halves, the dark and the light. Samhain was the beginning of the dark half, with its counterpart, Beltane beginning the light half. Between these two 'doors' or portals fell Lughnasadh or Lammas, celebrated on August 1, and Imbolc, on February 1, quartering the Celtic year.

"While winter is still going strong, there are signs that spring is on its way… The livestock begin to give birth and there is a promise for the future… Since Brigid is the Goddess of Inspiration, [the gifts exchanged on this day] may be a poem or song, rather than a material item…"
Location
Venue - Sunnyvale
1031 Grand St, Brooklyn, New York 11211

Driving:
Exit 34 off of I-287 West
Merge onto Meeker Ave
Turn left onto Vandervoort Ave/Vandevoort Ave
Turn right onto Grand St
Venue on right

Mass Transit:
L Train - Grand Street Stop
Surface at Grand Street & Bushwick Ave
Walk east on Grand Street towards Olive Street (away from Humboldt Street)
Pass Morgan Avenue (3 intersections), venue on left

Uber, Lyft, & Taxi available city wide
Entry
~~~ Tickets ~~~
[theticketingco.com]
~ Early Bird Presale – $9 (+2.12 service fee) ~
This ticket guarantees entry to the event at a discount; grab yours today before they are gone & save!
~ Online General Admission – $12 (+2.73 service fee) ~
This ticket guarantees entry to the event; availability of tickets at the door will depend on venue capacity!
~ VIP Patron Presale – $27 (+3.18 service fee) ~
This ticket guarantees entry to the event & as our thanks for your patronage, you will receive a signed & framed Kaliptus mystery print!
~ VIP + 3 GA Bundle – $50 (+3.86 service fee) ~
This bundle is designed to thank drivers for driving 3 fellow attendees to the event with a signed & framed Kaliptus mystery print, but of course any leader of a squad of 4 can take advantage of this offer!
~ At the Door – $20 ~
Added

3y 4m

· Update

3y 4m

· 1