☆ ILLUSORIA 2022 ☆ ProgVisions New Year w/ Sesto Sento, DayDin, Babalos uvm.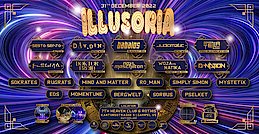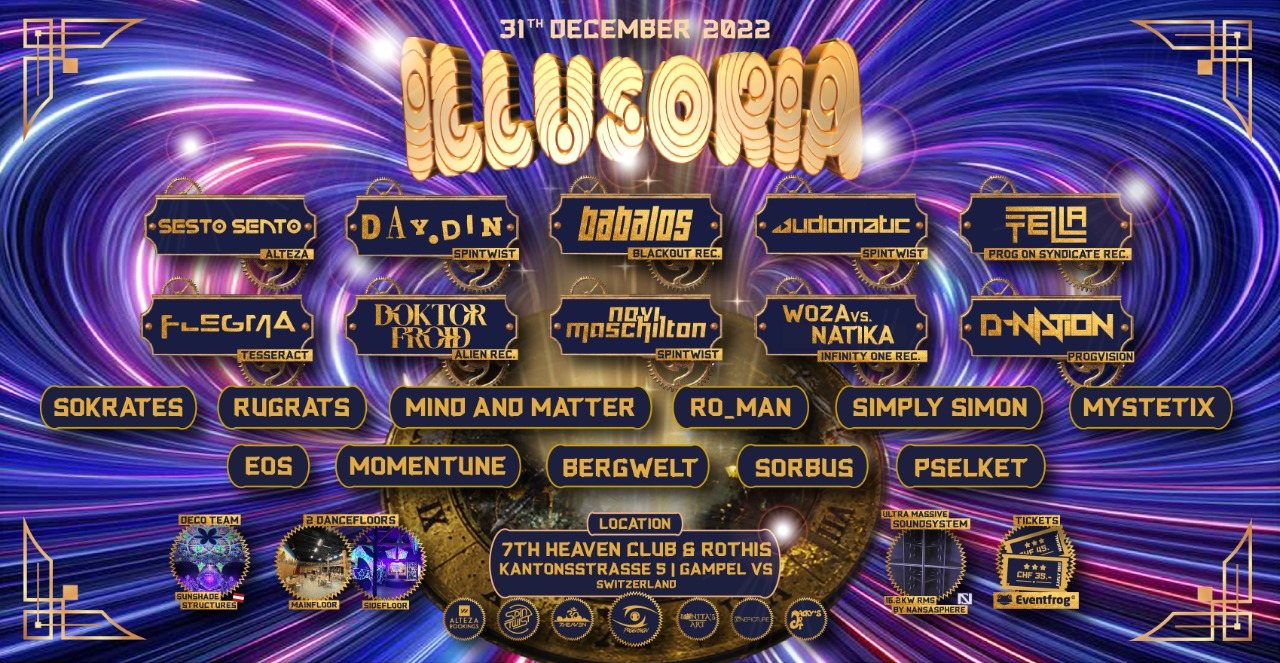 Info
🌟🔮🌟WELCOME TO THE NEW YEAR BLAST OF PROGVISION🌟🔮🌟
⏳ I L L U S O R I A 2022 ⏳
AFTER FOUR YEARS ILLUSORIA IS BACK! 🔮
🌟Das Jahr 2022 hat uns allen wieder viele bombastische und unvergessliche Nächte beschert. Deshalb wollen wir in der wichtigsten Nacht des Jahres einen krönenden Abschluss von diesem Jahr präsentieren und mit euch in das nächste Jahr starten! Vier Jahre ist es her seit dem letzten Illusoria und nun endlich können wir euch die nächste Ausgabe präsentieren!
🌟In dieser Nacht wird gefeiert wie sonst nie und deshalb haben wir für euch live Acts aus aller Welt geholt, die genau wissen was das Wort ESKALATION bedeutet! 😈
🌟Diesmal ist der Ort des Geschehens im schönen Wallis in Gampel im 7th Heaven Club und in der grossen Halle Rothis. Eine absolute top Location die keine Wünsche offen lässt für solch ein Silvester Event. Es ist für jeden Musik Geschmack etwas dabei und so soll es auch sein am Silvester, in dieser einzigartigen Nacht, die es nur einmal im Jahr gibt!
🌟Auf zwei Floors findet dieses Spektakel statt, ausgerüstet mit einem absolut ultimativen Soundsystem von Nansasphere mit einer Leistung von 16.2kW RMS!
🌟Macht euch auf eine einzigartige Dekoration gefasst. Die Location wird komplett umgewandelt in eine riesige Illusion von dem Dekoteam Sunshade Structure aus Österreich und Bonitas Art
[facebook.com]
[facebook.com]
🌟Big New Year Countdown! Wenn es 24 Uhr wird werden wir von 10 bis 0 ein Coundown herunterzählen und bei 0 wird die Bude zum Beben gebracht wie noch nie mit Feuerwerk, Konfetti und allem möglichen und aufs neue Jahr angestossen!
3️⃣ 2️⃣ 1️⃣ 🕛💥🚀💯 2023
================================
🌟 2 AMAZING BIG FLOORS
🌟BIG LIGHTSHOW, VISUALS & OTHER SPECIAL EFFECTS
🌟BIG NEW YEAR COUNTDOWN
🌟ULTRA MASSIVE SOUNDSYSTEM BY NANSASPHERE 16.2kW RMS
🌟2 DECOTEAMS: SUNSHADE STRUCTURE & BONITAS ART
🌟VISUALS BY SUNSHADE STRUCTURE
🌟STÄNDE UND MERCHANDISING / JACKYS ART, JESSIES ART & BODYPAINTING
🌟BIG OUTDOOR AREA WITH FIRES
🌟FRIENDLY SECURITYS
================================
Es braucht keine weiteren Worte, ihr werdet es erleben... diejenigen die ProgVision kennen wissen was auf sie zukommt 😈
Macht euch bereit für die grösste Eskalation des Jahres!!🔥
🔮 Es wird zeit Illusionen zur Realität zu machen und die Realität zu Illusionen 🔮
3️⃣ 2️⃣ 1️⃣ 🕛💥🚀💯 2023
🔖 TICKETS 🔖
Der Ticket Vorverkauf ist aktiviert und wird empfohlen um sicheren Einlass zu garantieren!
Tickets by Eventfrog:
[eventfrog.ch]
Early Bird Tickets: Sold Out
Normal Tickets 45.-
Ab 18 Jahren
Alle die am 31.12. oder 1.1 Geburtstag haben erhalten gratis Eintritt
Free entry for birthday people
Location
7th Heaven & Rothis
Kantonsstrasse 5, Gampel Steg Wallis
3940 Gampel
Entry fee
Entry fee
Tickets by Eventfrog:
Early Bird Tickets: 35.-
Normal Tickets 45.-
Ab 18 Jahren
Alle die am 31.12. oder 1.1 Geburtstag haben erhalten gratis Eintritt
Free entry for birthday people
Added

3m 3d

· Update

2m 15h

·