ILLUSION TRANCE**** DER BERG RUFT **** U-RECKEN LIVE
59955 WINTERBERG-SIEDLINGHAUSEN ·
Germany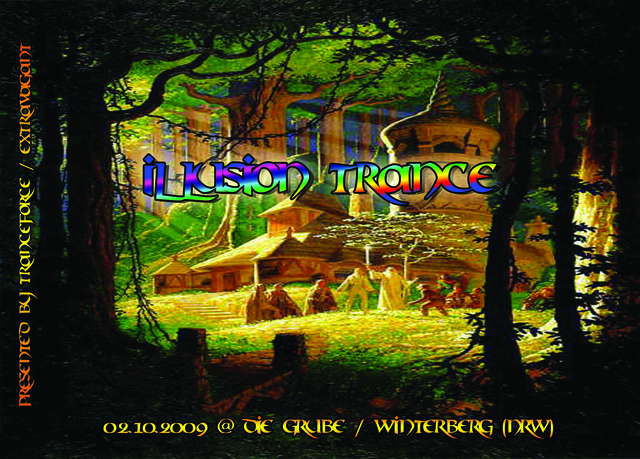 Line Up
hiii
mal ne generelle info::::::::::::
auf der bühne haben während der veranstaltung NUR djs/acts und die veranstalter zutritt.
wer sich nicht daran hält wird von der veranstaltung verwiesen.
********* ATMA (Y.S.E Millennium) *********
100 % LIVE
[myspace.com]
Andrei Oliver Brasovean aka "ATMA" is original from Transylvania .. Romania.
Starting to produce techno and trance music since 1991, he is one of the pioneers of electronic music in East Europe. In '95-'96 he started to produce Goa trance music and to organise small parties.
Well known around the globe for his unique style and for his "full live" performances, ATMA is now one of the most promising talents in the scene.... With more than 16 years of electronic music production, and hundreds of live performances on both: techno & trance scene, ATMA is no longer a new comer.
With his long musical background and the experience of working other musical styles he developed a totally unique style of psychedelic trance music. His music it's a "new definition" to the "full on" genre and it takes psytrance music to a higher and more professional level.
After the great succes of his first solo album "Beyond Good & Evil" released in 2006 at Geomagnetic.TV Rec (San Francisco/Usa), Atma is back in buisness with his new album "The Secrets Of Meditation" which will be released in 2008.
He has also several releases on labels like: Ov-Silence, Skills rec, Roton, Y.S.E Millenium, Media Services (Sony Music), Cytopia Rec, Sith Rec, Dreamtime Rec, GeomagneticTv…
Beside his trance projects, Atma works as music composer & sound engineer for commercial bands (house, techno, dance, pop, rock, hip hop..) and also as a film music producer, theatre & orchestral arrangments.
******* U-RECKEN (Dooflex Records) ********
PRESENTS NEW STUFF
[myspace.com]
yaniv ben-ari a.k.a. u-recken born in 1978 in haifa israel,and he is living till today on the beutyfull carmel mountains...made his firsts steps too the world of music in his early teenage life,strating as a guitar player and very soon a founder&leader guitar vocalist of two sucsesfull metal bands... like everybody else,he made his turn too the world of psychadelic music, by the haloocinogenic effect of you know what... nower days u-recken is about too realese is second album"deeper into man" stay tuned...
********** NOBU SAN (Listen´n Enjoy / Substical Rec.**********
with new crazy Stuff
NobuSan started in the year 2004. We played for the first time on a birthday party with 200 people. NobuSan uses VIRUS TI SNOW, WALDORF NANO Roland MC-303 and MC-307, novation K-Station, gibson SG electric guitar, line6 Pod, notebooks and has much energy!!!!!!!!!!!!! NobuSan is: Axel and Fabian, 24 years old, living near to cologne, germany. We had liveacts on party..s together with Rajaram, Cromatone, Optokoppler and many many more! Our album will definetely be ready autumnal probably in the middle of november!
SUNGATE & SERENADE
(TRANCEFORCE PROD./ ANTARIS / GER)


DJ EXPANDING CONSCIENCE
(MONTREAL / CAN / ARG) ( 3 HOURS DJ SET )


KID ALEX
(TRANCEFORCE PROD./GER)


RAUM & ZEIT
(TRANCEFORCE PROD./ GER)


THE P.H.O.E.N.I.X.
(VERTEX REC / GER ) ( 3 HOURS DJ SET )


SENSOMATIC
(TRANCEFORCE PROD. / GER)


PSY SCHILLI
(TRANCEFORCE PROD. / GER)


SEKO & P.A.X
(LIGHTBEAMS / GER)
Chill
Nein. Aber wir machen evtl.die Küche auf : ))
Deco
Deco
BUNTE BILDER / GESTELLE UND LIGHTS VON........

1::::: FARBSTOFFTRÄGER (TFP & VIBEZ)
MAINFLOOR

2::::: LIGHTBEAMS / SPIR.O (HESSEN)
2nd FLOOR
Info
Ronjas geburtstag ; )

****** EXTRA ANLAGE FÜR GEILEN SOUND ********


§§§§§ AND PLEASE NO DRUGS AND DONT DRINK AND DRIVE. §§§§§§


=================MAINFLOOR:::: =====================
22°°-24°° Sensomatic
24°°-03°° P.h.ö.n.i.x
03°°-04°° U-RECKEN live
04°°-06°° Sungate & Serenade
06°°-07.30 ATMA live
07.30-09°° NOBU SAN live
09°°-12°° Expanding Conscience
12°°-13°° (14°°) mal gucken ne

------------------------------------------------------------

=============SECOND FLOOR::::::::::: (nichtraucher floor)================
24°°-03°° Raum & Zeit
03°°-05°° Kid Alex
05°°-08°° Seko & P.A.X
08°°-11°° Psy Schilli
11°°-13°° free Decks
(Ihr könnt euch auf der Party bei Dj Sungate oder Dj Serenade melden,und einer bekommt dann die chance für 2 std sein können auf dem 2nd floor zu zeigen)
Location
DIE GRUBE
SORPESTR:
WINTERBERG - SIEDLINGHAUSEN
NRW / SAUERLAND
(Da die Autobahn ab Meschede gesperrt ist fahrt bitte so.)
Aus Richtung Ruhrgebiet
Autobahn abfahren (rechts),dann geradeaus bis zum ende (da gehts nur rechts und links),dort fahrt ihr links.dann haltet euch rechts.bis zur 2 ampel.dort biegt ihr rechts ab.an der nächsten ampel fahrt ihr links.dann immer geradeaus.bis ihr in siedlinghausen ankommt.im ort an der spk. rechts richtung rehsiepen.dann noch ein wenig geradeaus.und schwupps.auf der rechten seite nach ortsausgang ist die location.
hoff das is ok mit der beschreibung ; )) wenn net bitte routenplaner gucken (meschede-siedlinghausen)
[map24.com]
Entry
Entry
15 euro talers + 1 promo Mix CD (für die ersten 100 gäste)
Added

12y 7m

· Update

11y 8m

· 7 Parties ·

/ 89