illumiNaughty Chapter XVII ~ The Summoning ~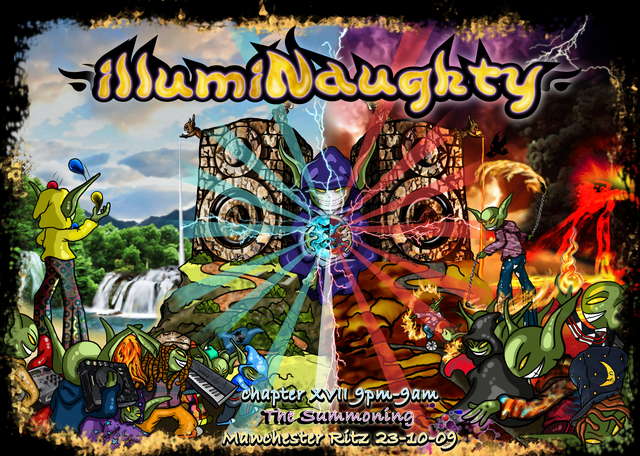 Live
Line Up
VIBE TRIBE (Compact Records)

MENOG (Spectral Records/3D Vision)
DJs
VIBE TRIBE (Compact Records)

BEKAS (Planet Soundz)

MAZIEG (illumiNaughty)

PSYCHODROME (illumiNaughty)

DRAVEN (illumiNaughty)
Deco
Deco
Decor: illumiNaughty

Visuals: Cycloptic

Sound: Sixth Sound
Info
illumiNaughty Chapter XVII
~ the Summoning ~
23rd October 2009 : Manchester
Well...the dust has just about settled since illumiNaughty last blasted Manchester's Ritz! After ExperiMenting with a line-up which well and truly pushed the boundaries of new sounds, we are going back to the roots for a night of psytrance which will combine the magiv of dark and morning music in true illumiNaughty style!
As the night sets in on 23rd October, the gates of the Ritz shall open and illumiNaughty will be casting an elaborate spell....dabbling with sounds and sights to create an experience of epic proportions! With a show which has been carefully crafted over the last three months, and a line-up which has been selected to capture the essence of the finest in night and daytime psytrance!
The time is nearly here...expect the deepest, darkest and most delightful rhythms to reverberate through Manchester's famous ballroom, spectacular costumed performers to fly through the night sky, a spring-loaded dancefloor to give you extra bounce to your dancing feet, goblins that will meddle with your mind and lights, lasers and visuals that will create confusion in your pxel-processing unit!
The Summoning is set to be the most extraordinary Chapter to date in the ever-expanding illumiNaughty saga...
PART I : The Ritz : 9pm to 5am
VIBE TRIBE (Compact Records) : Live & DJ Set
[myspace.com]
MENOG (Spectral Records/3D Vision) : Live Set
[menog.com]
BEKAS (Planet Soundz) : DJ Set
MAZIEG (illumiNaughty) : DJ Set
PSYCHODROME (illumiNaughty) : DJ Set
DRAVEN (illumiNaughty) : DJ Set
Performance: Ultra Violet Violence
[myspace.com]
Decor: illumiNaughty
Visuals: Cycloptic
Sound: Sixth Sound
~ circus misfits ~ magicians ~ stilt-walkers ~ markets ~ goblins ~
and much more.....
PART II: Secret Location : 5am to 9am
Further details coming soon...
TICKETS:
PART I: £12 adv +bf
PART I + II: £15 adv + bf
MOTD
ONLINE:
[illumiNaughty.eu]
SHOPS: Dr Hermans (Manchester / Liverpool)
Gaffs Fallowfield
TicketText: 80010 + event name and your address
Love n Chaos
illumiNaughty xx
Location
Location
The Ritz Ballroom
Whitworth Street West
M1 5NQ
Manchester, UK
Entry
Entry
PART I: £12 adv +bf
PART I + II: £15 adv + bf
MOTD
Organizer
Organizer
Forbidden Jungle