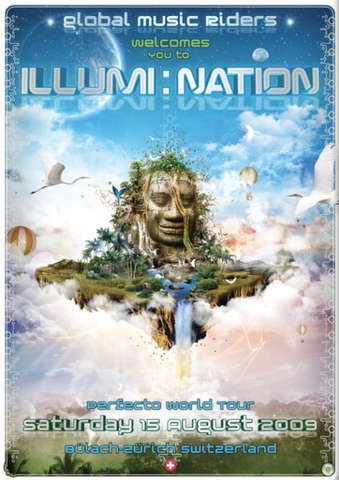 Line Up
:: Live On Stage ::
Krome Angels Ibiza
Behind the Mask World Tour
First Time in Switzerland – Presenting their album Modern Day Classics
[myspace.com]
Flip Flop UK
Alchemy Records
First Time in Switzerland
[myspace.com]
Vibraddict PT
Materia Records / Space Nomads
[myspace.com]
Midimal CH
Echoes Records
[myspace.com]
Refract CH
Independent
[myspace.com]
Info
:: Party Infos ::
1 Dance Floor & Relax Zone
Food, Chai & Tribal Stands
Powerful Sound System
Start 22:00 & End 14:00
Dear Guests and Fans of Infected Mushroom
We apologize for keeping you waiting with news and information about our event Illumi:Nation. There have been some unfortunate happenings that forced us to make some drastic changes to our original party concept:
With deep regrets we announce the cancellation of the Infected Mushroom concert.
The original Illumi:Nation party concept was to present you a dance music and visual spectacle on 2 dance floors -> a big hall (main floor) plus a second floor in the clubroom, both located in the UG Club Bülach. At the beginning, we have been told that it was possible to hold full-scale party in the big hall, thus allowing us to continue with organization planning process. However, after an official inspection by the fire security department last week, some defects were detected and the authorities declared that it was not safe to make party in the big hall (main floor). The main reasons of objection were that there are not enough emergency exits and escapes routes to guarantee the safety of our party guests.
As a result of the inspections, it is not possible for us to present you a first class event, so we have decided not to take any risks and to cancel Infected Mushroom concert. We are very sorry to disappoint all the Fans and Lovers of Infected Mushroom but we hope you understand that our choice was done in the interest of all of you.
The Good News:
The new party lineup in the club floor is 100% confirmed and it is with great pleasure we welcome the legendary KROME ANGELS (Dado, Dino & Shanti) for their first appearance in Switzerland. Supported by world class artists and djs, and eye teasing decorations, the Illumi:nation party promises to be one of a kind experience for Trance lovers of all styles.
This upcoming Monday final party information will be presented to shed more light into the dark.
:: Entry ::
At The Doors: 35chf
Starticket.ch:
Presale Tickets Owners can return their ticket at any of the official Starticket sales points OR the tickets keep their validity and the price difference will be reimbursed at the doors on the evening of the event.
Infected Mushroom treten nicht an der Illumi:Nation Party auf. Kunden, die bereits Tickets gekauft haben können diese entweder an einer unserer VVK-Stellen rückerstatten lassen ODER die Tickets behalten ihre Gültigkeit und die Differenz des Preises wird an der Abendkasse rückerstattet.
:: Venue ::
UG Club Bülach Zürich
Schützenmattstrasse 1b
8180 Bülach
[ugbuelach.ch]
:: Organizer ::
[myspace.com]
Organizer
Organizer
Global Music Riders
Web
myspace.com/globalmusicriders