IBIZA VIBESTYLE FREE EARTH FESTIVAL IBIZA PRE EVENT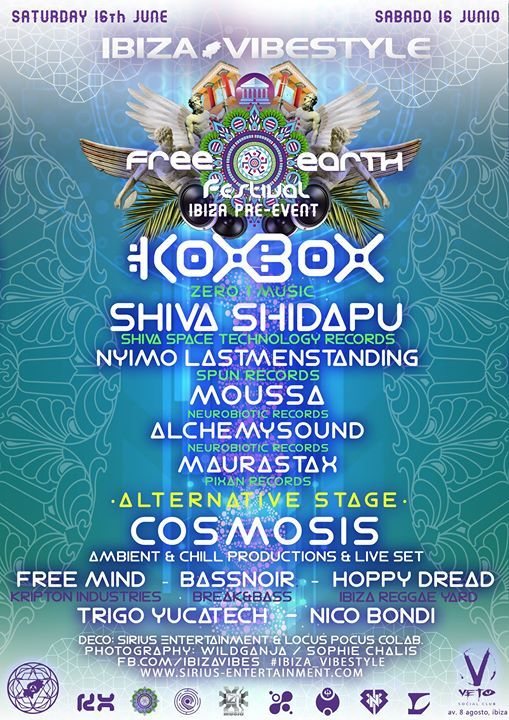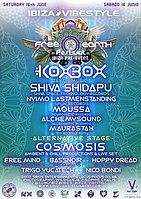 Line Up
Free Earth Festival ibiza Teaser PArty !!
△▿△▿△▿△▿△▿△▿△▿△▿△▿△▿△▿△▿△▿△▿△▿△▿△▿△
MAIN STAGE:
△▿△▿△▿△▿△▿△▿△▿△▿
KOX BOX.Zero1music
[facebook.com]
SHIVA SHIDAPU.
[facebook.com]
Nyimo Lastmenstanding.SpunRec
MOUSSA.Neurobiotic.Rec
soundcloud
ALCHEMY SOUND.Neurobiotic.Rec
[facebook.com]
MAURASTAX.Pixan.Rec
△▿△▿△▿△▿△▿△▿△▿△▿△▿△▿
ALTERNATIVE STAGE:
△▿△▿△▿△▿△▿
COSMOSIS. [ Ambient & Chill Productions & Live Set ]
youtube
TRIGO YUCATECH.
[click here]
FREE MIND - (kripton industries)
soundcloud
BASSNOIR.Break''N''Bass
soundcloud
Deco
Deco
Sirius Entertainment and Locus Pocus Colaboration.
Info
Info
Next Meeting We got The Teaser Party of One of the Best Festivals around Europe Free Earth Festival in Greece .The Only Festival in Europe Next to the Beach !! Come and Enjoy this killer Event ,We Gonna have Tikets For the Festival Witch is a Good Option for the Festival Season !
Location
Location
VETO SOCIAL CLUB , IBIZA
Organizer
Organizer
Sirius Entertainment