IBIZA VIBESTYLE at BAHIA BAY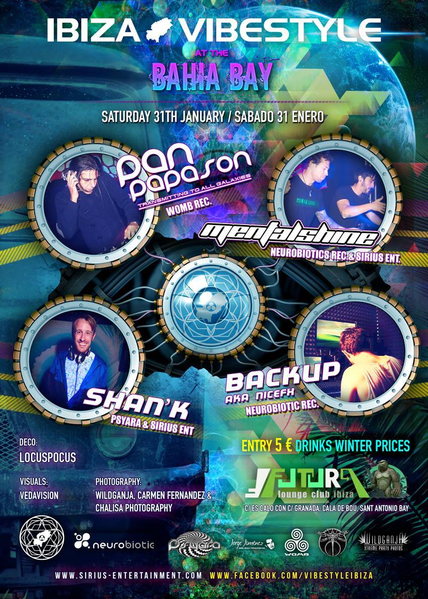 Deco
Deco
Deco by: LocusPocus
[facebook.com]
PHOTOGRAPHY: WildGanja / CarmenFernandez / Chalisa Photography
VISUALS: VedaVision
Info
Info
In this Ibiza Vibestyle Edition we gonna do something special.. instead of having a limited schedule from hours.. we lengthen the event a bit.. We make performances with the same artists and some others that playing at night, who's gonna let sound some production from other styles.. since we have a big and friendly terrace to do activities all day to 00:00 in the night, with good volume! We gonna be there all saturday with alternative music, as also we have food there! Since we have a barbecue on the same terrace. All depends from you if we make it!! We gonna upload some pictures to the facebook event, from the beautiful place we have to enjoy, with your friends or with the same artist who let sound his most relaxed sounds.
We hope to see you all there! Not only partying! that be more than going out to get drunk.. Let us create a place where we can unroll our arts, that are multiples.. not only musical, not only psytrance..
~~~~~~~~~~~~~~~~~~~~~~~~*~~~~~~~~~~~~~~~~~~~~~~~~~~~~~~~
Fb Event------>
[facebook.com]
Location
Location
FUTURA LOUNGE BAHIA DE SAN ANTONIO/ BAHIA BAY SANT ANTONI.
Entry fee
Entry fee
ENTRY = 5 Euros // / DRINKS WINTER PRICES