Hypnopulse - Psychedelic Trance & Forest Adventure at Fabrik Limburg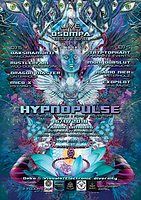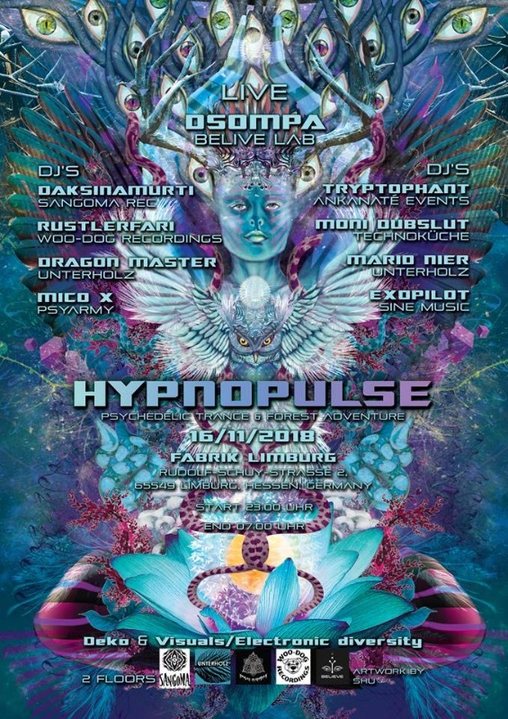 Deco
Decoration by:
electronic diversity
Info
Herzlich Willkommen zum Hypnopulse - Psychedelic Trance & Forest Adventure at Fabrik Limburg!

Wir lassen die Fundamente der Limburger Fabrik diesen November unter einem psychedelischen Klanggewitter auf allen Frequenzen erzittern, dazu haben wir für euch aus den Tiefen des Universum ein ganz besonderes LineUp zusammengepuzzelt!

Unser Live Act des Abends ist Dsompa aus Hamburg, der uns sein neues Album vorstellen wird. Eine Premiere!
Treibende, psychedelische Tanzmusik wartet also auf eure Ohren!

Die Dekoration kommt direkt aus den Bergen :) besser gesagt aus Tirol und zwar von electronic diversity! Ihr werdet die Fabrik nicht wiedererkennen, wir werden sie in einen psychedelischen Dance Temple verwandeln!

18+


Artist Information:

►DSOMPA
Dsompa is the Tibetan meaning for "flowing together", and is the project of Philipp based in Hamburg, Germany, a passionate Dj and producer. Dsompa discovered electronic music in the late 90′s, and was bewitched with the culture, art and the sound of the psychedelic culture. Encouraged by friends of the Ruigoord Community in Amsterdam, he played his first DJ set in the squatted church turned dance-temple, of Ruigoord early 2007.
In 2014, he released his Shipibo – Conibo inspired debut EP "Shinan" on Sangoma Records in 2014. Currently Dsompa is cooking and collecting tracks for his new EP which will be out on Believe Lab in 2018.

►DAKSINAMURTI
Daksinamurti is a psychedelic trance artist and Ethnologist from Marburg, Germany. Besides DJ'ing for over a decade, Till is managing the labels Sangoma and Timecode Records, and producing the Live act Android Spirit together with his friend Josef (Tickets). Daksinamurti prefers to play extended DJ sets far from predictability and stereotypes to create a colorful storyline suitable for dance floors at any hour of the party. His trance inducing sets are ranging from night to light – colorful journeys through energetic psychedelic trance with strong grooves, organic and tribal soundscapes and occasionally a blend of timeless Goa melodies in a forest friendly outfit. Till's love for diversity and mystical themes are also reflected in multiple compilation releases he worked on – always evolving his perspective of contemporary psychedelic music and culture.

►DRAGON MASTER
Dragonmaster a.k.a. Mario Nier is DJing since 1995!
He plays DJ-Sets reaching from Full-On to Psy Prog and Forest mixed with a constantly grooving and energetic flow.
Even on international events he was and is still quite active.
In the summer of 2016 Dragonmaster had been on a great Tournee all the way through South America. Since beginning of 2018 Mario is part of the Unterholz DJ-Team in Germany playing regular multiple Sets on different events in the Rhein-Main-Area.

►RUSTLERFARI
Since he was 15 years old Manu is fascinated by electronic music!
Pretty early he discovered PsyTrance and his wish to perform this music as a DJ began to rise in his young mind.
In 2016 he had his first DJ-Set in front of an exited audience.
Rusterfari is now part of the "Laws Of Nature" Crew and also "Woo Dog Records" playing DJ-Sets all around germany!

►MICO-X
"Mico-X" one of the DJ legends in the Rhein-Main-Area, is a well known name in the game. People love his deep and forward pumping psychedelic bassmusic becouse of his magical track selection and the feeling for the crowd! Mico was fascinated about every aspect in electronic music since he was a child. He had his first bookings when he was 16 years old (1995). Since the early days a lot of time passed by and today Mico is living in frankfurt and plays his DJ-Sets all around Europe on different Festivals and Partys! He is part of the "PsyArmy" DJ-Team and a resident DJ at "Unterholz" gatherings in wiesbaden.
Location
Fabrik Limburg
Rudolf-Schuy-Straße 2
65549 Limburg
Hessen, Germany