Backend
HyperDelik Records Present´s: PsyCarnival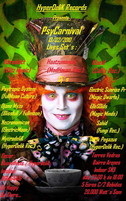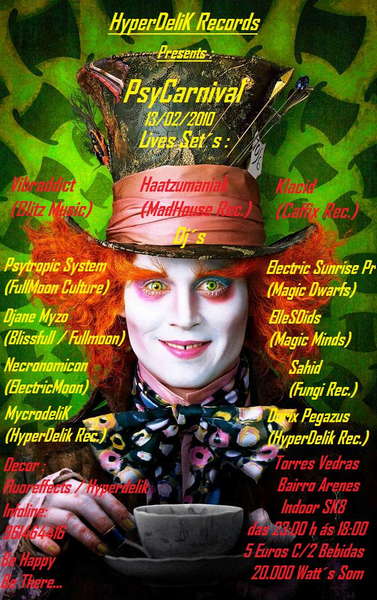 Psytropic System PT
( FullMoon Culture / MadHause Rec. / Biologic Minds )
[myspace.com]
Electric Sunrise Project PT
( HyperDelik Rec / Magic Dwarfs / Kalimist Rec )
[hi5.com]
Djane Myzo PT
( Blissfull / FullMoon Culture / Nostradamus / Dream Factory)
[myspace.com]
Sahid PT
( Fungi Rec / Vision Rec )
Necronomicon PT
( HyperDelik Rec. / ElectricMoon Rec )
[hi5.com]
Mycrodelic PT
( HyperDelik Rec. )
[hi5.com]
ElleSDids PT
( Magic Minds )
[myspace.com]
e
[myspace.com]
DoriX PegaZus PT
( HyperDelik Rec.)
Deco
Fluoreffects & HyperDelik Team
Info
Festa de trance na noite mais forte de um dos melhores carnavais do pais , o carnaval de torres vedras , a festa fica a menos de 5 minutos a pé do centro da cidade onde decorre todo corso nocturno e toda a grande festa carnavalesca .

Oferta de bebidas ás 10 melhores mascaras da noite.

Capacidade para 1000 pessoas.

20.000 watt´s Electro Voice.

Be Happy Be There ...

Let´s Get Together Celebrate & Dance....
Location
Torres Vedras / Bairro Arenes / Indoor Skate Park / A Festa fica a apenas 4 minutos da saida da A8 Torres Vedras Norte.
Entry fee
Entry fee
5 Euros C / 2 Bebidas leves
Organizer
Organizer
HyperDeliK Records
From
HyperDelik Records ·
3,161
Added

12y 10m

· Update

12y 9m

·