HYBRID UV and ORGANIC DREAM present... HYBRID DREAM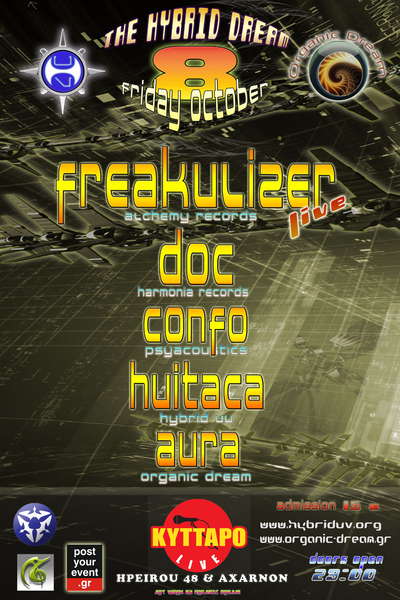 Live
Line Up
>> FREAKULIZER ***LIVE***
(Alchemy Records)
[myspace.com]
Freakulizer has been creating a stir in the psytrance scene since his debut album 'The Awakening Process' was released on Alchemy Records in 2005. Hailing from Switzerland, Freakulizer is Simon Schwendener, the leading psytrance producer in Switzerland. Since the age of 15, Simon started to spin psytrance on vinyl back in1996 and after 5 Years of DJing in clubs around Switzerland, he turned his talent to produce his own music. Also known as Khainz he is well known for his quality of production and innovative ideas in music.
With the help of well known psychedelic artists like Sesto Sento , Eskimo, Pixel, Cyber Cartell ,Psysex and Vibe Tribe he formed the now infamous deep morning sound that is the signature of 'Freakulizer'. His sound is powerful and melodic, with definite sense of depth and purpose. Freakulizer has an extensive release sheet and has been continually touring around the world since his debut album and his music has been released tracks on numerous labels from Compact, Vision Quest, Headroom, Psytropic, Zoom and of course the now legendary Alchemy Records!
Frekulizer is now coming to Athens so get ready to have your minds blown away!!!!
>> DOC - DJ Set
(Harmonia Records)
[myspace.com]
Born in Athens Greece in 1966, Doc started to sing in Punk rock bands at the young age of 16. At the beginning of the 90s he started to mix metal and indie rock at small clubs and bars in Thessaloniki when at the same time he made his first contact with the first underground rave parties and got infected by the psychedelic sounds of trance . After 1996 he started mixing psytrance at illegal parties in warehouses and in the summer of 1997, later becoming a resident DJ at the open air club "Mojo" in the island of Ios.
Doc has performed with many international names like Atmos , James Monro , Anti, Synchro , Mark Allen and many more and in many parties around the world in places like Goa, Thailand, Mexico, Australia and some of the biggest international festivals in Germany , Hungary, Holland, Belgium, Australia, Portugal, F.Y.R.O.M, Switzerland and Cyprus – most recently performing in Ozora 2010. His experience is vast, and is the only Greek DJ who played to all Samothraki festivals (2001-02-03-05) and to all other big Greek festivals ever since. Doc is with Candyflip Records since 2002 and is also with Harmonia Records. Doc is renowned for his style of groovy and melodic style of psytrance and in the last 2 years he has been studying music production and created his new music project under the name DOCODE
>> CONFO - DJ set
(Psyacoustics)
[myspace.com]
Thanassis aka Confo is the resident DJ for Psyacoustics and has performed in a number of parties around Athens and many more parties around Greece. Confo is becoming increasingly popular in Greece because of his ability to bring people together in the dancefloor and giving a unique atmosphere through his mixng skills and music selection. His powerful style of psychedelic trance is certain to get you bouncing on the dancefloor non-stop
>> AURA - DJ set
(Organic Dream)
[myspace.com]
Billy aka Dj aura was born in Athens in 1975 and since 1995 he has been performing as a resident Dj in TranceMedia. Through his large experience in the scene, DJ Aura has performed in many events around Athens and various Open-Air parties and Festivals in Greece. Being the mastermind behind Organic Dream, a group created in 2007 , he has been organizing and promoting events very successfully over the last few years with many international well known artists.
>> HUITACA - DJ set
(Hybrid UV)
[hybriduv.org]
Catherine aka Huitaka is one of the creators and promoter behind Hybrid UV, firstly based in Manchester UK and having recently come in Greece is here to share her love for the full on night sounds the UK dancefloor is known for. Her style is mainly influenced from the UK sound and her signature is the powerful, twisted psychedelic style that will make you float in the twilight sphere.
Deco
Deco
Full UV Deco
Full Psychedelic Visual Projections
Affordable Bar prices
and many more surprises on the night....
Organizer
Organizer
HYBRID UV GREECE
ORGANIC DREAM