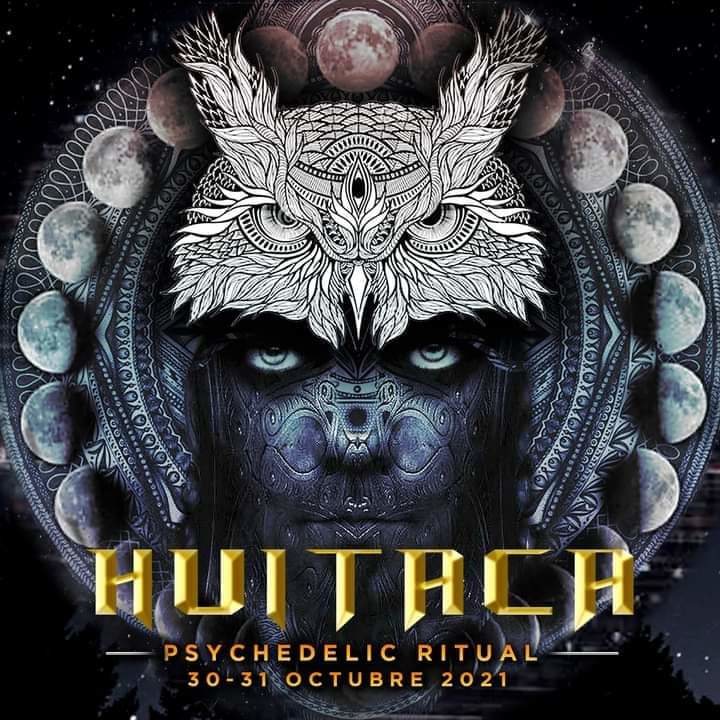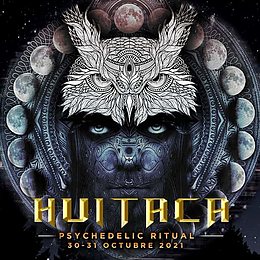 Line Up
Spanish Below----
International Artists
Elowinz (Parvati Records) - Brazil
The Sideffex (Labyrinthine Crew) - Austria Disfunction - Brazil
Pyroclasm (Quantum Daemon) - Bolivia Kuogui - (Agya Sounds Records) - Brazil Macewa (Enki Lab) - Mexico

🎭National Artists
Anahata Ben (Solar Collective - Vodoo Hodoo Records) - Bucaramanga
Gato Loco (Ibanasca Psy Festival) - Ibagué Dimension V (Aluna Pro) - Bogotá
Pineal (Aluna Pro) -bogota
Auspex - bogota
Selva Soy (SanDía Producciones) -uruguay WalicxeMusic) - Ibagué


🎭Artistas Internacionales
Elowinz (Parvati Records) - Brasil
The Sideffex (Labyrinthine Crew) - Austria
Disfunction - Brasil
Pyroclasm (Quantum Daemon) - Bolivia
Kuogui - (Agya Sounds Records) - Brasil
Macewa (Enki Lab) - México

🎭Artistas Nacionales
Anahata Ben (Solar Colective - Vodoo Hodoo Records) - Bucaramanga
Gato Loco (Ibanasca Psy Festival) - Ibagué
Dimensión V (Aluna Pro) - Bogotá
Pineal (Aluna Pro) - Bogotá
Selva Soy (SanDía Producciones - WalicxeMusic) - Ibagué
Info
Spanish Below----
🦉Huitaca Ritual ✨ October 30 & 31 / Bogotá-Colombia Huitaca Ritual is committed to the creation of spaces for the exchange of experiences in which various artistic and cultural expressions and local ventures come together, which arose from a collective idea in search of the consolidation of a conscious, environmental, sustainable and social solidarity and artistic network. in equilibrium. An experience that goes beyond the conventional party, a psychedelic ritual space that involves different artistic interventions.
🌙Huitaca is reborn as a goddess of wisdom, the bearer of hidden knowledge, one that can only be perceived in the darkness of night, which can only be accessed through the magical paths of trance induced by dance, music, sacred plants and sex.
We invite you to share this October 30 and 31 to two days of rave and a multicultural interaction experience with surround sound 🔮
🔴Tickets:
$ 80,000 - Presale
$ 100,000 - Box office
Payment via Nequi: 3115473705
Bus departure from Bogotá
More info:
Tribuhuitaca@gmail.com
3052446032 - 320 8332265
🎭International Artists
Elowinz (Parvati Records) - Brazil
The Sideffex (Labyrinthine Crew) - Austria Disfunction - Brazil
Pyroclasm (Quantum Daemon) - Bolivia Kuogui - (Agya Sounds Records) - Brazil Macewa (Enki Lab) - Mexico
🎭National Artists
Anahata Ben (Solar Collective - Vodoo Hodoo Records) - Bucaramanga
Gato Loco (Ibanasca Psy Festival) - Ibagué Dimension V (Aluna Pro) - Bogotá
Pineal (Aluna Pro) -bogota
Auspex - bogota
Selva Soy (SanDía Producciones) -uruguay WalicxeMusic) - Ibagué
🎞VideoMapping:
FTZStudio - Ibagué
Sideffex-o-Scope - Austria
🎨Live art
Juan Maku
⛺Camping area
🍃Healing Area:
Therapeutic Yoga Reflex
therapy Balance
Mental trip (multisensory experience) Soundhealing
Massages
Chiropractic
🎪Entrepreneurship Fair - Muisca Market
🍻Cannabar - Restaurant
@The galpon
#psytrance #trancemusic #psyfestival #psymusic #psyritual
‐-----‐-------------------------------------------------
🦉Huitaca Ritual ✨30 & 31 de Octubre
de 2021/ Bogotá-Colombia
Huitaca Ritual apuesta por la creación de espacios de intercambio de experiencias en las que se dan cita diversas expresiones artísticas, culturales y emprendimientos locales, que nace de una idea colectiva en busca de la consolidación de una red solidaria y artística consciente, ambiental, sostenible y en equilibrio. Una experiencia que va mas alla de la fiesta convencional, un espacio ritual psicodelico que envuelve diferentes intervenciones artisticas.
🌙Huitaca renace como una diosa de sabiduría, la portadora del conocimiento oculto, aquel que solo puede ser percibido en la oscuridad de la noche, al que solo se puede acceder a través de los caminos mágicos del trance inducido por la danza, la música, las plantas sagradas y el sexo.
Te invitamos a compartir este 30 y 31 de Octubre a dos días de rave y de una experiencia de interacción multicultural con un sonido envolvente 🔮🪄
🔴Tickets:
$80.000 - Preventa
$100.000 - Taquilla
Pago vía Nequi: 3115473705
Salida de buses desde Bogotá
Mayores informes:
Tribuhuitaca@gmail.com
3052446032 - 320 8332265
🎭Artistas Internacionales
Elowinz (Parvati Records) - Brasil
The Sideffex (Labyrinthine Crew) - Austria
Disfunction - Brasil
Pyroclasm (Quantum Daemon) - Bolivia
Kuogui - (Agya Sounds Records) - Brasil
Macewa (Enki Lab) - México
🎭Artistas Nacionales
Anahata Ben (Solar Colective - Vodoo Hodoo Records) - Bucaramanga
Gato Loco (Ibanasca Psy Festival) - Ibagué
Dimensión V (Aluna Pro) - Bogotá
Pineal (Aluna Pro)-bogota
Auspex - bogota
Selva Soy (SanDía Producciones) -uruguay WalicxeMusic) - Ibagué
🎞VideoMapping:
FTZStudio - Ibagué
Sideffex-o-Scope - Austria
🎨Arte en vivo
Juan Maku
⛺Zona de Camping
🍃Healing Área:
Yoga Terapéutico
Reflexoterapia
Equilibrio
Mental trip (experiencia multisensorial)
Soundhealing
Masajes
Quiropraxia
🎪Feria de emprendimientos -Mercado Muisca
🍻Cannabar - Restaurante
@e.l.g.a.l.p.o.n
#psytrance #trancemusic #psyfestival #psymusic #psyritual
Location
Location
Bogotá
Las rosas cundinamarca
Bogotá
Organizer
Organizer
Huitaca Ritual Healing