Hokus Focus 4 - Mind Expansion Night / 4 Live Acts / 3 Areas
19288 Wöbbelin / near Schwerin ·
Germany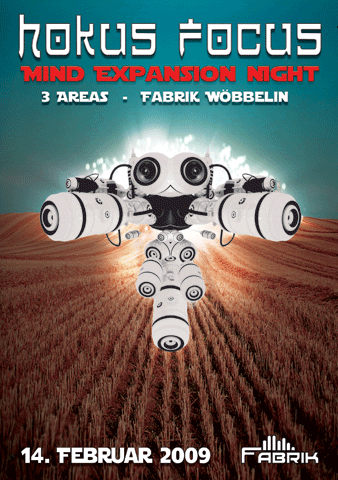 Deco
Deco
All Floor´s by Analavory Projekt
.
.
Info
Diesmal mit dem Label Mind Expansion... Mit einem Progressiv Floor,4 Live Act´s und vielen guten Dj´s... Die Chill Lounge ist natürlich auch wieder dabei... Mehr infos kommen bald... See you...
.
.
.
.
MIND EXPANSION STAGE
(MAINFLOOR)
.
.
22.00 – 00.00
Brain Attack
(Mind Expansion Rec. / Amnesietheater) Berlin
.
00.00 – 02.00
Halunke
(Mind Expansion Rec.) Berlin
.
02.00 – 03.30
Antagon "Live"
(Mind Expansion Rec.) Hamburg
.
03.30 – 05.30
Ant
(Mind Expansion Rec.) Berlin
.
05.30 – 07.00
Dark Whisper "Live"
(Mind Expansion Rec.) München
.
07.00 - 09.00
Kailash
(Shaman Films Rec.) München
.
09.00 – 11.00
Cannibal Crow
(Mind Expansion Rec.) Berlin
.
.
.
.
PROGESSIVE STAGE
(SUBGROUND)
.
.
23.00 – 01.00
Somatrixx
(Mystic Vision) HH
.
01.00 – 03.00
Drenan
(YSE Rec.) Paris
.
03.00 – 04.30
Cyklones "Live"
(YSE Rec.) Paris
.
4.30 – 6.30
Sensifeel
(Spin Twist Rec.) Paris
.
6.30 – 9.00
Dr. Changra vs. Zosma
(Iono Music vs. Spin Twist) Berlin & LWL
.
9.00 - 10.30
Forward "Live"
(Multiplex Rec.) Penzlin
.
10.30 – 13.00
Weasel Son vs. Morph
(Multiplex Rec. vs. Tesseract Studios ) Penzlin & HST
.
.
.
.
********** Antagon **********
.
.
"Antagon" aka Lars Peter from Hamburg/ Germany is a Darkpsy Live-Act and DJ. He is into Music since the early
ninetees. At the age of twelve he started to play the Bass-Guitar and played some years in a Death Metal Demo-Band. In 1996 he started to listen to psychedelic Trance and in 1999 he started spinning CDs and Vinyl.
After some years of Djing he started in 2005 to produce his own sound which leads to his actuall Darkpsy Live-Act Project.
.
He is always a member of th upcoming Act "-Z-" with Dj Alpha and Equinox. "-Z-"s sound is a mixture of Psychedelic Trance with Dark Wave, Industrial and Darkpsy elements and based at around 148 - 150 bpm.
.
.
.
.
********** Dark Whisper **********
.
.
Dark Whisper is one of the projects of Manuel Bellini. He get in touch with psychedelic music 1998 in Thailand together with his family. In the year 1999 he started to learn instruments like bass guitar, percussions and various strange instruments.
He found the organisation ALICE.D PROD. and made a couple of party around Italy and Germany.
In the year 2004 he started with DJing.
Producing electronic - psychedelic music he started backin the year 2006, with a simple PC and headphones. After he stock up his equipment with sinths, and various stuff.
At that time he produced a stile of twisted psychedelic sound influenced by many many cultures of the world mixed with analoge instruemnts that he collected while travelling around the globe. In some of the tracks you will also find stories from the madness of our world, politics and destruction of the mother nature in a deep psychedelic atmosphere and always with brain shaking rhythms and body dancing percussions.
.
.
.
.
********** Cyklones **********
.
.
Born in 2001, CYKLONES is the project between Philippe Sancier (aka Sensifeel) and Pierre Dauny (aka Dj Drenan). At the same time than his own concept, Philippe decided with Pierre to use the power of their friendship in music, and developed a groovy trance progressive and psychedelik sound. Active in the scene since many years, they've progressed as individual artist, Dj DRENAN, SENSIFEEL, and together as dj's team CYKLONES; playing from Chill out to progressive and psytrance music. Their first release on Novatek "Micho micha" which have received pretty good feedbacks from the listeners and dancers, gave them the desire to keep going on their work. After several years of work and performances, they built an impressive story with their debut album "City of klones" is out on YELLOW SUNSHINE EXPLOSION records,on Sept 25th of 2006. A big mix of all feelings, from Club styles to psyprogressive trance sounds....
.
.
.
.
********** Forward **********
.
.
Weaselson (21 J.), auch genannt Stephan Witzovsky lebt derzeit in Penzlin, einer kleinen Stadt in Mecklenburg-Vorpommern/ Deutschland. Mit 13 Jahren, angefixt vom Psytrance-Virus, auf dem Fusion Festival'99 begann er schnell die ersten Vinyl..s zu drehen und auf kleineren Partys zu spielen. Sein Sound ist zu 100% Progressive Trance, aber immer Floor-orientiert. Er schafft es immer wieder durch kleine Show-Einlagen, wie seine legendären 3 Player Sets, die Stimmung auf dem Floor zum beben zu bringen. Immer getreu seinem Motto: "performance mixing instrument!" In seinem Liveprojekt "FORWARD" zeigt er sein Talent als Produzent. Aber auch andere Projekte wie sein Technoprojekt "R:N:S",die Fadeskater , das DJ-Team "Rypzylon & Weaselson" oder dem Livebattle "Forward vs: Stroke Unit" beschäftigen den zusehens erfolgreicheren DJ und Produzent. Weaselson gründete mit diversen Freunden die "Synthesized Emotion Crew", die jedes Jahr durch exclusive Partys in den schönsten Locations die Party Crowd zu begeistern weiß! Heute ist er zusammen mit Rypzylon Chef des Labels "Multiplex Records" und kann auf eine beachtliche Anzahl an Bookings zurückschauen.
Location
Fabrik
Am Funkamt 10
19288 Wöbbelin / near Schwerin
(Eine schöne abgeschottete Location)
.
.
So kommst du hin!!!!
.
Mit Auto:
A24 Abfahrt Ludwigslust, dann Richtung
Ludwigslust. In Wöbbelin links ab Richtung Neustadt Glewe. Dann nach ca. 1
Km rechts zur Fabrik.
Achtet auf Pfeile...
80 km von Hamburg und 180 km von Berlin entfernt.
25 km von Schwerin und 8 km von Ludwigslust.
.
.
Mit Zug:
Bahnhof: Ludwigslust
Fahrplan:
[bahn.de]
Shuttle Service (Frank) +49(0) 173 8190286
.
.
Entry fee
Entry fee
********** Der Eintritt beträgt vor um 0 Uhr 10 Euro und danach 15 Euro **********
.
.
.
Organizer
Organizer
Hokus Focus Crew GER Schwerin
Hotline
+4915224926510 / no SMS !!!
Added

12y 4m

· Update

10y 6m

· 9 Parties ·

/ 74