High Mountain Gathering Promo Party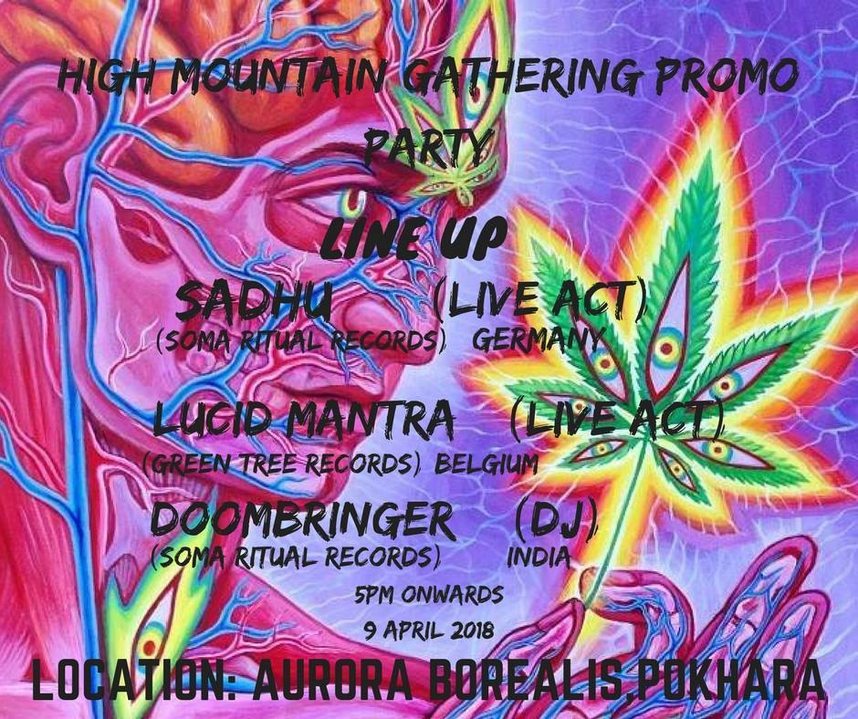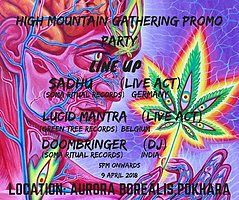 Line Up
Line Up
#DJ_SAICHITANDAR
#DJ_KAPITAL7_SPIROPHONIC_RECORDS_UAE
#LUCID_MANTRA (#LIVE_ACT)#GREEN_TREE_RECORDS
#DJ_FAOLAN
#DJ_JAY
#DJ_WILD_SPIRIT
#DJ_SADHU
#DJ_DOOMBRINGER
Info
Info
High Mountain Gathering is a high mountain ethnic tribal celebration that happens once a year regularly since ages where a person each from every house from villages "Including Ruma Eco Village" situated beneath mount Duralake hikes up 3800 meters above sea levels to the top of the mountain on the first day of Nepali new year (ie: Baisakh 1st, April 14th), when the mountains are covered by varieties of Rhorodendrons and camp there for the night, harvest herb the next day and hike down to village and the mountain again rests in silence for the rest of the year gathering. The mountain is covered with snow for four months of the year yet snow can be seen for six months.

High Mountain Gathering Itinerary

Chaitra 29, Apr. 12 Day 1: Drive up for Ruma eco village. .
Location
Location
Aurora Borealis Restaurant & Bar
Khare,lakeside,Pokhara
[facebook.com]
Organizer
Organizer
Aurora Borealis Restaurant & Bar