Backend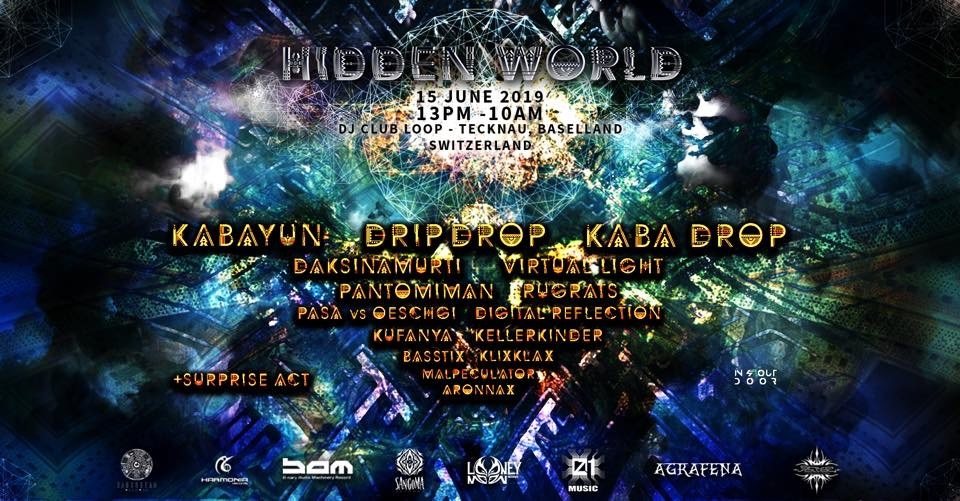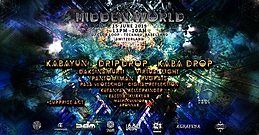 Line Up
《《《 Line Up 》》》

--->> Confirmed Act's <<---

• DAKSINAMURTI🇩🇪 / Sangoma Rec.

• KABAYUN 🇺🇸 / Sangoma Rec.

• DRIP DROP 🇬🇷 / Harmonia Rec.

• KABA DROP / 🇺🇸🇬🇷 First Time In Switzerland !!!

• VIRTUAL LIGHT 🇨🇦/ Zero1Music

• PANTOMIMAN 🇷🇺 / Looney Moon Rec.

• FOG 🇮🇹 / Looney Moon Rec.

• RUGRATS 🇨🇭 / Looney Moon Rec.

• PASA vs OESCHGI🇨🇭🇨🇭 / Special B2B

• KUFANYA 🇨🇭 / Dark Dream Rec.

• DIGITAL REFLECTION🇨🇭 / Unalome Rec./ Reisefieber Rec.

• KELLERKINDER 🇨🇭 / Independent

• BASSTIX 🇨🇭 / Dark Dream Rec.

• KLIXKLAX🇨🇭 / Dark Dream Rec.

• ARONNAX 🇩🇪 / B.A.M. Rec.

• MALPECULATOR 🇨🇭🇨🇭 / Dark Dream
Rec.

• SUPRISE ACT 😉 / XxX


《《 Line Up: Closed 》》
Info
Hallo liebe Tanzgemeindschaft
Verborgen... versteckt... in den Tälern des Baselbiets... erwartet euch eine Welt voller Freude, Liebe, Leidenschaft und Musik.
Also lasst uns gemeinsam in einer verborgenen Welt durch Tag und Nacht tanzen. 😎
Wir präsentieren: Hidden World 🌲
Birthday Party of Manu, Josh & Phil🤘
Wir werden um 12:30 Uhr mit einer DayDance starten. (Outdoor)
Ab 22.00 Uhr wird es im Club Loop (Indoor) in die AfterHour gehen🤗
• Deko-Team
Looney Moon Deko Team 🇮🇹
[facebook.com]
•Prices
VVK/Presale (Start 05.04.2019)
DayDance Only (12-22): 35 CHF
AfterHour Only(22-10): 20 CHF
Combo Ticket(day&Night 12-10) 45 CHF
(AfterHour: Beschränkt auf 120 Personen!!! Der Schnellere ist der Klügere😉)
At the Gate/Am Eingang:
DayDance Only 40.-
AfterHour Only 20.-
Vorverkaufs stellen:
- Manu Oeschger (fb)
- Joshua Sigg (joshua.sigg@bluewin.ch)
- Vision of Hemp, Güterstrasse 138, 4053 Basel
- Stefan Greiner (Deutschland)
- Phil Ippe (Basel / FB)
- Bar with fair Prices ! 🍺
- Free Water
- SoundSystem by Kling & Freitag
- Looney Moon Deko
- No Kids !
- No Dogs !
- No entry under 18 !!! Strikt ab 18 Jahren !!!
- Free Entry for Birthday peoples
- Blast Line Up 😍
- Surprise Act 🤔😉
See U On The DanceFloor 😎❤🤘
Cheers ! 🍺💪
Manu, Josh, Phil ❤
Location
DJ Club Loop - Tecknau
Voreimatt 99 4492 Tecknau

13:00-22:00 Daydance Outdoor
22:00-10:00 After Party Indoor
Entry
Entry
VVK infos soon...
We sell just 300 Tickets for the Daydance and 100 for the Afterparty. We recomment to buy a ticket in advance to get in Safe
DayDance Ticket 35CHF
Afterparty Ticket 20CHF
Combo Ticket 45CHF
Organizer
Collab between:

Dark Dream Rec.
Agrafena Events
Sangoma Rec.
Zero1 Music
Harmonia Rec.
Shiva Valley Rec.
Looney Moon Rec.
B.A.M. Rec.