Hey baby, Lets ... GoA!!!! Baby's birthday party
vengan con nosotros y regre… ·
Belgium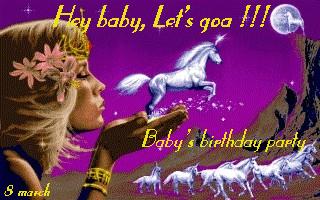 DJs
GOLLUM (MEX)(psyco mangle)

GABOULIX (MEX)(psyco mangle)

ANOEBIS (BEL)(apsara prod. & SCHLABBADUERST REKKORDS)

BABAJI (mex) (sunyata psycoactive)

TWINKEL VS NIMF (BELGICO)(flashpand unl.)
Chill
small screen projections
psychedelic flashbacks from the past ,(from european and mexican partys)
the dark chrystal, the last unicorn, the neverendening story,...
Deco
Deco
the fluoduo
vs smokefish
psyco mangle project (mex)
Info
Info
for all the elfs that liked and for all the elfs that missed the music in the first "Hey baby,..."
we offer you this second version
due to the birthday of my pretty baby, the pregnancy of twinkelnimf the fourlegged astral alien, and the departure of the mexican dj's

free fruits will be provided

this party will cost you 3 neuros
the location is smaller than before so only 125 elfs can enter the party
no reservations by email
all cards in presale shanti gent en aalst
en bindi in zottegem
location on tickets
cu there

the fluoduo,smokefish,surya, xenon y twinkelnimf
Organizer
Organizer
Hey Baby, let's... GoA !!!
Hotline
0472 65 60 33 0474 51 35 23