Herzfrequenz mit Querox @ Stairs Club Zürich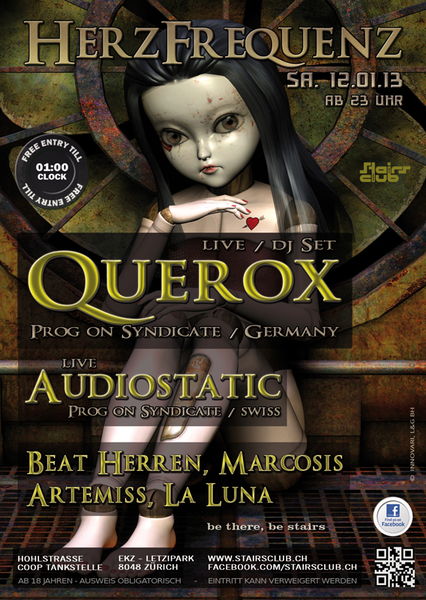 Live
Line Up
Querox (Prog on Syndicate, D, live & DJ-Set)
Audiostatic (Prog on Syndicate, CH, live)
DJs
Querox (Prog on Syndicate, D, live & DJ-Set)
Audiostatic (Prog on Syndicate, CH, live)
Artemiss
Beat Herren
Marcosis
La Luna
Info
Info
The beat of the heart.

Herzfrequenz bringt internationale Klasse nach Zürich und in den Club oben an der Treppe. Herzfrequenz steht für progressives Tuning mit Gütesiegel und Prädikat "wertvoll", ist ein absolutes Muss für Clubber, deren Herz im Proggietakt schlägt und schlicht und einfach eine Option auf ein paar unvergessliche Stunden mit Menschen, die ausgehen um Spass zu haben.

Als Headliner fungiert Querox: Querox steht für Offbeat-Tracking und überaus kreative Basslines, vermischt mit technisch überragenden Skillz und brillanten, kristallklaren Sounds, basierend auf einem "dreckigen" Fundament und emotionalen Melodienbögen, die keinen unberührt lassen. Seine erste EP ist zwar erst vor drei Jahren erschienen, hat ihm aber schlagartig die ungeteilte Aufmerksamkeit der weltumspannenden Proggie-Gesellschaft eingebracht. Mit Audiostatic ist auch ein Schweizer Prog on Syndicate-Labelkumpan von Querox vor Ort. Audiostatic wird in dieser Nacht beweisen, dass sich die Schweizer Auflegerschaft keineswegs zu verstecken braucht: High end-Tuning, made in Switzerland.

Komplettiert wird das DJ-Schaulaufen von Artemiss, Beat Herren, Marcosis und La Luna.
Location
Location
Stairs Club Zürich
Entry fee
Entry fee
Gratiseintritt bis 01:00 Uhr