Hedonistic Summer Celebration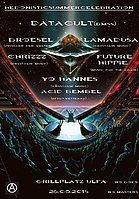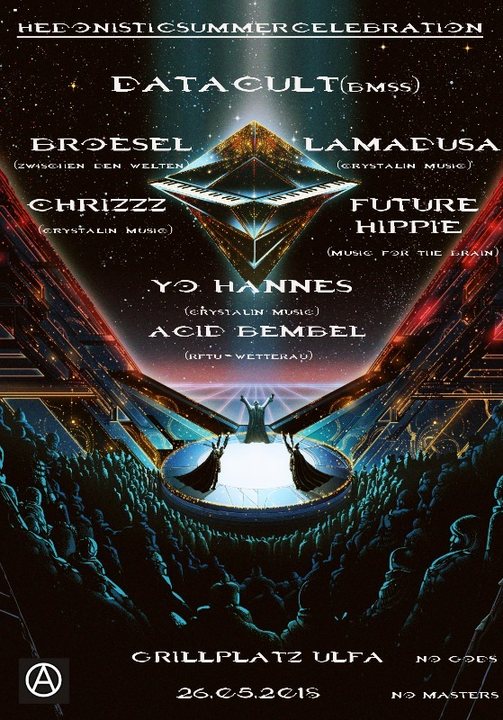 Line Up
BRØSEL | zwischen den welten

CHRIZZZ | crystalin music

DATACULT | bmss records

FUTURE HIPPIE | music for the brain

LAMADUSA | crystalin Music

YO HANNES | crystalin music

ACID BEMBEL | rftu wetterau
Deco
FRIES, SWEETS & COFFEE BY QUIOSQE
Erich Honecker und die farbenfrohen Jungpioniere
Info
PRIVATVERANSTALTUNG AB 18 JAHREN!
Bitte sammelt euren Müll wieder ein und verlasst den Platz so wie ihr ihn vorgefunden habt, ebenso wie die Parkplätze.
Da die Party mindestens bis Sonntag Abend geht, wird morgens und tagsüber wenn ihr Bock habt bisschen spazieren zu gehen und die Gegend zu erkunden darum gebeten, halbwegs auf den offiziellen Wegen zu bleiben und vor allem NICHT DIREKT DURCH DIE FELDER ZU LAUFEN ODER ÜBER IRGENDWELCHE ZÄUNE ZU KLETTERN!!!
Deswegen gab es letztes Jahr einige Beschwerden. Ihr wisst ja wie die Leute sind und auch wenn niemand in der Nähe zu sein scheint, irgendwo ist immer ein Denunziant in der Umgebung der nur auf eine Gelegenheit wartet uns anzuschwärzen.
!!!!!!!!!!!!!!!!!!!!!!!!UNSERE PARTYPHILOSOPHIE!!!!!!!!!!!!!!!!!!!!!!!
ALL ARE WELCOME, WITH EXEPTIONS!!!
No gods, no masters.
hier mal das manifest der hedonistischen internationale als wegweiser:
[hedonist-international.org]
PARTY_PROTEST_ACTION!!!
Know your enemy! Fuck Cops and Nazi-Scum
FUCK AFD!!! not welcome!
leute mit intolerantem, konservativem, homophoben, sexistischem, diskriminierendem, rassistischem und menschenverachtendem gedankengut sind nicht willkommen und bleiben am besten gleich zu hause.
etwaiges verhalten in diese richtung führen zum ausschluss
wer stress macht, klaut oder frauen belästigt fliegt ebenso raus.
letztes jahr sind einige sachen von gästen abhanden gekommen, ob es geklaut, verloren oder aus versehen von jemanden mitgenommen wurde der es dann nicht mitgeteilt hat ist scheißegal. weg ist weg, also passt auf euren krempel auf ;-)
--------------------------------------------------------------------------------
~~~~~~~~~~~~~~~~WEGBESCHREIBUNG~~~~~~~~~~~~~~~
--------------------------------------------------------------------------------
Location: Grillplatz Ulfa
Koordinaten: 50.464901, 8.995361
[google.de]
-Anreise mit öffentlichen Verkehrsmitteln:
Mit dem Zug nach Nidda, dort fährt ein Bus bis nach Ulfa. Von dort ist es je nach Haltestelle max. 1km zu Fuß.
-Für diejenigen die sich vom Bhf Nidda ein Taxi teilen möchten: Die Strecke beträgt 8km, am besten Festpreis aushandeln.
-Anreise mit dem Auto: Von Ulfa aus die Ortsausfahrt am Bürgerhaus vorbei bergauf RIchtung Langd nehmen, kurz danach folgt eine große Kurve durch ein Waldstück und am Ende davon gehts rechts einen Feldweg rein.
Von Langd Ortsausgang Richtung Ulfa, am Ende der Straße vor dem kleinen Waldstück links den Feldweg rein.
Es gibt ein paar Parkplätze vor Ort, wenn die voll sind, bitte so am Wegrand parken das niemand behindert wird
Location
Grillplatz Ulfa
Gesetzte Markierung
bei 63667 Nidda
[goo.gl]
Organizer
Organizer
Resistance From The Underground Wetterau
Added

4y 9m

· Update

4y 8m

·

/ 2