Backend
Hard Bass Calling #9 - Penn-Ak Live 1,5h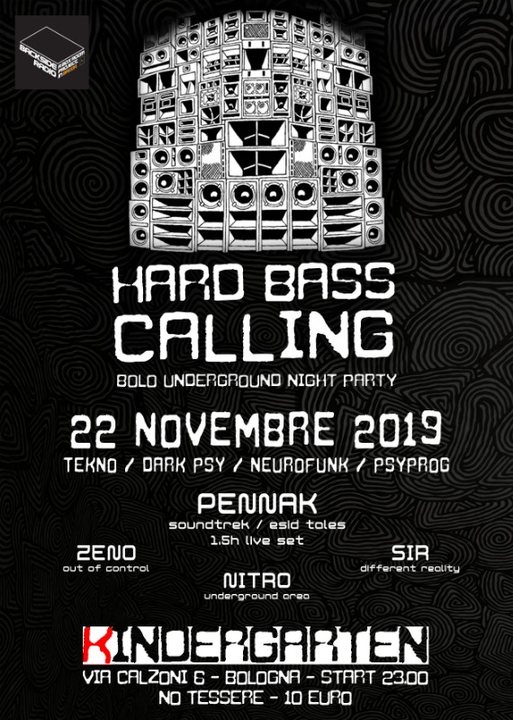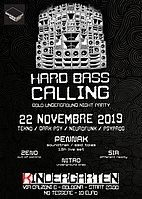 Line Up
☠ ⒽⒶⓇⒹ ⒷⒶⓈⓈ ⒸⒶⓁⓁⒾⓃⒼ ☠
☠ L'evento hard per eccellenza ☠
Main stage 25 kw Rms:
☢☢ TEKNO ☢ DARK PSY ☢☢
☢☢ D'n'B ☢☢
☢☢ PROGRESSIVE ☢☢
+ ampio spazio all' aperto.
Torniamo in pista con la terza stagione di Hard Bass Calling, il venerdì sera multigenere, all'insegna della musica underground, che ha conquistato Bologna negli ultimi anni a suon di cassa dritta e bassoni potenti!
Per iniziare col piede giusto abbiamo deciso di proporvi uno degli artisti che ha fatto la storia della Tekno in Italia e nella nostra città:
PENN-AK 1,5h live set (Soundtrek/Esid Tales)
Inoltre saremo supportati per tutta la durata dell'evento da Backside radio, nuovissima webradio lanciata da un collettivo di universitari bresciani, la quale trasmetterà tutti gli artisti del mainstage in diretta streaming sulla radio.
📲 Backside Radio link streaming audio:
[spreaker.com]
Line up Main Stage:
📣 PENN-AK (Soundtrek/Esid Tales))
1,5h live set Tekno
soundcloud
[facebook.com]
Bio
Hi, my name is Simone and I am an Italian producer.
I was born in southern Italy, but raised pretty much everywhere.
The first time I came into contact with the world of music I was 16.
I started by playing vinyls with turn-tables at free parties, but then I discovered my passion for the production aspect.
At the age of 20 I bought myself my first groovebox, and from that moment I never stopped making music.
During my career I released many vinyls, which are one of the aspects of my work about I care the most.
I experienced various kinds of music and musical styles, until arriving to the current one.
📣 SiR (Different Reality)
djSet PsyProg / Full On
soundcloud
📣 ZENO (Out of Control)
djSet Dark Psy / HiTech / Experimental
soundcloud
📣 NITRO
djSet D'n'B, Neurofunk
soundcloud
Video e live Streaming by
Zanna Zanna
🏠 LOCATION 🏠
Kindergarten
via Calzoni 6
Bologna
☎ INFO LINE ☎
3484604363 📞
3462274740 📞
ⓘ ALTRE INFO ⓘ
🔈 Main Stage soundsystem 25 Kw Rms;
🚉 Raggiungibile con i mezzi pubblici;
👣 Ampio spazio all' aperto;
🎨 Fluo Body Painting by Leofluo Veronesi
🍸 Bar professionale;
🚫 Only 18+.
🎧 Live streaming audio in diretta su Backside Radio
----->
[spreaker.com]
"Backside Radio, situata a Brescia, nel Nord Italia,è nata con la volontà di coinvolgere il maggior numero di artisti nel mondo della musica elettronica Underground locale.
Attraverso la creazione di uno spazio sonoro, l'artista è totalmente libero di esprimere le proprie idee con la musica e suonare in tempo reale le proprie produzioni per il pubblico in ascolto, con il fine di portare allo scoperto alcune realtà che ancora non trovano il loro spazio ideale di espressione."
🚫🔞🚫🔞🚫🔞🚫
Seguiteci sulla nostra pagina Hard Bass Calling