Backend
Halloween Psychedelic Experience (Silent Disco at Nature)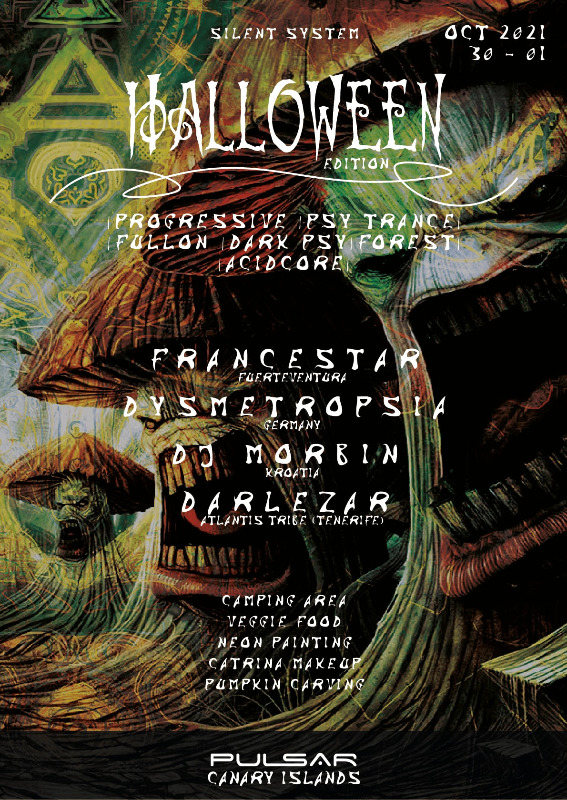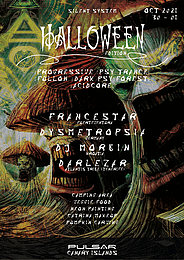 Line Up
Line Up
Francestar (Fuerteventura)
Darlezar (Atlantis Tribe, Tenerife)
Dj Morbin (Kroatia)
Dysmetropsia (Germany)
Info
⚠️ All our events are making ON LEGAL
✔️ We bring you a safe natural space to share Music and have a Psychedelic Experience

🎶 Music non stop
🌊 Pool and showers
🥑 Veggie food
🍊 Natural drinks
🏡 Camping / Camper Area & Rooms availables

🎃Workshops:
- Catrina make up
- Henna tattoo
- Pumpkin Carving (bring your own pumpkin)
- Prices for best costume
- Brickorigami

🎧Silent System

👉🏼 Camping & Camper Area 60€/person
👉🏼 Double Rooms 90€/person
👉🏼 Triple Rooms 80€/person

✅ Including all workshops and activities
⚠️ Only 30 Tickets!! ⚠️
📞 +34 674 502 330

WHY SILENT DISCO ON THIS EVENT:

1. You can adjust the volume as you want
2. No inconvenience to close people
3. When you want to sleep, simply remove the headphones (in non-stop events all weekend, it is necessary)
4. You have a sound quality and an envelope difficult to match with speakers
5. You can go up to 500m from the base and continue listening to the DJ (go hiking, go to the toilet, go to rest in the booth or room, go to the pool ...)

🔥 An spectacular experience that is necessary to live !!
Location
Location
San Bartolomé de Tirajana