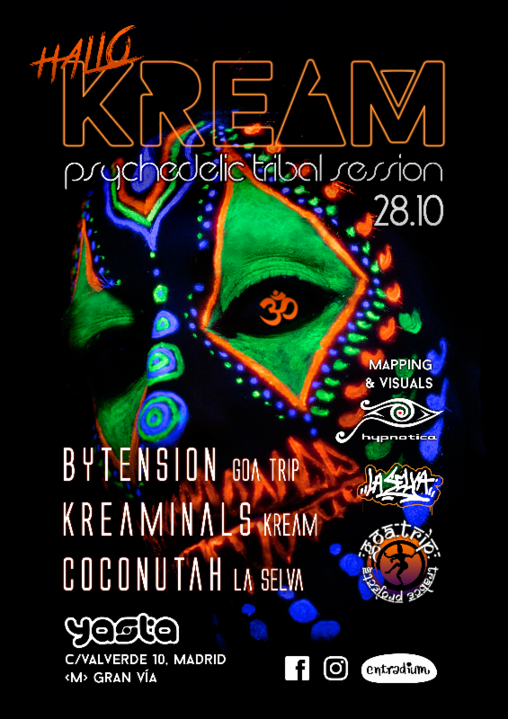 Line Up
(line-up & tickets info below)
¡Volvemos, tribu! Este 28 de Octubre celebramos nuestra fiesta más terrorífica del año: ¡HalloKREAM! Preparaos para viajar con nosotros a través de música, malabares, visuales, decoración... Todo repleto de estímulos y colores para poder vibrar juntos a ritmo de #PSYTRANCE!
Esta vez contamos con #Bytension, DJ y productor de #Psytrance con una larga carrera a sus espaldas. Más de 20 años a los platos compartiendo cabina con grandes artistas nacionales e internacionales.
En el año 2002 es el responsable del lanzamiento de Binary Rage Radio Show, una emisora de radio enfocada a emitir sesiones en directo de relevantes DJs de Psytrance.
Actualmente forma parte del proyecto GOA TRIP TRANCE PROJECTS, participando también en diferentes festivales y eventos del mundo del Psytrance.
٠٠•● Bytension Bio & Sets:
[bytension.com]
●•٠٠
Además también contamos con #Coconutah, miembro del trío La Selva Radio, quién será el encargado de abrir la noche con su ecléctico y envolvente #drumandbass.
٠٠•● La Selva Mixcloud:
mixcloud
●•٠٠
Y completamos nuestra noche con #Kreaminals, la nueva formación de nuestros DJ residentes Alviker y P.T Raw con la que debutaron en el inicio de temporada. Esta vez vienen con más fuerza y más sorpresas que dar, pero siempre con su sonido característico.
Como siempre nuestro templo será Ya'sta Club, mágicamente transformado con el increíble #mapping y #visuales de Hypnotica visuales "El Arte de lo Efímero". y la psicodelica decoración UV de KREAM, reventando los graves a base de sonidos electroorganicos, música #tribal y sobre todo MUCHO #PSYTRANCE ;)
٠٠•● LINE UP ●•٠٠
00:00 ✺ -opening-
01:00 ✺ Coconutah (La Selva Radio)
02:45 ✺ Kreaminals (KREAM)
03:00 ✺ Time travel into 02:00 again! +1 hour of party and #psytrance!!!
04:15 ✺ Bytension (GOA TRIP FAMILY (SINCE 2005))
٠٠•● MAPPING & MAIN VISUALS ●•٠٠
Hypnotica visuales "El Arte de lo Efímero".
٠٠•● UV DECO, SIDE VISUALS & PERFORMANCES ●•٠٠
KREAM TRIBE
✺✺✺ ENTRADAS ANTICIPADAS* / PRESALE TICKETS* ✺✺✺
- 12€ SPECIAL PROMO with 2 DRINKS/3 BEERS/refreshments
Buy ticket here -->
[entradium.com]
*Accesso directo sin hacer la cola general.
*Direct access without waiting in the main line.
✺✺✺ PUERTA / DOOR TICKETS - Precios CON LISTA**/Prices with GUEST LIST** ✺✺✺
>> FROM 00h TO 03h
• 10€ with 1 DRINK or 2 BEERS/refreshments
• 15€ with 2 DRINKS
>> FROM 03h TO CLOSING
• 12€ with 1 DRINK or 2 BEERS/refreshments
✺✺✺ LISTAS / GUEST LIST ✺✺✺
**PIDE YA TU LISTA (nombre + nº de acompañantes) EN EL EVENTO O POR MENSAJE PRIVADO.
LAS LISTAS CIERRAN A LAS 22:30H
Precio SIN LISTA 15€ con 1 copa o 2 cervezas/refrescos.
**GET NOW ON THE GUEST LIST (name + no. in accompanying party) BY POSTING ON THIS EVENT OR BY PRIVATE MESSAGE TO KREAM.
GUEST LIST CLOSES AT 22:30H.
Price OUT OF GUEST LIST is 15€ with 1 drink or 2 beers/refreshments.
JOIN THE KREAM TRIBE! ;)
Location
Location
KREAM
Calle Valverde, 10
28004 Madrid