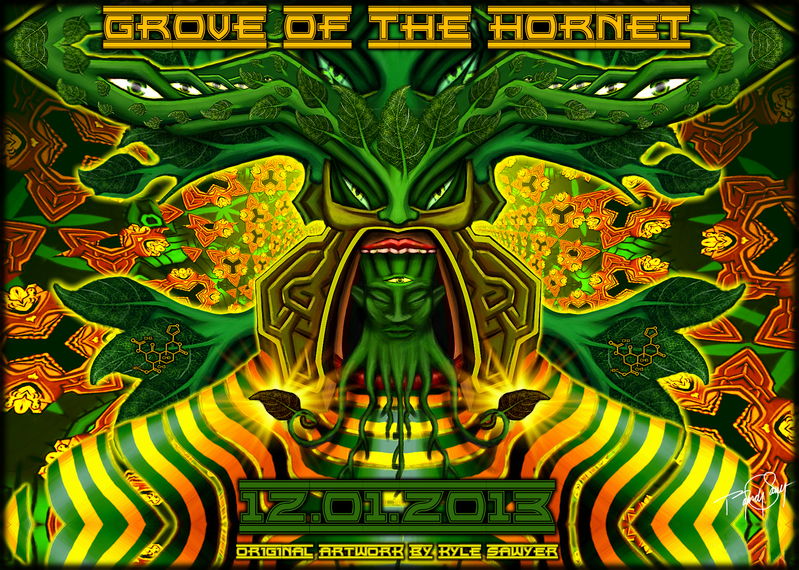 Line Up
Hornet Groove:
Bombax (Free Radical Records / Hamburg / DE)
soundcloud
Paralocks (Noise Poison Records / Cape Town / ZA) <- first time in Germany!!!
soundcloud
Baba Yaga (Parvati Records)
soundcloud
.
.
.
Alpha & Vic Triplag (interzone.pa / Hamburg / DE) / (Triplag Music / Dublin / RU / IE)
mixcloud
soundcloud
Baba Yaga (Parvati Records)
soundcloud
Biomekanik (Psybliminal Records / Creative Jungle)
soundcloud
The Monstaaz -> Allegro vs. Psydan (Freedoom / Soundviecher ² )
soundcloud
[wordpress.com]
Hellter Skelter (Psychofrehn Prod.)
soundcloud
Don & Elektroengel (Freedoom / Soundviecher ² )
soundcloud
baszi (Freedoom / Free Radical Records)
soundcloud
---------> 4-Punkt Kling und Freitag Soundsystem!
Info
Seit jeher versammeln wir uns an ausgewählten Orten, um Rituale zu zelebrieren! Zu tanzen und zu träumen, zu fühlen und zu sehen, aber vor allem eines: zu hören .. oder uns einfach nur gehen zu lassen. Deshalb laden wir euch zum Grove Of The Hornet in eine bisher unbekannte Location ein, um am Rande dieses scheinbaren Frühlings, dem Jahr noch ein bisschen mehr Schwung zu verleihen.
Dazu bieten wir euch auf dem Hornet Groove musiktechnisch von Forest bis zu High-Tech zum einen gewohnte Berliner Klänge, zum anderen Sound aus Landes Nachbarschaft, unter anderem aber auch von weit, weit her aus Südafrika.
Auf dem Melting Pot erwartet euch mehr oder weniger alles: von Reggae/Dub über Live PsyChill und experimental Breakbeats bis Solid- und Tech House.
Darüber hinaus könnt ihr euch in das Chillnest pflanzen, einen Chai genießen, etwas Kleines essen oder einfach nur die Seele baumeln lassen. Zusätzlich könnt ihr euch an einem entsprechenden Stand dankenswerterweise bei Bedarf über Drogen bzgl. ihrer Wirkungen und Risiken aufklären lassen.
Das Ganze wird kunstvoll von Free Optics (Blacklightnature & Die FREIen HEIDen) in eine wahre Augenweide verwandelt, damit zwischen Auge und Ohr auch ja kein Neid entsteht!
So ist jeder Besucher, seine gute Stimmung mitbringend, eine wahre Freude, deren Ursache die Party erst wunderbar werden lässt.
Freedoom & Galgenbrüder
Gemütliches Chillnest ist auch vorhanden!
Außerdem feiern wir noch Hellter Skelters Geburtstag!
Flyer Artwork by Kyle Sawyer
[deviantart.com]
Infostand:
[thefirststep-berlin.de]
[harmreduction.de]
Location
Location
Red Club
An der Industriebahn 2
13088 Berlin - Weißensee


Anfahrt: Am besten erreicht ihr uns über die Nahverkehrslinien M12, 155, 156, N50 (Haltestelle Pasedagplatz)
Entry fee
Entry fee
Die ersten 50 Gäste 8 €, ansonsten 10 €
Organizer
Organizer
Freedoom / Galgenbrüder