GROOVE SESSIONS@JUNGLE CLUB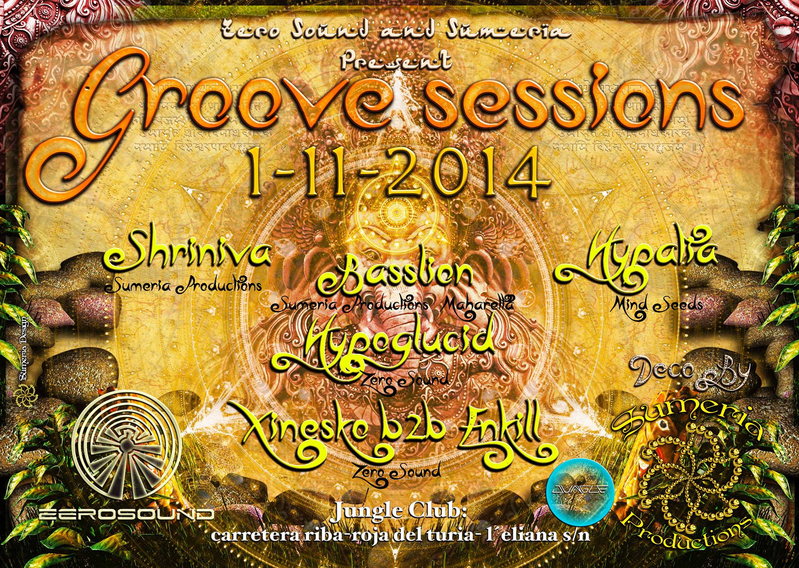 Line Up
Desde zerosound tenemos el placer de invitaros a la primera edición mensual de GROOVE SESSIONS en nuestra sala favorita y reformada de aspecto y sonido JUNGLE CLUB!! para esta primera edición contamos con tres invitados de la isla vecina ibiza.
Por parte de SUMERIA PRODUCTIONS tendremos a BASSLION y a SHRINIVA que nos traen un par de sets cargados de energia y su impresionante deco que no dejará a nadie indiferente, llenaran la Jungle con su magia para todos los sentidos, musical y visualmente única, son refente internacional en cuanto a decoración....
Y por parte de MIND SEEDS a HYPATIA (aka arabians) recien llegado del Tree of life festival y del connection para hacernos vibrar como locos con su set, contundente y melodico...
para ir calentando tendremos a nuestra última incorporación HYPOGLUCID y luego a XINESKO & ENKIL haciendo un back to back innovador y divertido como siempre!!
LINE UP:
BASSLION (Sumeria production/Maharetta rec) ibz
soundcloud
[facebook.com]
SHRINIVA (Sumeria productions) NL/ibz
soundcloud
[facebook.com]
HYPATIA aka arabians (Mind.seeds/Zero gravity)
soundcloud
[facebook.com]
XINESKO b2b ENKIL (Zerosound/Backed out)
soundcloud
HYPOGLUCID (Zerosound)
deco: SUMERIA PRODUCTIONS
[facebook.com]
SONIDO REFORZADO!!
PRECIOS, SORTEOS Y MAS INFO EN BREVES!!
BOOOOOOMMMM!!!!
Location
Location
JUNGLE CLUB carretera riba-roja a l´eliana S/N