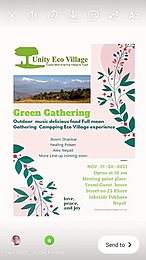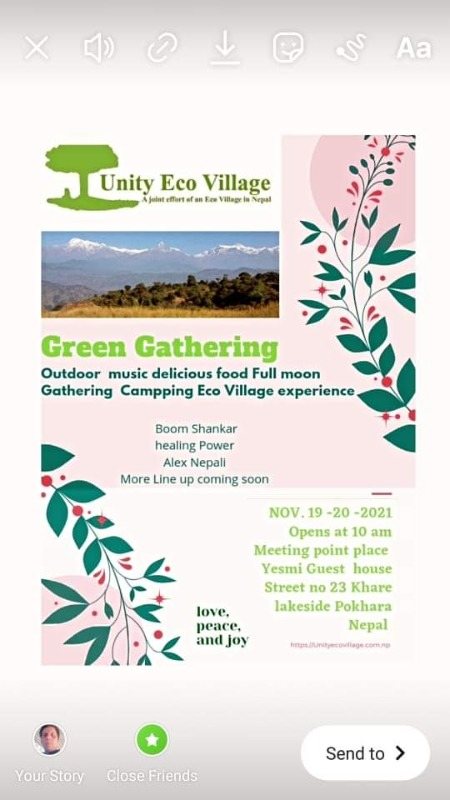 Info
Green Gathering- IX
(Gathering of Tribes)
Nov. 19-20-21, 2021
Greetings to all the beautiful people around the world. Hoping that everyone is doing great.
It's been a hard time for everyone on the glove due to Covid-19 breakout causing us to depart since 2 years. But as the restrictions have been taken down and Nepal now is open for tourism we feel like may be we should initiate the gathering spirit & the rituals of connecting with the mother nature.
Apart from the Art & Entertainment, since the initiation time the main intention of the Gathering has been and will be to gather like minded people who are interested in sharing information & knowledge about Deconditioning, Holistic Healing, Spiritual Practices and living an off grid harmonious lifestyle which coexists with the nature around you. As well to make an impact which would later help the whole humanity.
We'd like to invite you for 2 nights & 3 days of journey with incredibly talented artists & with their art to be connected with the mother nature with an incredible mountain experience watching the Himalayas.
#Imp_Info,: One of the Ticket Holder will be Chosen as a winner for our lucky draw for a Free paragliding experience with landing as an entrance to the gathering with Pilot Mr. Deepak Raj. Paudel.
*LINE UP.
~~~~~Solar Stage~~~~~~
********Special Guest artist:*********
-Alex Nepali (UK).
[facebook.com]
-SaaGar (Rainbow Studio) Nepal
[facebook.com]
-East Sea (Independent) China
[facebook.com]
-Tulip (Independent) Iceland
[facebook.com]
-Aayush ( Vitamin 'G') Nepal
[facebook.com]
-More to be posted soon...
~~~~~Lunar Stage~~~~~
*****Special Guest Artist****
-Sukhada (Shakti Peak Festival) NP
[facebook.com]
-Bom Pom (Digital Nomad Records) NP
soundcloud
-Shantaram (Independent) Ukraine
[facebook.com]
-Shiva Tandav (Bluelight Rec./ UEV Rec.) NP
soundcloud
-Bkash (Matrix Crew) NP
[facebook.com]
-Ghishing (UEV Rec.) NP
soundcloud
-More to be added.
*Physical ticket:
-Early Bird: 15$ (50 Piece Only)
-2nd Phase: 30$
*Stay & camping: #Note: The Rooms & Bed are Limited.
-Private room 10$ Per. Night.
-Dorm bed: 5$ Per. Night.
-Mattress with blanket on floor in home: 3$ Per Night.
-Camping Under roof in house: 2$ Per night..
-Camping in Camping area: 1$ Per night.
*Things to remember:
-Warm Clothes.
-Flash Light.
-Camping gear (If Camping)
-Lot's of Love.
*Things Not allowed:
-Pets.
-Weapon or any sort of harmful/ Violent materials.
*Any one interested for doing workshop or keep a stall and things on sale then please feel free to DM us or Visit our ticket & meeting Point..
*Info, Ticket & Meeting Point: Yesmi Guest House. Street no. 23. North Lakeside, Pokhara Nepal.
*Sponsers:
-Mr. Deepak Raj Paudel.
#Note: Even though security will be there yet, any theft or loss of any of visitors belongings are of visitors own concern so we urge you to keep your valuables behind at your Hotel...
More info will be posted Soon
Organizer
Organizer
Eco Village community
Added

1y 5m

· Update

1y 4m

·